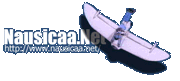 ---
|| Main | Mailing List | Films | Search | Ghiblink | Feedback ||


Gedo Senki
(Tales from Earthsea)
Goro Miyazaki's Blog Translation (Supplementary 5)
7th August 2006
Supplementary 5 - Ms. LeGuin's Words
In local time it's 6th August[1].
Today we are held a screening for Ms LeGuin.
The screening was in the afternoon, so in the morning, after taking a late breakfast, Producer Suzuki, Ms. Takeda from our Overseas Business Division[2], and I went to the Williamette River. We hired rental bicycles, and spent some time riding along the river.
All the rental cycle store guy had left was one road bike and one tandem bicycle.
Almost inevitably, I took the road bike and Mr. Suzuki and Ms. Takeda took the tandem bicycle.
Riding bicycles beneath a crisp clear sky was a great feeling, and I briefly forgot my tension. For Ms. Takeda, who was seated on the front of a two man bicycle with Mr. Suzuki giving her all sorts of directions from behind, that didn't seem to be the case.
After that we returned to the hotel and dressed before heading to the cinema where the screening was being held.
My first impressions of Ms. LeGuin, exactly as I had imagined from hearing from many people, were of a small person with forceful eyes and a large presence.
At the screening were Ms. LeGuin and her husband, their son Theo and his wife. and about 70 friends in all. I did an introducation before the screening. Then while the film was showing I killed time at a nearby coffee shop. But during that time my tension was at an all-time high tide, and I felt more dead than alive.
Returning to the cinema in time for the end of the film, we arrived just as the credits were rolling. When Mr. Suzuki and my names appeared we received a big round of applause. Then afterwards we received compliments from everyone.
In the evening we returned to Theo's house, where they held a party. In the pleasant evening air, the assembled people really seemed to be enjoying themselves.
I'm not very good at making conversation at times like these, and so I didn't have much to say, but for the first time since coming to America I felt relaxed.
When we were saying our farewells at the end of the party, I asked Ms. LeGuin for her impression of the film. I thought that that was the one thing I really had to make sure I heard properly.
She answered briefly.
"It is not my book.
It is your film.
It is a good film."
I think that there were really a lot more things she wanted to say, but even so, she said these words to me with a smile.
I thought, I want to accept these short words with simple heartfelt gratitude.
To Ms LeGuin and to Theo, who has acted as our intermediary this whole time, I really want to say thank you very much.
Now I can return to Japan with peace of mind.
---
Translator's Notes
[1]: Remember, Japan is something like 18 hours ahead of the west coast of the US. By the time he was writing this, it was probably already the next day in Japan.
[2]: Mikiko Takeda, senior manager in Ghibli's overseas business division.
---
---

This page is brought to you by Team Ghiblink.