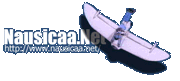 ---
|| Main | Mailing List | Films | Search | Ghiblink | Feedback ||


Gedo Senki
(Tales from Earthsea)
Goro Miyazaki's Blog Translation (Page 107)
22nd June 2006
Number 107 - The Cause of Loneliness
Yesterday, I returned home in a daze, thinking that today I would take it easy and sleep, but as always I woke up early in the morning.
I closed my eyes, thinking to sleep a little longer, but for some reason the Earthsea music, and in particular the music from the climax of R - 6[1] which was the last thing I saw yesterday, was running through my head and it was impossible for me to sleep.
Now there is nothing related to "Tales from Earthsea" left for me to do.
That fact is probably the cause of this slight sense of loneliness. Which I suppose means that inside myself "Tales from Earthsea" is not yet finished. I think that to pull myself out of this situation will take a little time.
Yesterday after finishing the final mix, we had a few drinks together with sushi that the Voicing Supervisor Mr. Inoue had prepared.
At that time, I can't forget the expression of "Boo" Takagi, standing there with a glass in his hand, looking both relieved and totally drained of strength. To Mr. Wakabayashi, the recording director, sound mixer "Boo" Takagi, sound effects man Kasamatsu, and Boo's helper Iwana[2], to all of them, who with their "rascally" ways, in such a short time, made this wonderful sound perfect, I am truly grateful.
Then there is also the Mixing Supervisor Mr. Inoue. Mr. Inoue is a great veteran, who is the same age as Producer Suzuki. During the time we were mixing he watched over Boo and the others in the studio. The figure of Mr. Inoue, silently watching, but occasionally speaking a definite opinion, was the very essence of the veteran craftsman, someone I could really rely on.
I think that probably, it was because Mr. Inoue was there that Boo and the others could be rascals.[3] I am really grateful to Mr. Inoue for the way, while exchanging loving insults with Mr. Suzuki, that he created a workplace atmosphere.
---
Translator's Notes
[1]: I don't know what "R-6" is, but I think it is the notation for a particular score, or a section of the soundtrack.
[2]: This is a surname
[3]: This is "yancha" in Japanese. It means something like 'little rascal'.
---
---

This page is brought to you by Team Ghiblink.