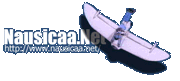 ---
|| Main | Mailing List | Films | Search | Ghiblink | Feedback ||


Gedo Senki
(Tales from Earthsea)
Goro Miyazaki's Blog Translation (Page 105)
20th June 2006
This is a supplementary entry while the director is busy.
Number 105 - Arren Appears on the Yamanote Line
Director Goro is at the Tokyo Television Centre (T.V. Centre) doing the final audio check. Even I had to go the T.V. Centre yesterday, to return a key...
Last Saturday, while working on the trailer[1], I borrowed a meeting room and went home with the key still in my pocket. After travelling into the city all the way from Koganei for such a stupid reason, I completed some other business I had to do while I was there and was on my way back. I got onto the Yamanote Line[2], looked up and saw:
[Picture of poster on train here]
looking towards me as if Arren was feeling sorry for the idiot I was.
They are only up for two days, yesterday and today (20th), but if you have the chance to get on the Yamanote line or another train line in Tokyo, then please have a look for them. I might forget something today too and [be there?] staring around vaguely... ...or maybe not.[3]
---
Translator's Notes
[1]: This is the third trailer, I think.
[2]: This is the main loop line in Tokyo, running in a circle around the centre of the city.
[3]: The meaning of this sentence is not entirely clear to me. It seems to be some kind of joke.
---

This page is brought to you by Team Ghiblink.