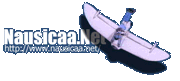 ---
|| Main | Mailing List | Films | Search | Ghiblink | Feedback ||


Gedo Senki
(Tales from Earthsea)
Goro Miyazaki's Blog Translation (Page 103)
16th June 2006
Number 103 - Boo's Giggling
At this stage, after midday every day I go to the Tokyo Television Centre (which we call the T.V. Centre) to check on the progress of the mix.
I wrote about how the mix was progressing the other day. While the sound mixer Mr. Takagi, who goes by the name of "Boo", and his staff were working, all I could do was watch their backs while I waited.
But that said, listening to something while watching (hearing) the process of it coming together, you understand more about it than just listening to the finished product. This is the same as how a person who is prepared to chat even a little learns more of what the other person is thinking.
Another thing I discovered was that when Boo is thinking of something naughty, he lets loose a childishly mischievous laugh. When he does that he always has a really nice smile.
Even worse than him is the (audio) special effects man Mr. Kasamatsu. His boldly inappropriate special effects are really neat. Watching these two from behind as they line their seats up together, and from time to time put their heads together and giggle, has recently become my pleasure.
---

This page is brought to you by Team Ghiblink.