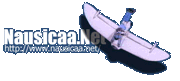 ---
|| Main | Mailing List | Films | Search | Ghiblink | Feedback ||




Delicious Tea

(Umacha)




TV Commercial: 5 March 2001 / about 30 seconds
Director: ??

Credits & Figures
All the facts & data
Story
Plot, synopsis & theme
Scripts & Lyrics
What they say & sing
Availability
Books, CDs, Videos, etc.
FAQ
Answers to questions; tidbits
Impressions
Reviews & articles
Related Webpages
Gateway to external resources

All about the director
Umacha is a new chilled tea from the Asahi Beverage Company that went on sale March 12, 2001. Studio Ghibli produced the animated TV commercial. There is also a live-action version of this commercial, and both versions began airing in Japan on March 5th (one week before the drink arrived in stores). The watercolor animation style used in My Neighbors the Yamadas was used in the animated commercial, but the characters are a bit more realistic than those in Yamadas.
A second animated TV commercial, also Ghibli produced, has been aired. You can see still images of it here. As was the case with the previous commercial, there is a "live-action version" as well. This time, the main character is played by Takeshi Naito, who did the voice of Chihiro's father in Studio Ghibli's newest film Spirited Away.
---

This page is brought to you by Team Ghiblink.