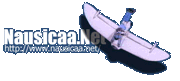 ---
|| Main | Mailing List | Films | Search | Ghiblink | Feedback ||


Shopping Guide
General Shop Information



Where to Find the Stores


So you want to buy some Studio Gibli-related merchandise but you don't know where to start? We've compiled this list of stores where you can buy Japanese anime- and manga-related merchandise (including Studio Ghibli merchandise) such as anime (including LD, DVD, VCD, VHS, etc.), CDs, shitajiki (pencil boards/laminates), posters, calendars, books (including artbooks, manga, and magazines), stationery, bags, stuffed animals, and more!

Note: Not all the stores carry all of these items. Online Only means the store has no brick-and-mortar location.

Note: Nausicaa.net is not a store. We only provide information about where you can possibly find Studio Ghibli-related merchandise.
North America (alphabetical):
Not sure if an item is a knockoff/bootleg? Visit the Pirate Anime FAQ for tips.
You can order some books and videos through online stores such as Amazon.com, Barnes & Noble, and DeepDiscountDVD.com. Comparison shopping sites like BargainFlix and PriceGrabber can help you find the lowest online prices. You may also be able to order some Miyazaki-related books, manga, music, and anime through your local book, music, or video store. Just provide them with the info about the item (ISBN or catalog number, publisher or label, title, and author or artist).
Visit the Anime Web Turnpike for a list of online anime shops and the addresses of anime shops near you. You can also look for used copies on rec.arts.anime.marketplace and various online auction sites such as eBay and Yahoo! Auctions.
The Game Trading Zone is a subscription service (the subscription cost is quite reasonable if you make more than 3-4 trades in a year) that connects you with traders from all over the world. Instead of buying something new, you trade something you have, but don't want, for something you do want. You make lists of wanted and available items and then trade with other people, and the site helps you track all your trades to use as a future reference. You can even use it to list your (non-trading) collections!
Be careful when using auction and trading sites, though, since not everyone on the net is honest. As long as you follow the guidelines posted on the sites you should have a minimum of problems.
Japan

The following online shops in Japan take overseas orders and communicate in English. They also accept credits cards:
If you happen to be in Japan, you can visit almost any department store and find Studio Ghibli merchandise. Toy stores usually have some space filled exclusively with Ghibli toys, puzzles, and more. You can even find merchandise in train station kiosks and in some convenience stores (especially Totoro merchandise). Just watch for it everywhere and you'll see it.
Here's a few links to some online stores in Japan. Unfortunately, they don't accept orders from outside Japan.
Europe & Worldwide
Also visit the Shopping Guide on Anime Web Turnpike for information about shops in your area. It's very comprehensive, and has links to stores all over the world.
---

These pages brought to you by Team Ghiblink.