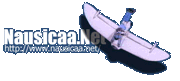 ---
|| Main | Mailing List | Films | Search | Ghiblink | Feedback ||


Gake no ue no Ponyo
(Ponyo On A Cliff)
Frequently Asked Questions (FAQ)
General Questions answered on this page:
Only the barest of details are known. Ponyo is a goldfish princess who wishes to become human. Sosuke is a five year old boy who somehow becomes involved with Ponyo. A sense of closeness between a parent and child is a theme of the film.
Tomo-no-Ura in Seto-naikai. Miyazaki spend a few months during 2005 in a rental house on a cliff after previously visiting the area during a company tour in 2004. He was inspired by the scenery to create the story for "Ponyo".
Q: Is this Miyazaki's version of "The Little Mermaid"?
Perhaps, but the storyline is highly likely to only superficially resemble either the Hans Christian Andersen fairy tale or the Disney film.
Q: Is Sosuke based on Miyazaki's son?
Yes, Goro Miyazaki is the basis for Sosuke. According to Studio Ghibli President Toshio Suzuki the elder Miyazaki reflected seriously before choosing to use Goro as the model. Goro's selection as director of Tales from Earthsea formed a large rift in their relationship.
No, the film will be entirely hand-animated.
---

This page is brought to you by Team Ghiblink.