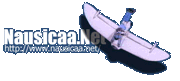 ---
|| Main | Mailing List | Films | Search | Ghiblink | Feedback ||

Hayao Miyazaki
Admirers around the world
Although "Miyazaki" may not yet be a household name outside Japan, he is already very well known and respected by many people in the entertainment industry in the United States and elsewhere.
Admirers in the animation industry
We have many animators here inside the Disney Corporation who are very... enthused by our relationship with Miyazaki and are also big fans of his.
Michael O. Johnson
President, Buena Vista Home Entertainment
The above comment by Mr. Johnson in the 1998 HBO TV special Animation, Anime, and Spawn exemplifies a common admiration of Miyazaki in the animation industry in the United States. John Lasseter, director of Pixar's A Bug's Life and the Toy Story series, calls the works of Miyazaki "the most inspirational films" for him, especially in directing Toy Story. In his homage to Miyazaki for the "Ghibli ga Ippai" laserdisc box set, Lasseter writes:
At Pixar, when we have a problem and we can't seem to solve it, we often take a laser disc of one of Mr. Miyazaki's films and look at a scene in our screening room for a shot of inspiration. And it always works! We come away amazed and inspired. Toy Story owes a huge debt of gratitude to the films of Mr. Miyazaki.
Lasseter referred to Spirited Away as "hand-drawn animation at its finest."
Other admirers include Barry Cook and Tony Bancroft, directors of Disney's Mulan ("Miyazaki is like a God to us"); Gary Trousdale and Kirk Wise, directors of Beauty and the Beast and The Hunchback of Notre Dame; and Glen Keane, Disney's supervising animator for characters like Ariel, the Beast, Pocahontas, and Aladdin. Paul Dini, the writer and producer of various animated Batman and Superman TV series, TV specials and films in the 1990s, regards Miyazaki as "terrific," "phenomenal," and "a filmmaker who just transcends live-action and animation." (the interview)
Miyazaki's works also provide inspiration to various animators. For the beautiful flying sequence of an eagle in Rescuers Down Under, director Hendel Butoy, who regards Miyazaki as "the greatest animator," was inspired by the breathtaking flying scenes that are the signature of Miyazaki's films. Kevin Altieri paid homage to Miyazaki in his direction of several episodes of Batman: The Animated Series. Jymn Magon and Mark Zaslove were inspired by Miyazaki's Castle in the Sky when they produced Disney's Tale Spin TV series.
Admirers in the film/TV industry
Miyazaki's admirers are not restricted to within the animation field. Akira Kurosawa, the legendary filmmaking titan, put My Neighbor Totoro in his "100 Best Movies" list, among other worldwide film classics spanning this century. On Totoro, Kurosawa commented:
It's anime, but I was so moved. I really loved Nekobus. You wouldn't come up with such an idea. I cried when I watched Kiki's Delivery Service. Really, all the talents I want for the movie industry have gone to the anime, so the movie industry has to really work hard. We have to make such movies that they make young people want to come.
Guillermo del Toro, director of Cronos and Mimic, calls himself "an absolute addict to any Miyazaki movies." Hong Kong's Tsui Hark, the director and producer of Once Upon a Time in China and A Chinese Ghost Story who also brought Miyazaki's film Nausicaä of the Valley of Wind to the local audience, says that Miyazaki's films "always remind us of our precious memories and dreams we have forgotten." Rick Sternbach, the technical advisor and illustrator for various Star Trek TV series since 1987, named one of the alien species in Star Trek: The Next Generation "Nausicaäns" after the heroine of Miyazaki's 1984 film.
Admiration from comic artists
Miyazaki's brilliance in his films and his manga (comics) is well-recognized by comic artists in various countries. Jean "Möbius" Giraud, the French writer of such world renowned comics as The Aedena Cycle and The Airtight Garage, as well as the set designer of the films Alien, The Abyss and The Fifth Element, calls Miyazaki "the most brilliant flame" to light children's minds, and says "Miyazaki made this new art called animation a noble one." Möbius even illustrated a "fan art" of Nausicaä. A dialogue between Miyazaki and Möbius published in 1988. American comic artist Charles Vess had several Miyazaki characters, such as Totoro and Kiki, appear in the comics he illustrated such as Sandman and Books of Magic. Mark Oakley, the Canadian writer and artist of the comic Thieves and Kings, is also a Miyazaki fan and has been influenced by his works, in particular Nausicaä. Back in Japan, Katsuhiro Otomo, the man behind Akira and Domu, also admires comics and films by Miyazaki, and admits to learning the art of animation through Miyazaki's works.
Admiration from the video game industry
While Miyazaki has not involved himself with video games his works have influenced one of the top video game designers in the world, Shigeru Miyamoto, creator of the seminal Legend of Zelda and Super Mario Bros. series. Miyamoto remarked:
My Neighbor Totoro was impressive with what they did with the style. That's something I like to look at, to see something within an existing media that is creative and different. That's what we try to do with our products, to take something people have seen and try to do something new with it. It's when you're really able to do something revolutionary within media that's existed for some time that I think you're able to shock and startle people. That's usually how it is for me. Laputa was another one that impressed me.
---

This page is brought to you by Team Ghiblink.