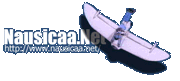 ---
|| Main | Mailing List | Films | Search | Ghiblink | Feedback ||




Mononoke Hime
(Princess Mononoke)


Princess Mononoke in the U.S. and Canada
The following is a list of theatres in the United States and Canada that either are showing the English dub version of Princess Mononoke currently, or will show it in the near future. Links to maps and current showtimes of theatres, if available, are also included.
If you spot any incorrect, missing, or outdated information on this list, or have tips about theatres that will be showing Princess Mononoke, please let us know.
Here is a list of links that can provide further information, such as a full list of theatres and movie showtimes in your local areas.
Premiere
Theatre
Notes
Seattle, WA
April 6 - 7
Egyptian Theater information
801 East Pine
Seattle, WA 98122
(206) 323-4978
Midnight showings
College Park, MD
April 28
Hoff Theater
1240 Biology-Psychology Building
University of Maryland, College Park
(301) 314-8769
1:55pm showing, Free admission
Presented by the Terrapin Anime Society
Dallas, TX
May 25 - 26
Inwood Theatre information
5458 West Lovers Lane
Dallas, TX 75209
(214) 352-6040
Midnight showings
Marietta, GA
June 8 - ?
Blackwell Star Cinema
3378 Canton Road
Marietta, GA
(770) 428-2646
$1.50 tickets
Kansas City, MO
June 17
Kemper Museum of Contemporary Art information
4420 Warwick Blvd
Kansas City, MO 64111
(816) 753-5784
2:00pm showing
---

This page is brought to you by Team Ghiblink.