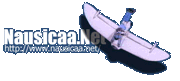 ---
|| Main | Mailing List | Films | Search | Ghiblink | Feedback ||




Mononoke Hime
(Princess Mononoke)


Wednesday, September 17, 1997; Page D01
The Wolf-Girl Of Japan
`Princess Mononoke' Fans Fill the Movie Theaters
By Kevin Sullivan
Washington Post Foreign Service
TOKYO: She's an animated sprite with Princess Jasmine's eyes and Simba's heart -- and a stranglehold on Japan's hearts and wallets.
Japan can't get enough of "The Princess Mononoke." More than 400 theaters across the nation are ditching such big-name movies as "Jurassic Park: The Lost World" to show this cartoon feature about a girl raised by wolves in ancient Japan.
Two months after its release, the film has drawn 10 million viewers and is about to break the revenue and attendance records set 15 years ago by "E.T. the Extra-Terrestrial." To meet the massive demand, many theaters are adding 7 a.m. shows and screening the movie seven or eight times a day. Princess Mononoke key chains and stuffed animals and books are selling faster than they can be manufactured.
And like most big Japanese fads, this one is headed for America. Parents still coping with the Tamagotchi, the electronic pet that swept Japan and has done nearly as well in the United States, might want to note that "The Princess Mononoke" will arrive in the United States next March, when the Walt Disney Co. releases it in the States and Europe.
Nine months ago, thousands of Japanese were lining up before dawn in Ginza -- the closest thing Tokyo has to New York's Times Square -- to buy a little-known electronic chicken gizmo called a Tamagotchi. These days in the wee hours in Ginza, it's a doe-eyed little princess who has hundreds of people standing in line.
Many couples were just ending their Friday night dates at 4 a.m. last Saturday, but Satoshi Saito and Ayako Mano were just starting theirs.
They knew that if they hoped to get a seat to see "The Princess Mononoke," they'd have to make the 7 a.m. show. That meant Saito, who lives well outside Tokyo, had to rise at 4 to drive to Mano's place in the city in time to pick her up and be in line at the theater by 6:15.
"We knew if we came any later, there would be no seats," said Saito, waiting with 50 other people for the box office to open.
Why the film has taken off is anybody's guess. Japanese love the work of filmmaker Hayao Miyazaki, who is almost as famous in Japan as Walt Disney is in the United States. The movie takes place in ancient Japan, a popular setting. Japanese love animation, and "Mononoke's" is exceptional, if still not as sophisticated as that of the big Disney films.
Japanese movies are hot these days. The country's movie industry, which had been lethargic for years, has been rejuvenated recently by a new generation of directors who are winning worldwide respect for their creativity and inventiveness.
"Shall We Dance?," produced by the same company that released "The Princess Mononoke," was a smash in Japan before being released in the United States, where it has drawn more than a half-million viewers. A Japanese film and a Japanese director won awards at the Cannes Film Festival this year, and last week, a Japanese director won the top prize at the Venice Film Festival.
"The Princess Mononoke" has a strong environmental message: Human beings smelting steel and cutting down forests are despoiling the forest where Mononoke lives with the wolves. The humans have created such ill will with the God of the Mountain and the creatures of the forest that a raging battle ensues.
But most people standing in line at dawn to see the movie said the environmental message was not why they were there. They said they simply wanted to see the latest Miyazaki movie. And some said they wanted to see it simply because so many people were going to see it.
Yasuyoshi Tokuma, president of Tokuma Shoten Publishing Co., the film's producer, said the movie's strength comes largely from its appeal to people of all ages. The 7 a.m. show Saturday was packed with children and their parents as well as quite a few people in their sixties or older.
The movie is very violent. Heads and arms are lopped off left and right, and blood is splattered about liberally. One of the leading characters takes a musket ball directly through his midsection, and the initial splash of blood and flesh is followed by gobs of blood spilled all over the screen. The wolves and other creatures wounded in fierce battle scenes vomit blood and gunk.
The story is compelling and interesting, but parents who won't let their kids see "Die Hard" might have the same concerns about "The Princess Mononoke," unless it is edited for American audiences.
Yet Mononoke mania continues unabated in Japan. The movie has already grossed about $110 million, and its producers predict that it will break "E.T.'s" all-time records of $137 million in revenue and 12 million viewers by next month.
As the 7 a.m. show let out Saturday morning, lines for the next show were already snaking out of the lobby and down the stairs. People were running up to the box office, looking panicked over whether the show might already be sold out. Vendors selling illustrated storybooks were struggling to keep up.
Ayako Iida, 12, came out of the first show with her mother, sister and brother. She looked pleased, even though she said the film was a little scary and hard to understand. But she said the words all moviemakers want to hear:
"I'll definitely recommend it to my friends."
Researcher Akiko Yamamoto contributed to this report.
Copyright 1997 The Washington Post Company
Originally posted to NAUSICAA ML by Wei-Hwa Huang
17). CNN Interactive / Showbiz
Japan enraptured by realistic cartoon; is America next?
September 18, 1997
Web posted at: 7:20 p.m. EDT (2320 GMT)
TOKYO (AP) -- It doesn't have a squeaky-clean story line or a happy ending. But an animated film about a girl raised by wolves is smashing box office records across Japan.
Months after its summer opening, Tokyo moviegoers, adults as well as children, still line up well in advance for showings of "Princess Mononoke," an animated tale set in 14th-century Japan with a message about the need to live in harmony with nature.
The movie has drawn 11 million viewers, bringing in at least $117 million at the box office and loosening Hollywood's hold on Japanese film fans. By next month, "Princess Mononoke" will likely top box-office records set by "E.T." in Japan, so for the first time in decades a movie made in Japan will be the nation's all-time favorite.
The film's distributors hope it will also be a hit in the United States. "Mononoke" means "spirit" in Japanese, so Walt Disney Co. may distribute the film as "Princess Ghost" in the United States.
The U.S. launch will likely occur early next year, a manager at a Disney subsidiary in Tokyo said. Disney also has acquired the rights to show the movie in Europe.
Another reason for the long lines is the tremendous popularity of the film's creator, veteran animator Hayao Miyazaki. Although Miyazaki is not widely known outside Japan, Disney's marketing gives his film a chance of being a hit abroad.
Miyazaki's films go beyond the standard for the cartoon genre in Japan, which usually involves a series of blood-and-guts battle scenes in futuristic space settings.
The quality of animation in Miyazaki's works is comparable to Disney productions, but the 56-year-old filmmaker eschews Disney's trademark happy endings and good-vs.-evil story lines.
"You come out of the film not just feeling that you've had a good time," said Nobukazu Uekusa, chief editor of the Japanese film magazine Kinema Junpo. "The movie makes you think."
The story pits people who despoil forests by mining iron for weapons against the princess and her family of wolves. Some of the battle scenes are realistic and bloody.
Caught in the middle is Prince Ashitaka, who sympathizes with the princess's defense of nature but understands the miners' need to make a living.
"It was very good. The best among Miyazaki's works. I want to see it again and again," Shinichi Kakizaki, a 21-year-old office worker, said Thursday. "It reminded me of things that people who live in cities have forgotten about, such as respect for God and nature."
Related sites:
External sites are not endorsed by CNN Interactive.
© 1997 Cable News Network, Inc. / Associated Press
September 30, 1997
'Princess' is no fairy-tale sell
Disney may find it hard to market violent Japanese ani hit
Wayne Karrfalt, TOKYO
Disney marketing mavens have a tough assignment: How do they sell in the United States a Japanese animated hit that has serious adult themes, social commentary and violence?
Hayao Miyazaki's "Princess Mononoke", for which Buena Vista Home Entertainment picked up the international rights last year, continues to dominate the Japanese boxoffice, rapidly approaching "E.T. the Extra-Terrestrial's" 15-year-old record of $136 million.
Disney's biggest challenge will be to break through the perception in the United States that animation is for kids. "Mononoke" is a sweeping, at times bloody historical epic with complicated environmental and human themes.
Although it is attracting some children in Japan, the bulk of the audience is adults. The film is so popular that lines are forming from 6 a.m. to see it, with waiting times of up to four hours.
"Outside of the U.S., animation is a mature art form," said Buena Vista Home Entertainment president Michael Johnson. "Only in America do people confuse it with cartoons."
He said "Mononoke" will be released in both dubbed and subtitled versions, predicting that older audiences will prefer to see the latter.
Disney struck a deal last year with Studio Ghibli parent Tokuma Shoten for eight other Miyazaki titles, the last five of which were top boxoffice hits in Japan. The deal gives Buena Vista the rights to distribute "Mononoke" theatrically.
The company's aim is to take it theatrically initially, a Buena Vista spokesman said Monday, but plans are still to be determined. Speculation in Japan is that Miramax will handle the theatrical release, but Disney has yet to decide which branch it will give it to.
"We're going to give it the widest possible release here," said Johnson, who is expected to meet with Ghibli producer Toshio Suzuki to iron out the details. "We want to build a mystique around this film; I think it deserves it."
It does seem certain that Buena Vista International will be taking charge outside of the United States, however, with releases planned in the United Kingdom, France, Spain, Australia and Brazil, where there is a sizable Japanese population.
Another concern is the two-hour-plus length of the film, which under the Tokuma agreement cannot be cut. Miyazaki personally insisted on this condition.
Meanwhile, several video titles of Miyazaki's back catalog are being prepared for an aggressive distribution plan beginning next April. BVHE will hire "A-level talent" for the voices, and attempt smaller-scale theatrical releases in art-house and college campus theaters.
October 3, 1997; Friday 2:52 pm Eastern Time
Transcript. SECTION: News; Entertainment
Japan's Animated Film Hit Silver Screen
John Lewis, Natalie Allen
A Japanese animated film has hit the silver screen. Producers say that by the end of the month, the animated film will have broken the local box office record set by "E.T." 15 years ago.
---
NATALIE ALLEN, CNN ANCHOR: "E.T." has been the big man at the box office in Japan for 15 years. It holds the record as the biggest grossing movie, but the little alien is getting a run for its money from an animated princess. CNN's Tokyo bureau chief John Lewis reports.
(BEGIN VIDEOTAPE)
JOHN LEWIS, CNN CORRESPONDENT (voice-over): Princess Mononoke has hit the silver screen in Japan and has struck gold. Producers say that by the end of the month, the animated film will have broken the local box office record set by "E.T." 15 years ago.
WOMAN #1 (through translator): I was surprised that they have to understand the view to movie. I haven't seen the movie so popular here in many years.
LEWIS: The story is of a little girl raised by wolves in ancient Japan. She and her wolf family fight the evil humans who are destroying the forests by mining iron to make weapons. The film's success caught its creator Hayao Miyazaki by surprise.
HAYAO MIYAZAKI, PRODUCER (through translator): I didn't think my film would be such a success. I just want to make a movie about the need for humans to live with nature in harmony.
LEWIS: The public reaction is an indication Miyazaki has hit the right note.
MAN, AUDIENCE (voice-over): It's an often-told story, but the message is so clear, easy to understand, and the animation is beautiful too.
WOMAN #2, AUDIENCE (through translator): It was so fun.
WOMAN #3, AUDIENCE (through translator): The film was beautiful. It taught us that we must balance nature and the development to value modern society.
LEWIS: With lines still long and the box office stakes still climbing, expectations of the little princess's chances outside Japan are high too.
STEVEN ALPERT, TOKUMA INTERNATIONAL: I think for the same reasons that people like it in Japan, people in the United States will like it as well. I mean it's -- again, the quality and just the beauty of the animation is just wonderful. It's a fun action film.
LEWIS: The film is headed to America next year, but Miyazaki is not concerned about making box office magic in the U.S.
MIYAZAKI: I am only worried about how my film would be viewed in Japan. Frankly, I don't worry too much about how it plays elsewhere.
LEWIS: And chances are good, he won't have to, not with the animated film already having grossed some $117 million in Japan in less than three months with the cash registers still ringing.
The film may not have a happy story line, but for theatergoers and the producers, there are plenty of smiles.
John Lewis, CNN, Tokyo.
(END VIDEOTAPE)
October 6, 1997
SECTION: NEWS YOU CAN USE; NEW & NOTABLE; Pg. 82
A bizarro Charles Kuralt; Blood and guts in ancient Japan; Critics' choice
By Thom Geier; Steven Butler; Ian Baldwin; Brendan I. Koerner
HIGHLIGHT:
World of the weird; Animated animals; Television; Music; #1 with a twist
[cut]
ANIMATED ANIMALS
Blood and guts in ancient Japan
A Disney movie it is not. Princess Mononoke tells the story of a girl in ancient Japan raised by a wolf goddess. The feature-length animated film is also an epic full of bloody battles between fierce animal gods who inhabit the forest and villagers who must destroy it to survive.
Eleven weeks after Mononoke debuted in Japan, it is smashing box office records. It has grossed $ 121 million from 10.6 million viewers, and will soon beat E.T.--The Extra-Terrestrial's 1982 record.
Hayao Miyazaki, the director, has a cultlike following in Japan for his imaginative creations. My Neighbor Totoro, a gentle tale of children's encounters with magical spirits, found an American audience in 1993. Walt Disney Co. is bringing Miyazaki's visually stunning film to the United States next year.
[cut]
October 29, 1997 03:34 GMT
SECTION: International news
Cartoon Japanese princess set to beat Spielberg's E.T.
TOKYO, Oct 29
An animated film about a Japanese princess who fights to save a forest is likely to gross more than "E.T. the Extra-Terrestrial," the biggest hit ever in the country, a business daily said Wednesday.
Since its debut in mid-July, the movie, "The Princess Mononoke", has attracted 12 million people across Japan, with earnings set to reach 10 billion yen (83.3 million dollars), the Nihon Keizai Shimbun said.
If "The Princess Mononoke" continues to draw large audiences, it will break the record of 9.6 billion yen in revenue by "E.T.," the daily said.
The movie has also had bumper spin-offs selling about one billion yen worth of character goods as well as 2.5 million copies of the movie pamphlets, it added.
A spokesman for the film distributor Toho Co. Ltd., however, declined to confirm the news reports, saying the company would release the detailed statement later this week.
With its production costing 2.5 billion yen, the movie was directed by Hayao Miyazaki, who created a series of hit animated movies including "Nausicaa of the Valley of Wind" and "My Neighbor Totoro."
"The Princess Mononoke" is set in 14th century Japan and tells of a young girl raised by animals who joins them in battling humans trying to destroy their forests.
It opened in Hong Kong and Taiwan in August. It will also be released in the United States, Europe and Brazil early next year with Walt Disney Co as distributor, a Toho spokesman said.
22). CNN Interactive / Showbiz
Animated film breaks box-office records in Japan
October 30, 1997
Web posted at: 11:07 a.m. EST (1607 GMT)
TOKYO (Reuters) -- An animated film about medieval Japan's struggle between the environment and industry became the highest-grossing movie ever in Japan on Thursday.
"The Princess Mononoke" by maverick producer and director Hayao Miyazaki has grossed 9.65 billion yen ($80.4 million) since its release on July 12, overtaking the 9.62 billion yen ($80.2 million) record previously held by Steven Spielberg's "E.T."
The film, which tells the story of a young girl brought up by wolves and their fight against man's encroachment on nature, has so far attracted an audience of 12 million people, or one-tenth of the population of Japan, and people are still flocking to see it, promoters said.
"We plan to keep showing 'Princess Mononoke' until next March, and hope the audience will grow to 15 million," said a spokesman for distributor Toho Co. Ltd.
Animated movies are not a genre limited to children's entertainment in Japan. Miyazaki is well known in Japan for his animated movies and the themes he deals with, notably the self-destructive nature of mechanized society.
The film will be released in the United States in spring or summer next year.
Copyright 1997 Reuters Limited.
Related sites:
External sites are not endorsed by CNN Interactive.
© 1997 Cable News Network, Inc. / Reuters
October 31, 1997
'Mononoke' Japan's all-time b.o. champion
Wayne Karrfalt, TOKYO
Hayao Miyazaki's animated feature "Princess Mononoke", which Disney will release in the United States next year, broke Japan's all-time boxoffice record on Wednesday, according to distributor Toho.
The film's success is nothing short of a phenomenon, taking in 16 billion ($135 million) in roughly a quarter of the time it took previous record-holder "E.T. the Extra-Terrestrial."
"Mononoke" also grabbed the rentals record, with 9.6 billion ($79 million). Admissions total 11,704,225 so far, another record.
Toho released "Mononoke" on approximately 250 screens July 12, the same day "The Lost World: Jurassic park" bowed. Although the UIP-distributed "Lost World" opened stronger, "Mononoke" surpassed it as word-of-mouth spread. Lines were four hours long all summer long, beginning each day at 6 a.m.
The film's performance is even more miraculous considering it cost only 2.35 billion ($19.5 million) to make. Studio Ghibli is old-fashioned compared with U.S. animation houses, lagging far behind in computer graphics technology.
Seven-eighths of "Mononoke" was created from hand-drawn cels.
Disney will release it next year in five territories, including the United States, in addition to eight of Miyazaki's back titles on video. "'Princess Mononoke' will probably reach 30 billion ($252 million) thanks to distribution by Disney," said Yasuyoshi Tokuma, president of Ghibli parent Tokuma Shoten. "If it is received well on the world market, it would be a big confidence booster for the Japanese film industry."
Friday October 31 8:37 AM EST
'Phantom Princess' Sets Japanese Record
By Jon Herskovitz
TOKYO (Variety) - Step aside "E.T.," Japan's top movie of all time is now the animated feature "The Phantom Princess" (Mononoke Hime).
Toho Co. said Thursday that "Princess" surpassed "E.T. the Extra-Terrestrial" in terms of film rentals.
As of Oct. 29, rentals for "Princess" stood at 9.65 billion yen ($80.4 million). "E.T." had held the rentals crown since 1982, when it took in 9.62 billion yen ($80.2 million).
"Princess" is also Japan's first and only $100 million movie at the box office. When it reached the rentals record mark, the film had a box office total of $134.3 million on attendance of 11,704,225.
These figures are just for the Japanese market. "Princess" also picked up some loose change when it played in theaters in Hong Kong and Taiwan.
"Princess" opened July 12 in Japan. By comparison, Disney's animated summer feature movie "Hercules" had a box office of $97.1 million in its home market of the United States as of Oct. 23.
Toho officials said they were thrilled by the record.
"The film's runaway success was something beyond our wildest dreams," a Toho official said.
"Princess" is set in a mythical forested area during the Muromachi Period (1333-1568). A village that is smelting steel for weapons sets off a chain of events that threatens the region's pristine nature.
Humans, animals and natural spirits battle for power and preservation of the pristine surroundings.
One reason for the film's success is that the animated featured is a mutli-layered gem. Children have been attracted by picture's splendid animation and action, which includes violence that would be over-the-top for a Disney-animated feature.
There are also strong messages about nature conservation and discrimination in Japanese society that appeal to more mature audiences.
"Princess" will continue its run in Japan in a limited number of theaters through the New Year's holiday.
After its run in Japan, Buena Vista Home Entertainment will take "Princess" to five countries overseas including the United States and Britain.
Reuters/Variety
November 5, 1997
SECTION: The Guardian Foreign Page; Pg. 16
Japan in grip of blood-soaked cartoon film: E.T. sent packing
The queues are starting at dawn for an animated feature film breaking all box office records, writes Jonathan Watts in
JONATHAN WATTS
JAPAN's appetite for animated films reached a new peak last week when the fantasy Princess Mononoke broke the country's box office record, set by E.T. The Extra-Terrestrial 15 years ago.
In a market dominated by Hollywood, this domestically made feature cartoon about a girl raised by wolf spirits has beaten off competition from Steven Spielberg's The Lost World and Disney's Hercules to surpass E.T.'s record takings of pounds 47 million. It is also on course to break the record attendance of 12 million before the year's end: more than 10 million people have seen it since its August release. Many cinemas have seven showings a day, and at some queueing for tickets begins at 6am.
Japan's previous biggest-grossing movie, The Antarctic Story, was also an anime (animated film), suggesting that Princess Mononoke's success can be partly attributed to the fervour in Japan for this genre and its comic-book cousin, manga, which together constitute a domestic industry said to be worth pounds 2.65 billion a year.
(This is in error. The Antarctic Story is NOT animated. -ed)
Princess Mononoke is the creation of Hayao Miyazaki, Japan's most celebrated animator. He spent three years and pounds 12.5 million making the 133-minute movie. Its 144,000 drawings make it almost twice the length of any of his previous works.
The story, set in Japan about 500 years ago, concerns a battle between the natural spirits of the forest where Mononoke lives and a community of social outcasts who cut down the trees for fuel.
"The equation of 'nature equals good' does not apply here," Mr Miyazaki has said. "I have given up making films about good and evil."
As well as being morally complex, Princess Mononoke is at times extremely violent: humans and animals spill buckets of each other's blood in the battle for survival.
The grim tale of a doe-eyed, knife-wielding heroine attracts a diverse crowd of families, trendy young couples and middle-aged businessmen.
"I'm a big fan of Miyazaki. I have seen everything he has done, but this was the best," said Midori Shibasaki as she left a central Tokyo cinema with her two young children. "The plot was very dark but I guess that suits Japan."
Her children said they enjoyed it but preferred Disney.
Others said they had come because the movie was a hot topic of conversation.
"I'm not really interested in anime but everyone said this was great, so I thought I should see what all the fuss was about," said Shoko Kuramitsu.
"I was surprised. It was very beautiful, very thought-provoking and, although it was a long film, the time passed quickly."
The success of Princess Mononoke caps an impressive year for the Japanese film industry: Unagi (The Eel), directed by Shohei Imamura, was a joint winner of the Golden Palm in Cannes; Hanabi (Fireworks), by Takeshi Kitano, was awarded the top prize at the Venice Film Festival; and Masayuki Suo's Shall We Dance? has been a hit in the United States.
Toho Co, Princess Mononoke's Japanese distributors, say it could be released in Britain and the US in the spring, but the decision lies with Disney, which has bought the rights to all Mr Miyazaki's work.
November 5, 1997
[snip]
"Mononoke" was acquired by Disney in 1996 as part of an eight-pic package with Japanese animator Hayao Miyazaki. Currently in release in Japan, "Princess Mononoke" is an adult, ecologically-themed adventure fable. Pic recently passed "E.T. the ExtraTerrestrial" as the top box-office champ in the country with a current gross of $ 135 million.
Miyazaki has script approval and veto power over all artistic and commercial decisions. "Mononoke" isn't designed for youngsters and could well be tagged with an R. Insiders speculate it will go out via another Disney label or possibly as a Miramax title.
November 7, 1997, Friday
SECTION: Page 2; OPINION/ANALYSIS
As I See It (Perspectives of Mainichi Shimbun reporters)
By Tomomi Katsuta Cultural News Department
If film industry makes them, people will come
This summer, "Princess Mononoke" , an animated film directed by Hayao Miyazaki, was an unprecedented hit that became a cultural phenomenon. Although there was something about its popularity that reminded me of long lines in front of trendy Italian restaurants, I nevertheless find it admirable that a film could be strong enough to attract such large crowds to movie theaters.
"Princess Mononoke" opened on July 12. A mere six weeks later, it had broken the record set by "South Pole Story" which earned 5.95 billion yen to become the highest earning domestic film. As of Oct. 22, "Princess Mononoke" had drawn an audience of more than 11.5 million, grossed 15.89 billion yen at the box office, and earned distribution profits of approximately 9.5 billion yen. By the end of October, it has broken the record for highest profits for any film ever distributed in Japan -- a record held previously by "E.T.", the Steven Spielberg film which opened in Japan in 1982.
Staff at a Yurakucho cinema in Tokyo expressed incredulity at the enormous success of the film: "For weeks, it was impossible to get a seat unless you lined up four or five hours before screening time. Up until mid-September, there was standing room only at every showing. It's abnormal."
A great deal of the success of "Princess Mononoke" owes itself to clever promotion. Miyazaki's name was pushed to the fore, as well as allusions that it would be "his last film." An unprecedented amount of money was spent for the promotion of a domestic film - "five billion yen would be a modest estimate," according to Toho's advertising section. The film received good exposure through previews and TV ads, and Miyazaki himself participated in a nationwide campaign to promote the film.
The film itself is not something you would really expect to hit. The scenes are filled with violence and destruction. The story line is complex and there is no happy ending, so it is not a "movie for the whole family." Much of the story is left unexplained; it is not a film that everyone can easily understand.
No doubt it was Miyazaki's name and reputation, together with large-scale promotion, that attracted people of all ages to movie theaters. Many of those people probably had little or no previous interest in animated films or in feature-length movies, and simply joined the crowd to "see what it's all about." But that is only one aspect of the phenomenon. The greatest reason for "Princess Mononoke" 's enormous success is that it did not disappoint the high expectations of its audience. In fact, it often surpassed them. You might say that it was a trendy Italian restaurant that actually turned out to be good.
Miyazaki's main subject has always been the relationship between nature and man, and he has always asserted the goodness of life. "Princess Mononoke" was a final statement and the ultimate assertion. Says Toshio Suzuki of Studio Ghibli who produced the film: "Miyazaki agonized over it and suffered over it. And it all came out in the film."
Add to that: Top-of-the-art animation techniques; a budget of 2 billion yen; 140,000 cellophane sheets, which is at least two or three times the usual number; computer graphics; and three years for the whole project.
Out of all that were born hero Ashitaka and heroine San -- or Princess Mononoke -- who are mirrors of the people who live their lives in the modern world. That is, of us. Ashitaka and San are enmeshed in a struggle between man and animals in the ancient forest of the Lion God, in the same way that we are enmeshed in problems over which we have little or no control. Miyazaki refuses the easy solution of "love and humanism conquers all" and looks directly into the face of a severe reality.
Seiji Kano, a freelance writer who has continued to analyze Miyazaki's animated works, says: "Miyazaki tries to show us what the modern world is all about, and the message he sends is that we must go on living in it nevertheless."
"Princess Mononoke" was a deeper probing of Miyazaki's main subject, and it concurred with the mood of the times. Miyazaki had the high technology and staff needed to transform his message into a visual work of art. He had sponsors willing to waive their financial fears in favor of a director's talent. And he had an audience far and wide who understood that his visual message was a message about our world today. All of these factors came together with perfect timing to create the greatest hit of Japanese cinematic history.
"Princess Mononoke" was lucky. There are many talented artists who never get the opportunity to translate their visions into works of art. There are many excellent films which fail miserably at the box office.
Shohei Imamura's "Unagi" ("The Eel") won the Grand Prix at the Cannes Film Festival before it opened in Japan. Distributors rushed to give it a larger showing than had been previously planned, but it earned only 200 million yen. "Tokyo Nocturne" won the award for Best Director, but only after it had finished showing in Japan, so it earned only 15 million yen. "Hanabi," directed by Takeshi Kitano, won the Golden Lion Award (grand prix) at the Venice Film Festival, but has not been much of a success at the box office. Japanese films are often derided for their habit of succeeding in Japan only after they have been approved abroad, but the figures show that their success is modest even then. This is the reality confronting all Japanese filmmakers.
In the end, it is only the audience who can nurture talent in the film industry. If people go to theaters, many films will be made, and there will be a better chance of good movies being made. Miyazaki was able to go on making movies because people went to theaters to see them. They made it possible for him to polish his talent. The success of "Princess Mononoke" may be an opportunity to cut the vicious circle of "no audience -- no profits -- no good films."
Perhaps those who saw "Princess Mononoke" and came home impressed will visit other movie theaters in the near future. There might be other great films waiting to be discovered.
November 10, 1997 - November 16, 1997
SECTION: FILM/INTERNATIONAL; Pg. 16
Japanese pix master media mix
JON HERSKOVITZ
This is supposed to be the year of Japan's movie revival. Japanese films took best picture awards at the Cannes and Venice fests, while the homegrown movie "Shall We Dance?" is winning over audiences around the world.
Although its names and faces are making themselves known globally, Japanese cinema this year involves a lot of faceless companies. This is the year of the media mix in Japan, or the revenge of the indies.
A look at the producers and sponsors of the biggest domestic films at the box office reveals that publishing companies, TV networks and the occasional advertising house are putting out most of the hit movies.
The poster child for Japan's 1997 movie bumper crop is " Mononoke Hime" (The Phantom Princess). This is Japan's first and only $ 100 million-plus movie at the box office and it is poised to surpass "E.T." as the all-time No. 1 movie in Japan.
"Princess" was produced by animation house Studio Ghibli, Tokuma Shoten Publishing Co., Japan's top-rated network Nippon Television and the world's largest advertising company, Dentsu. The only Japanese major studio listed on the film's credits is Toho Co., which is distributing the film and pitching in on promotion.
Studio Ghibli, the home of Japan's premier animator Hayao Miyazaki, was responsible for making the film. Tokuma Shoten Publishing, its parent company, helped bankroll the project. NTV and Dentsu both pitched in financially, but their main responsibilities came in the promotion department. Although there were several areas of overlapping responsibility, the companies tried to stay focused on what each does best.
Miyazaki turned out what many critics said is his master work in "Princess." Tokuma used its publications and book store outlets to promote the movie as well as negotiating a deal with Disney and Buena Vista to take "Princess" overseas. The deal also involves releasing a library of Miyazaki movies on homevideo.
NTV produced three programs devoted to Miyazaki and "Princess" along with newspaper tie-ins and broadcast ads.
Dentsu, because of its size and contacts, was able to mobilize ads, free publicity and PR on a massive scale and was the driving force behind the media blitz.
The king and founder of the Japanese indie boom is Kadokawa Shoten Publishing Co. The company has scored four of the biggest hits of the year with its live-action films "Shitsurakuen" (Lost Paradise), "Parasite Eve" and two animated feature films in its "Evangelion" series.
Haruki Kadokawa revolutionized the Japanese publishing world in the 1970s by tying hit books to motion pictures. The publisher and independent movie producer made more than 60 movies, and had seven of the slots in Japan's top 20 movies before resigning in disgrace in the early 1990s.
The publisher is now led by Haruki Kadokawa's younger brother Tsuguhiko and movie production has re-established itself as an integral part of the company's strategy.
"We think a media mix is essential for business because it brings the various functions of our company together in one project. If we have a story, we are thinking of putting it on film, video, television and even into games," Kadokawa managing director Yosho Tobaru says.
Two-fold strategy
The basic Kadokawa strategy is a two-fold process. The first is to use the numerous magazines and publications in the Kadokawa publishing house to create a buzz for the movie. Editorial discretion is tossed to the wind as articles sing the praises of Kadokawa's latest production.
The second prong involves media tie-ins. For example, "Shitsurakuen" was first serialized in Japan's leading financial daily Nihon Keizai Shimbun and it was later made into a TV drama series by NTV.
While Kadokawa has the most time-tested media mix formula, Fuji TV is the volume leader among indies for movie production. The TV network is turning out about 10 films a year with individual budgets of $ 3 million to $ 5 million, and the network holds three of the top five spots among Japan's all-time box office leaders.
The most notable films this year among the Japanese movie houses have come from Shochiku. The studio has had box office success with its "Tsuri Baka Nisshi" (Free and Easy) serial as well as international acclaim for its Palme d'Or-winning "Unagi" (The Eel).
The trend toward media mix in independent production is likely to grow stronger in the years to come, as more screens are added to the Japanese market. Major studios still are mired in complacency, while the indies are positioning themselves as the driving forces in the Japanese movie industry.
November 12, 1997 Wednesday
[snip]America's fascination with Japanese pop culture deepens by the decade. The recent Japanese movie, "Shall We Dance," - as un-Godzilla-like a movie one could ever find with its gently comic look at Japanese issues of conformity - has been an art-house smash here.
Tamagotchis, those demanding electronic pets, are dangling from the backpacks of American kids. Japanese animation, called anime, and comics, called manga, are winning visual converts, young and old. Expect the animated feature "The Phantom Princess" (or " Mononoke Hime"), which became the top-grossing movie of all time in Japan, to hit the United States early next year.
And we haven't even mentioned sushi, karaoke and various electronic gadgetry that are so pervasive as to make you forget they aren't home-grown. Film critic Roger Ebert even has declared, "Japanese pop culture is the beta version of 21st-century American pop culture."
[snip]
---

This page is brought to you by Team Ghiblink.