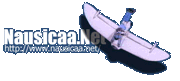 ---
|| Main | Mailing List | Films | Search | Ghiblink | Feedback ||




Mononoke Hime
(Princess Mononoke)


48). Variety, February 2, 1998
49). The Milwaukee Journal Sentinel, February 6, 1998
50). The San Francisco Chronicle, February 13, 1998
51). Daily Variety, February 17, 1998
52). Deutsche Presse-Agentur, February 19, 1998
53). Japan Economic Newswire, March 6, 1998
54). Asahi Shimbun / Asahi Evening News, March 7, 1998
55). Daily Variety, March 10, 1998
56). Computer Graphics World, April 1, 1998
57). Variety, April 17, 1998
58). Science Fiction Weekly, May 1998
59). Hollywood Reporter, May 4, 1998
60). Civilization, June/July, 1998
61). The Fort Worth Star-Telegram, July 10, 1998
62). Variety, July 20, 1998
63). The Hollywood Reporter, 21-27 July 1998
64). Daily News, August 4, 1998
65). Village Voice, September 2, 1998
66). Los Angels Daily News, September 2, 1998
67). Miramx's Official Web Site, September, 1998
68). CNN Showbiz Today, July 16, 1998
69). Houchi Sinbun, September 29, 1998
70). Daily Variety, January 29, 1999


Back to the Table of Contents
February 2, 1998
'Princess' pushes Japan's B.O. up 17%
By JON HERSKOVITZ

TOKYO Attendance at Japanese moviehouses in 1997 posted a 17.7% gain over marks set in the previous year as the homegrown favorite pic "Princess Mononoke " posted record box office figures and a strong slate of U.S. films helped pack theaters, according to figures released Jan. 28 by the Japan Motion Pictures Assn.

Overall attendance was 140,719,000, passing the 140 million mark for the first time since 1990. Attendance had been slipping for most of this decade as Japan's economy faltered and moviegoing became a less popular form of entertainment.

Multiplex construction helped boost the attendance figures, with 56 new screens added to Japanese theater circuits in 1997, it said. The total number of screens is at 1,884 and is expected to pass 2,000 by the year 2000.

The overall box office was also up for the year, posting a 19% gain from 1996 figures. The overall box office totaled 177 billion yen ($1.416 billion).

In 1996, attendance and box office figures dropped to lows that had not been seen for three decades.

The biggest movie of the year was the animated work "Princess Mononoke ," which took in about $142 million in 1997. The movie is still playing at a limited number of theaters in Japan.

"Princess," from acclaimed animator Hayao Miyazaki, posted rentals of $85.6 million (10.7 billion yen) for the year. It also marked attendance of about 12 million in 1997.

"Princess," released in mid-July, became Japan's all-time rental champ when it surpassed "E.T. the Extra-Terrestrial" at the end of October. As of Oct. 29, rentals for "Princess" stood at 9.65 billion yen ($77.2 million). "E.T." held the rentals crown since 1982 when it took in 9.62 billion yen ($76.96 million).

The second-biggest Japanese film of the year was "Shitsurakuen." The pic from Kadokawa Shoten Publishing Co. about an extramarital affair between a middle-aged executive and a homemaker took in rentals of 2.3 billion yen ($18.4 million).

Other films in the Japanese top five included the animated movies "Doraemon" and "The End of Evangelion" as well as "Mothra 2," the multicolored giant moth dusted off by Toho Co. to replace its seasonal Godzilla movie.

The biggest U.S. movie of the year was "Independence Day," which took in rentals of 6.6 billion yen ($52.8 million). Rounding out the top five U.S. pics for the year are "Lost World" at $46.4 million; "Speed 2" at $16 million; the "Star Wars" trilogy with total rentals of $15.2 million; and "The Fifth Element" at $13.6 million.

Due to the success of "Princess," Japanese films boosted their market share against foreign films. Japanese films accounted for 41.5% of the market in terms of rentals, with foreign movies, mostly from the U.S., holding a 58.5% share.

In 1996, foreign films held a 63.7% share.
49). The Milwaukee Journal Sentinel
February 6, 1998
"Princess Mononoke" to speak English
Miramax Films wants to duplicate the success of the animated Japanese blockbuster "Princess Mononoke ."

Miramax plans to create an English-language version of the film, which became the highest-grossing film in Japanese history with a box office topping $150 million.

Meanwhile, Miramax's Dimension Films division will give the original a nationwide release this summer.

The original "Princess Mononoke " was directed by leading Japanese animator Hayao Miyazaki.

[...]
50). The San Francisco Chronicle
February 13, 1998
Fans Become Animated About Japanese-Style Cartoons
By Kimberly Chun, Chronicle Staff Writer

This weekend, a bevy of too-cute babes with literal stars in their eyes, goofy guys with spiky hair and supernatural powers, and aliens both humanoid and reptilian will have their turn in the Silicon Valley spotlight.

Is the cast from "Microserfs" on the loose? MacWorld rolling into town again? No, these colorful characters are just a few of those found loping, leaping and blasting their way through the fluid frames of Japanese animation, or "anime" (pronounced ah-nee-may). The valley is also familiar turf for them.

[..]

Today's anime, said to generate more than half of all domestic box office revenue in Japan, is a far cry from the cool yet stiff mouth move ments of "Speed Racer."

Themes include fear of technolo gy and the future, gender bending and innocence lost and regained. Anime films like "My Neighbor Totoro" give Disney a run for its money with painterly mise-en-scene and a lovable rabbit/bear/cat-like spirit that comforts two young sisters while their mother is in the hospital.

[...]

Perhaps anime's bad rep will be laid to rest in the face of the blockbuster power of last year's hit anime film, " Mononoke Hime" ("Princess Mononoke "), which outgrossed "E. T." last year in Japan.

It comes to America this year, courtesy of Disney and Miramax.
[...]
February 17, 1998
BERLINE'S BUZZ MILD
Few films, stars shine as fest reaches midpoint
By DEREK ELLEY

BERLIN --- With few titles setting festgoers' pulses racing and a distinct lack of star wattage on display, the 48th Berlin Intl. Film Festival was already being dubbed as mild as the unseasonable weather in the German capital, halfway through its 12-day span.

[....]
Standout among foreign-lingo fare has been Brazilian drama "Central Station," well liked at all levels. Of other arthouse pics unspooled so far, only Alain Resnais' comedy of manners "Same Old Song," and Japanese B.O. champion "Princess Mononoke ," a mythical animated feature, have been generally liked. Others, like Stanley Kwan's sexual potpourri "Hold You Tight," were adjudged disappointments, while Jacques Doillon's latest relationship drama, "Too Much (Little) Love," bombed spectacularly.
[...]
February 19, 1998
Low-key Berlin Film Fest draws to close with no clear favourite

By Ernest Gill

Berlin (dpa) - A lacklustre 48th Berlin Film Festival is drawing to a close with insiders saying there are no clear favourites to win the Golden Bear at Sunday's awards ceremonies, unless jury goes for "Good Will Hunting" in a bid to give it an pre-Oscar boost.

[...]
Receiving decidedly mixed reviews was Hayao Miyazaki's "Mononoke Hime" (Princess Mononoke), an animated feature which is already the biggest box-office hit in Japanese moviemaking history. It was largely dismissed by Berlin critics as an over-long manga cartoon.
[...]
March 6, 1998
'Princess Mononoke ' wins Japan Academy Prize as best film

TOKYO, March 6 --

The popular cartoon " Mononoke Hime (Princess Mononoke )," Japan's top all-time box-office
hit, won the Japan Academy Prize on Friday for best picture of 1997, the first time the award was
given for an animated film.

The fantasy film, directed by veteran animator Hayao Miyazaki, was honored at a ceremony at a
Tokyo hotel, crowning with critical acclaim the financial success that saw it break a 15-year
net-earnings record only four months after its release.

[...]
54). Asahi Shimbun / Asahi Evening News
March 7, 1998
War paint in the powder rooms

Always a weathervane of social values, Japanese popular culture now portrays women in strong and aggressive roles that were long a male preserve

She wears animal skins, a necklace of what look like bones, and war paint. Most famously pictured with blood smeared across her face, Princess Mononoke is not your typical young Japanese girl.

But for Yuko Sakamaki, 19, a Tokyo business college student, the savage heroine of Hayao Miyazaki's most recent anime film is a genuine role model.

"She's a very strong woman," Sakamaki said.

Hiroko Takagi, also 19 and a student, agrees.

"Miyazaki has strong girl characters," Takagi said. "He always chooses girls as principals."

But, although Princess Mononoke stars in one of Japan's top grossing films of all time, strong female role models are hard to come by in Japanese pop culture, the girls agree.

Pop culture--whether in film, comics, music or television--strays little from Japan's preference for women to be cute, young, giggly and helpless.

But little by little, powered by the mighty purchasing power of Japan's young women, pop culture is offering women new alternatives in personality, looks and lifestyle.

Often on the cutting edge both visually and stylistically, anime, or animated films, are also leading the way in depictions of women, experts say. And trendsetting director Miyazaki has found a way to bring progressive ideas about women into the mainstream.

"Anime is considered a male genre. He has completely turned that around," said Mark Schilling, author of the recently published "Encyclopedia of Japanese Pop Culture."

Princess Mononoke and other Miyazaki films have drawn many female viewers to the anime genre, and changed the traditionally "big-busted sex object" stereotype of female anime characters.

"In Miyazaki's case he's very much in tune with what people want," Schilling said.

What people want, in the case of his most recent hit, is a girl raised by a 300-year-old wolf, fighting to save the forests in medieval Japan. San, the "monster princess" of the title, is strong, fierce and uncompromising in her drive to save the trees.

The princess' main rival is also a woman, the leader of a band of rescued slaves who want to clear the forest to make way for homes.

Mononoke is a far cry from the image of women that has traditionally been presented in Japanese action films as well.

The staple female in yakuza and samurai films is abused, victimized and heroically suffering. She is strong, but mainly in her ability to withstand the heartbreak and tragedy that surround her.

Mononoke , by contrast, refuses to be resigned to fate and society.

"She is not the kind of women who is much put upon by male society, and is passively suffering," Schilling said. "She has been raised by forest animals and gods, and she fights. On her opposite side is also a female, and there is a contest between two strong women."

In "Princess Mononoke ," women are leaders, soldiers, seers and even factory workers. Even the peasant girls shown in the movie's opening scene turn and fight when confronted by a horrific monster.

Male characters in the film serve as mediating forces and love interests--both traditionally female roles in Japanese film, Schilling added.

[....]
The bottom line, Schilling said, is that much of Japanese pop culture is fueled by women's tastes, women's issues and--most importantly--women's money. Images of women in pop culture will continue break cultural rules as long as rebellion sells.

March 10, 1998
' Mononoke ' wins Japan's best pic
By JON HERSKOVITZ

TOKYO --- Japan's all-time box office champ "Princess Mononoke " won the Japanese Academy Award for best picture of 1997, becoming the first animated film to get the nod.

"Princess," from esteemed animator Hayao Miyazaki, took in a record $152 million at the domestic box office during its run, surpassing attendance and box office records previously held by "E.T. The Extraterrestrial."

"The Eel," which shared the Palme d'Or at Cannes in 1997, lost out on the best picture award in Japan. However, helmer Shohei Imamura picked up the award for best director, while star Koji Yakusho added another Japan Academy prize to his collection for best actor in the role of a convicted murderer trying to reform himself.

[...]
April 1, 1998
The Anime invasion. (Japanese animation embraces cost-saving PC computer effects)

By Lorraine Savage

Looks different, sounds different, is different. This is Japanese animation." That's how movie critic Leonard Maltin describes the phenomenon that is Japanese animation, called anime (ah-nee-may), which has become a $60 million per year business in the US, according to the L.A. Times.

[...]

CG in Other Anime Projects

In addition to the landmark projects mentioned, computer graphics has been making its way into a number of other anime developments, and in fact the technology itself has been the subject of several anime shows. For example,

[...]

Studio Ghibli, founded by Hayao Miyazaki, who is considered an anime genius, rarely used CG in its movies (My Neighbor Totoro, Only Yesterday, and Whisper of the Heart), until his 1997 film, Mononoke Hime (Spirit Princess), which has a significant number of both 2D and 3D scenes. In fact, the film, which tells the story of a mythical stag and a young woman raised by wolves who preach harmony between nature and man's inevitable expansion, was several years late, presumably due to the extensive use of CG. Nevertheless, it has grossed $150 million since its release last July, becoming Japan's top box office movie of all time. The Walt Disney Co., which has acquired the international distribution rights for Studio Ghibli films, may release Monoke Hime in US theaters as early as this summer.

[...]

April 17, 1998
Japanese pic gets Disney coin
By JON HERSKOVITZ

TOKYO Walt Disney Co. will become the first Hollywood studio to put up money for a Japanese movie production as it has agreed to invest 160 million yen ($1.23 million) in an animated feature produced by Tokuma Shoten Publishing Co. in the summer of 1999.

The investment gives Disney a 10% stake in the $12 million film and the rights to distribute the movie in the U.S. and Europe, Tokuma president Yasuyoshi Tokuma says.

The movie will be based on a comic strip that ran in the national daily Asahi Shimbun from 1991-96 called "Tonari no Yamada" (Our Neighbors, the Yamada Family). Tokuma will put up 50% of production costs while Nippon Television Network Corp. will pitch in 30%. Disney and advertising giant Hakuhodo will hold 10% shares each.

Disney already reached an agreement with Tokuma to distribute videos and movies from famed Japanese animator's Hayao Miyazaki's Studio Ghibli in North American and European markets. Disney's first film to hit theaters overseas under the agreement will be Miyazaki's animated feature "Princess Mononoke ."

B.O. champ

The movie is the all-time box office champ in Japan, taking in over $150 million in domestic revenue, and will hit theaters in the U.S. via Disney-owned Miramax.

Along with "Princess Mononoke ," Tokuma Publishing also produced the hit movie "Shall We Dance?" The latter film was distributed in the U.S. by Miramax and it set U.S. box office records for a Japanese movie by taking in almost $10 million.

Tokuma officials said there is a growing interest in Japanese films worldwide, but their company does not have the muscle to take its films overseas. They see the Disney deal as a win/win situation for both companies because the overseas runs bolster Tokuma's and Disney's coffers.

May 1998
Gaiman To Script Mononoke
Neil Gaiman, the creator of DC's popular Sandman comic series, has been signed by Miramax Films to script an English version of the Japanese animated feature film Princess Mononoke, according to The Hollywood Reporter.

[...]

Gaiman told The Hollywood Reporter that in his script he plans to remain faithful to the story while creating a translation that a non-Japanese audience can follow.
May 4, 1998
Gaiman dubbed for 'Mononoke'
Miramax signs Neil Gaiman to write an English-language script for "Princess Mononoke

NEW YORK - Miramax Films has signed cult comic book creator Neil Gaiman to write an English-language script for "Princess Mononoke," which last year became Japan's all-time top-grossing film.

The animated feature, the only film to gross $150 million at the Japanese boxoffice, follows the story of a girl in ancient Japan raised by a wolf goddess. Directed by leading Japanese animator Hayao Miyazaki of Studio Ghibli, the film in its dubbed version is due for U.S. release next year.

"My goal is to remain faithful to the story while providing a translation that a non-Japanese audience will be able to follow," said Gaiman, who conceived and wrote the award-winning DC Comics series "Sandman," collections of which have sold more than 750,000 copies.

Warner Bros. has optioned the rights for a "Sandman" feature as well as Gaiman's three-part 1993 series "Death: The High Cost of Living." He has been contracted to write a script for the latter, as well as for "Neverwhere" for Jim Henson Prods., based on his 1997 novel of the same name.

"We're big fans of Neil Gaiman's work," Miramax co-chairman Harvey Weinstein said. "This is the perfect project for his sensibility and talent."
June/July 1998
(The following is an except from the interview of Robin Williams by Jules Feiffer. The topic was comic art and William's work in "Popeye". The preceeding question was related to "Dr. Katz, Professional Therapist." )
[...]
Feiffer: You believe in these characters a lot more than you believe in the characters in most sitcoms.
Williams: It's true. The animated cartoons are free to explore one character anepisode, or two. They can be more focused. Even "Rugrats," for little kids. It's wonderful because it takes a little kid's view. Then, at the extreme adultend is Japanese manga animation. Some are very violent, some are pornographic, and some are very beautifully drawn, like "Akira" or "Ghost in the Shell."
F: I don't know how the Japanese are able to do this. With comic-book cartoonists there's some wonderful draftsmanship, but none of it has the delicacy or finesse of the manga artists; they use a technique that was used inthe 12th century. I was in Japan a year or so ago. They work out of a factory that's like a huge motion picture studio, with this mass assembly line of artists all doing this extraordinary work. I mean you might think it's one or two geniuses, but they all do it.
W: They must because I just saw a big full length one. This one is very popular in Japan right now; it's an epic called "Princess Mononoke." It's an amazing combination of motifs; feudal Japan with firearms. It's animation, beautifully layered. The plot itself is almost Greek in its sophistication.
[....]
(This article was posted to the Miyazaki Mailing list by Greg Vilardi)

61). The Fort Worth Star-Telegram
July 10, 1998
Girl power
Mulan is the most spirited heroine yet, but she has nothing on a Japanese princess named Mononoke
By CHARLES SOLOMON

Disney's Mulan is the first Asian heroine in an American animated feature, and her character represents a new way of depicting women in animation. Capable and intelligent, if somewhat maladroit, she's a welcome departure from the spunky girls and increasingly snide women in recent features.

Unlike her animated predecessors, Mulan is not a restless girl out to kick over the traces and choose her own husband: She'd like to stay within the traces, but they don't fit. Mulan loves her parents and tries to do what they expect but fails. She submits to an interview with a matchmaker, and when her klutziness turns the session into a humiliating disaster, she hides from her father's gaze in shame - an emotion no previous Disney heroine experienced.

Mulan runs away, not because she wants to see "what's beyond the river bend" or to become part of someone else's world, but to save her father's life.

Mulan's unpretentious competence represents a break with six decades of American animation, starting with Disney's Snow White and the Seven Dwarfs in 1937. Snow White is very much "The Little Princess," an extremely passive character, content to wait for the prince to find her.

When Ariel kicked up her fins in The Little Mermaid (1989), she ushered in an era of spunky heroines. Like her, Belle in Beauty and the Beast (1991), Princess Jasmine in Aladdin (1992) and the title character in Pocahontas (1995) sought to break the bonds of convention and marry whom they wanted. But all four heroines essentially want the same thing.

The perky, "Oh, Daddy, you don't understand!" heroine has not been restricted to Disney films. Kayley in Warner Bros.' Quest for Camelot is determinedly spunky, if none too bright. An incessantly chattering tomboy, she wants to be a knight, but after declaring her ambition to rescue damsels in distress, she asks, "What's a damsel?"

The heroine of Don Bluth's recent Anastasia is almost as spunky as Kayley, but marginally brighter. Suffering from amnesia (for more than a decade), she wants to find out who she really is. As the willing pawn of the fortune hunters Dimitri and Vladimir, she poses as the lost Romanoff princess. When her memory is finally restored, she leaves her grandmother - the only member of her family she seems to remember - to marry Dimitri.

Megara in last year's Hercules ranks as the least likable heroine in Disney history. Directors John Musker and Ron Clements said they wanted to re-create the flavor of an old Barbara Stanwyck-Gary Cooper movie, but they missed one essential element. Stanwyck could be as tough as nails, but she called her own shots; Meg is a puppet, and Hades pulls her strings.

The only heroine to rival Mulan's independence is the title character of Hayao Miyazaki's Princess Mononoke , one of the top-grossing films in Japanese history; Miramax will release a dubbed version in the United States next spring.

An orphan raised by wolves to be the guardian of a semi-enchanted forest, Mononoke is fiery, self-possessed and strong-willed. She leads the wolves into battle and chooses to remain in her forest realm rather than marry the heroic Ashitaka, despite their attraction. She remains true to her nature, as Mulan remains true to hers.

These two very different heroines suggest that at long last, women in animated features can be intelligent, independent and resourceful - and aspire to something more than marriage to a prince.


July 20, 1998
Femme thesps to voice 'Princess'
By DON GROVES

SYDNEY Claire Danes, Minnie Driver and Gillian Anderson have agreed to lend their vocal talents for the U.S. version of the Japanese blockbuster "Princess Mononoke ."

Miramax Films plans to release the revoiced version of the adult-oriented animated pic, which grossed more than $150 million in Japan, domestically in the summer of 1999.

Danes ("Romeo & Juliet," "The Mod Squad") will limn the heroine San, Driver ("Good Will Hunting," "An Ideal Husband") will take the role of Eboshi, and Anderson ("The X- Files," "The Mighty") will voice a character called Moro.

Concurrently, Buena Vista Home Entertainment reported July 16 that " Mononoke " has rapidly become the bestselling videocassette ever released on sell-through in Japan. BVHE said 3.8 million units have been shipped to retailers, clocking sales of more than 2 million copies in just under three weeks. Priced at about $32 per copy, those 3.8 million units would generate a whopping $121 million in revenues at retail level.

Although " Mononoke " sold 13.6 million tickets during its theatrical release (an all-time B.O. record until it was knocked off by "Titanic"), research shows that 50% of those who bought a vidcassette had not seen the film in cinemas. Of those buyers, some 20% had never purchased a pre-recorded tape before, according to a BVHE spokesman in Tokyo, who said, "This shows there is huge potential for further growth in sell-through in Japan."

BVHE confirmed an earlier agreement to co-produce the animated feature "My Neighbors the Yamadas" with Tokuma Shoten Publishing Co., Nippon TV and Hakuhodo.

Family-themed pic based on a popular comic strip by Hisaichi Ishii will be produced by Studio Ghibli, which was responsible for " Mononoke ," and will be helmed by Isao Takahata. It will be the first feature-length film rendered entirely by computer in Japan, BVHE said.
21-27 July, 1998
"Princess" rules Japanese video
by Blake Murdoch
SYDNEY -- Hayao Miyazaki's animated feature "Princess Mononoke" became Japan's best-selling video release by selling 2 million units and genarating $121 million in retail revenues, as of late late week, since its release by Buena Vista Home Entertainment. At a press conference in Tokyo, BVHE's Michael Johnson said the figures mean approximately one in 15 Japanese families with VCRs now own the film. Miramax also revealed that its voice-over lineup for the U.S. version of the Japanese blockbuster will include Gillian Anderson, Claire Danes, Minnie Driver and Billy Crudup.
64). Daily News
August 4, 1998
New York Now | Movies
Coming Toon, Japan's Top Anime Films
Nine of master Hiyao Miyazaki's features will be released here
By LEWIS BEALE
Daily News Staff Writer
He's the Walt Disney of Japanese animation, a force whose films routinely outgross movies like "Aladdin" at the Nipponese box office. Now he's coming to America.
Nine feature films by Hiyao Miyazaki, Japan's foremost animator, were recently purchased by Disney. Eight will be released on video by Buena Vista Home Entertainment, Disney's video arm, and one will make it to theaters later next year.
The first release, debuting Sept. 1, is "Kiki's Delivery Service," the story of a 13-year-old witch who uses her flying skills to open a delivery business. It was a No. 1 smash in Japan.
"Princess Mononoke," a 14th-century fable involving a battle between gods and man, will be theatrically distributed next year by Disney subsidiary Miramax. The film, whose English-language version will feature the voices of Gillian Anderson, Claire Danes and Minnie Driver, has earned $150 million in Japan - it is the second-highest-grossing film in that country's history, topped only by "Titanic."
"Disney is picking up on [Japanese animation] because they think it's the next stage in animation around the world," says Bruce Apar of Video Business Magazine.
Compared to Disney's output, Miyazaki's work is leisurely paced ("Mononoke" runs 133 minutes - an epic length by animation standards), more story driven and nonmusical. Many films also have a distinct ecological subtext.
"There's an epic nature to [Miyazaki's] stories, but also a certain naiveté and innocence," says Scott Martin, Miramax' executive in charge of production for "Princess Mononoke."
Miyazaki's work is barely known outside Japan.
One film, "My Neighbor Totoro," about two girls who are befriended by a mythical creature, opened here theatrically in 1993 and sold more than 500,000 cassettes since it was released on home video the following year.
But though Miyazaki has been courted by other foreign distributors - including Fox and Warner Bros. - he has refused in the past to license his films for fear they would be cut or altered.
"We have not done anything to change these films but dub them. We have added some new songs, but we have remained true to the original," says Michael Johnson, worldwide president of BVHE.
Johnson admits Miyazaki's work may initially appeal to a niche audience - one familiar with anime (Japanese animation). But, he says, "we're going to try to go beyond that audience here. Anime . . . is about cutting-edge humor, violence, sexual overtones. None of that exists in the Miyazaki product. [We will be] taking it out of the anime category by packaging it differently, presenting it differently to the public."
Will this approach work? Bruce Apar feels "Disney is looking for a cataclysmic change in the market, where [Japanese animation] becomes the really hip thing."
Says David Wharff of West Coast Entertainment, one of America's largest video chains: "It seems like they're not really pushing the title to the industry that much right now. ['Kiki's'] will be a moderate hit. It won't be a 'Lion King' that [ships] 25 million copies, but it can do something like 'Totoro,' which is a consistent seller."
Johnson is equally cautious. His company plans to release a Miyazaki title every six months, but those plans are dependent on how well "Kiki" does.
"It's a build philosophy," he says. "We hope people discover this, and retailers are patient enough to stay with this product."
65). Village Voice
September 2, 1998

Tooning In
Disney Imports a Japanese Auteur-Animator

by Elisabeth Vincentelli


Disney is not known for heralding directorial authorship, least of all when it comes to animation: try naming the director of The Little Mermaid or even a classic like Dumbo. It's the corporate brand name that sells the movies. And yet, last year, the company acquired the rights to distribute the entire oeuvre of Hayao Miyazaki, Japan's premier auteur-animator. Miramax will release the director's latest film, Princess Mononoke, in theaters next year (the movie is second only to Titanic as Japan's all-time box office champ); the remaining titles will go straight to video in brand-new dubbed versions, starting with this week's release of 1989's Kiki's Delivery Service.

Born in 1941, Miyazaki is a beloved icon in his home country--though he's called "the Disney of Japan," he's been vocal about his distate of Disney movies. After working on various TV series, he made his directorial feature debut in 1979 with Lupin III: Castle of Cagliostro, a breathless caper complete with secret stairways, a captive princess, and Indiana Jones-like hijinks. Miyazaki's artistic breakthrough came in 1984's Nausicaa of the Valley of the Wind, whose title character, the first of the director's trademark headstrong heroines, leads her village in a battle for ecological survival. In 1986's Laputa--Castle in the Sky, slated for video release next year, a young girl fights off the factions lusting after her "levitation stone" (flight is a Miyazaki obsession, and there are airborne scenes in all his movies).

My Neighbor Totoro (1988; Fox Video, 1993) may be the director's best-known film. Two young sisters meet a mythical forest creature who helps them cope with their ailing mother's absence. Buoyed by Joe Hisaishi's imaginative score (he also works with Takeshi Kitano), Totoro neatly encapsulates Miyazaki's main obsessions: the need for balance between man and nature, and the trials of spiritual and moral development.

Though Miyazaki can orchestrate impressively precise action scenes (Kiki's arrival in the city provokes chaos in the streets; 1992's philosophical adventure movie, Porco Rosso, includes magnificent aerial dogfights), his movies usually unfurl at a leisurely pace. The director allows for reverie and for a sense of wonder to bloom. Humor, always present, tends to be gentle slapstick, unobtrusively punctuating an otherwise contemplative rhythm.

Drawing thousands of each movie's animation cells himself, Miyazaki composes every shot with a painter's eye. Influenced by Jonathan Swift (Laputa--Castle in the Sky is named after a floating island in Gulliver's Travels), Jules Verne, and Lewis Carroll, he smoothly integrates the fantastical and the mundane. Nobody gets crushed by falling pianos in Miyazaki's movies (he finds Disney too violent), but cats shaped like buses roam the countryside. A humanist concerned with rites of passage and periods of transition, Miyazaki avoids cheap moral lessons and the safe distance of cynical wisecracks. Being marketed by Disney, in fact, might be the greatest irony in the career of a director who can appeal equally to four-year-olds and admirers of Yasujiro Ozu.
September 2, 1998
DISNEY'S ASIAN SECRET; JAPAN'S MASTER ANIMATOR SIGNS U.S. DISTRIBUTION DEAL
David Bloom Daily News Staff Writer


When the Walt Disney Co. calls someone the Walt Disney of Japan, maybe animation fans ought to pay attention.

The animation giant is talking about Hayao Miyazaki, nine of whose animated films from the past two decades it will release in American video markets or theaters in coming months.

The first one, "Kiki's Delivery Service," hit video stores Tuesday and features Miyazaki's wonderful animation style and a flight of narrative fancy that's perfect for children yet still engaging for adults.

The film was a big Japanese hit, something Miyazaki has a habit of making.

"The Princess Mononoke," which Disney subsidiary Miramax plans to release in theaters next year, has grossed at least $150 million so far, second only to "Titanic" in Japanese box-office history.

Miyazaki also created "My Neighbor Totoro," another highly recommended children's film infused with magical beasts and striking art that has been available on video in the United States since 1994, selling half a million copies so far. Rights to distribute "Totoro" also will revert to Disney from 20th Century Fox under the deal.

"Miyazaki is a pioneer and a visionary who can take a story and bring it brilliantly to light through phenomenal animation and imagery," said Michael Johnson, president of Disney subsidiary Buena Vista Home Entertainment Worldwide. Johnson championed the deal at Disney after seeing a Miyazaki film several years ago in Tokyo.

"We know animation," Johnson said. "When I first saw Miyazaki's films, I wanted to find a way to make them available around the world."

Fantasy world

"Kiki" follows a 13-year-old witch as she leaves her family for a year of training on her own in a big city in a universe somewhat like ours, but not quite.

In it, dirigibles and early TVs, Clipper ships and double-decker prop planes, '40s-era cars and quill pens all combine to give the film a slightly disorienting, if pleasing alternate-world feel. That feel is further heightened by Miyazaki's lifelike style, reminiscent of the Tintin series and some recent French comic book artists.

To revoice the film for American audiences, Buena Vista brought in a name-brand American cast, including young actress Kirsten Dunst as Kiki, the late Phil Hartman as her wisecracking cat and Janeane Garofalo as an artist friend.

The conversion to English isn't total however. Written credits and some minor details in the film itself are in Japanese, though in other places, signs in German, English and other languages contribute to the tale's overall dislocation of reality.

Unlike most Japanese animation, or anime, Miyazaki's work is much slower, quieter and sweeter. Like "Totoro," the 104-minute "Kiki" is long for an animated feature and sometimes feels like it, given its deliberate pacing. But Miyazaki's films contain many charms, as quirky fantasy bumps up gently against slices of average life.

"His films are truly universal and timeless in their appeal," Johnson said. "They transcend cultural borders, and I know of animators everywhere who speak of his influence on their work."

Revered work

Miyazaki, who personally draws thousands of each film's frames of animation, is a stunning visual artist. For instance, one of "Kiki's" stars is the gorgeous European-looking city in which it is largely set, replete with a dazzling clock tower and mansard-roofed buildings.

Other tours de force are a sequence with a flock of Canadian geese, his handling of wind and water, and an accident involving the helium-filled dirigible.

Disney has ambitious plans for Miyazaki's films.

"We want to take "Kiki's Delivery Service" and have it transcend the anime category by packaging and marketing it differently so that it reaches a much wider audience, beginning with families," Johnson said.

But securing the deal with Miyazaki took almost as long as creating one of Miyazaki's films. He had been courted by other studios in the past but had resisted deals because of concerns about preserving his films' artistic integrity, Johnson said.

As part of Miyazaki's deal, Disney's own name won't appear explicitly anywhere in connection with his films. Subsidiaries Buena Vista and Miramax will handle the video and theatrical releases.

The films themselves won't be cut or otherwise modified, except for the addition of top-flight American casts. For "Mononoke," which updates a 14th-century Japanese fable, the company has signed Gillian Anderson, Claire Danes and Minnie Driver for character voices, Johnson said.

"We really view these films as masterpieces and don't want to take too many liberties with them," said Johnson. "There are moments of reflection in there that are often missing in American films. Many Disney animators idolize him."


2 Photos; Caption: Photo: (1) no caption ("Kiki's Delivery Service") (2) Animator Hayao Miyazaki's films are being distributed by Disney, the company he chose after turning down offers from other studios.

67). Miramx's Official Web Site
September, 1998
VOICES ANNOUNCED FOR PRINCESS MONONOKE


Miramax Films is proud to announce that Gillian Anderson, Billy Crudup, Claire Danes and Minnie Driver have signed to voice the English Language dubbed version of PRINCESS MONONOKE .

Gillian Anderson ("The X Files," TV series and feature film, upcoming Miramax films "The Mighty" and "Dancing About Architecture") will be the voice of Moro, Billy Crudup (upcoming films "Without Limits" and "The Hi-lo Country") will be the voice of Ashitaka, Claire Danes ("Romeo & Juliet" and upcoming films "The Mod Squad" and "Brokedown Palace") will be the heroine San and Minnie Driver ("Good Will Hunting" and Miramax's upcoming "An Ideal Husband" will be the voice of Lady Eboshi.

Neil Gaiman, the creater/writer of the award-winning monthly DC COmics series "Sandman" and best-selling author, wrote the script for the English-language dubbed version of PRINCESS MONONOKE.

Directed by Japan's leading animator, the acclaimed Hayao Miyazaki, whose Studio Ghibli has created a string of critically acclaimed, award-winning animated films, PRINCESS MONONOKE has been eagerly anticipated outside of Japan. One of only two films to break $150 million (US) at the Japanese box office, PRINCESS MONONOKE is the second highest-grossing film in the country's history, behind "Titanic."

July 16, 1998
[...]
MORET: Gillian Anderson and Claire Danes are finding themselves drawn to an animated film. They've agreed to lend their voices to an American version of a Japanese hit, called "Princess Mononoke." Now, they have become the latest stars to pipe up in the sound booth, lending their voices to animated hits.
[...]
(The following is an unofficial English translation of the article. - Ryoko)
September 29, 1998

"Princess Mononoke" to be released in the US next April. Claire Danes will dub it.

On September 28th, it was formally decided that "Princess Mononoke" (directed by Hayao Miyazaki) will be released in the US next April. As a Japanese movie, its release in 1,000 theaters is unprecedented in scale in terms of the voice cast and total cost.

Miramx, a subsidiary of Disney, will handle the US release. The most widely released Japanese film in the US so far is "Shall We Dance?," which was released in about 300 theaters. "Mononoke Hime" is definitely getting the same treatment as other Hollywood blockbusters.

As for the voice cast, Claire Danes, who played the heroine in "Romeo and Juliet," will play the heroine, Mononoke Hime. A rising young actor, Billy Crudup, Gillian Anderson of "The X-Files," and Minnie Driver are also in the cast. The total cost for dubbing, including fees for the actors, is said to be about 350 million yen.

Suzuki, the president of Studio Ghibli, says "We take it from (the cost of 350 million yen) that they (Disney) are serious about this release." The interest in Ghibli films in the US is quite high. "Kiki's Delivery Service," which was released on September 1st in the US and Canada, has already sold 900,000 copies. It will surely sell more than 1.2 million copies before year end.

Signing Ceremony in Tokyo

A signing ceremony concerning the US release of "Princess Mononoke" was held at the headquarters of Tokuma Publishing in Tokyo on September 28th. From the Japanese side, President Yosiyasu Tokuma, Producer Tosio Suzuki, and lawyers attended. From the Disney side, Yasuji Hoshino from Buena Vista Home Entertainment and lawyers attended. Tokuma and Disney have been negotiating for two years, since 1996. The 114 page-length contract includes not only the terms on Pricess Mononoke's release, but also the terms concerning past Ghibli films and Ghibli's next film, "My Neighbors the Yamadas."

January 29, 1999

'Mononoke' airing sets Japan TV ratings record
By Jon Herskovitz
TOKYO -- The record-setting Japanese animation feature "Princess Mononoke" is still clicking with Japanese auds, as its television debut on Jan. 22 scored ratings that had not been seen for 15 years.
"Princess," from famed animator Hayao Miyazaki, hit a rating of 35.1 with its Friday night broadcast on Nippon Television Network Inc., rating agency Video Research said.
The toon ranks eighth in Japanese television history for movie broadcast ratings, just behind seventh-place "The South Pole Story," which tallied a 35.2 in 1984.
'Jaws' still No. 1
The top-rated Hollywood movie broadcast on Japanese television is "Jaws," which scored a 37.7 on NTV in 1981.
"Princess" took in $156.6 million at the Japanese box office and it holds the record for the highest revenue of any Japanese film.
The animated movie is scheduled to be released overseas by Buena Vista in July. "Princess" has already racked up video sales of 4 million units.
---

This page is brought to you by Team Ghiblink.