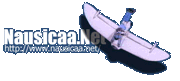 ---
|| Main | Mailing List | Films | Search | Ghiblink | Feedback ||




Mononoke Hime
(Princess Mononoke)


Back to the Table of Contents
31). Japan Economic Newswire
NOVEMBER 17, 1997
' Mononoke' pushes box office record to 10 bil. yen
TOKYO, Nov. 17 Kyodo
The animation film ' Mononoke Hime' (Princess Ghost) has extended its box office record in Japan, raking in more than 10 billion yen in net earnings since its July release, its distributor said Monday.
Since opening July 12, the fantasy film has drawn an audience of more than 12.16 million through to Sunday when it was still playing at 164 cinemas nationwide, major filmmaker and theater operator Toho Co. said.
Toho said it will continue screenings in major cities until the start of next year.
Mononoke Hime, directed by veteran animator Hayao Miyazaki, has had a phenomenal run at the box office, breaking late last month the 15-year net earnings record held by Steven Spielberg's 'E.T. The Extraterrestrial' for a first-run movie in Japan.

32). Asiaweek
November 21, 1997
SECTION: PEOPLE; Pg. 56
Princess With A MISSION
BY ALEXANDRA A. SENO
Watch out, Princess Mononoke is on the attack. Not even cute, homesick aliens get in the way of this warrior woman. Her highness, left, showed no mercy as she clobbered E.T. The ExtraTerrestrial at Asia's biggest box office. The 1982 Spielberg fantasy flick had raked in $ 38.6 million to become the all-time record holder in Japan. But since opening in July, the animated feature Mononoke Hime has leaped past that mark and is still climbing. It has been seen by 12 million moviegoers -- one tenth of all the people in Japan -- and is still playing at some 190 cinemas. Though the film has had a limited release in Hong Kong and Taiwan, Mononoke is due to hit international screens in early 1998. Made by veteran animation director Miyazaki Hayao, the film recreates the myth of a young 14th-century maiden brought up by wolves to become a tree-hugging, dagger-wielding defender of the forests. Go, girl!

33). Japan Economic Newswire
DECEMBER 1, 1997, MONDAY
'Shitsurakuen' (Paradise Lost), the title of a best-selling book written by doctor-turned-novelist Junichi Watanabe about an extramarital affair that ended in a suicide pact, was named as this year's best expression at a ceremony in Tokyo on Monday.
[snip]
Among the year's top 10 words and phrases, in addition to 'Shitsurakuen' and the three postal sectors, are 'Tamagotchi,' the Japanese version of 'Big Bang,' 'Princess Mononoke' and 'paparazzi.'

34). Daily Variety
December 2, 1997 Tuesday
Japan set to break 150 mil attendance mark
BYLINE: JON HERSKOVITZ
TOKYO --- Japanese movie theater attendance is expected to break the 150 million mark in 1997 for the first time in 11 years. Several doemstic hits, a strong slate of imports and an emerging multiplex boom are all behind the upswing, a leading financial daily reported, citing industry sources.
The Nihon Keizai Shimbun said major film companies are likely to post a record high 79 billion yen ($ 627 million) in film distribution income for the year, breaking the previous high set in 1983 of $ 62.4 million.
[snip]
Then came the monster hit " Mononoke Hime" ("The Phantom Princess"), the all time box office champ in Japan. The animated feature from Hayao Miyazaki eclipsed "E.T." as Japan's top movie at the box office and by the time its run ends in early 1998, the film is likely to tally $ 150 million at the box office and have attendance of over 12 million.
[snip]

35). City News Service
November 24, 1997, Monday
Oscar Nominations
Forty-four countries -- five more than last year -- submitted entries for consideration as best foreign language film at the 70th annual Academy Awards, the motion picture academy announced today.
This year's submissions are one short of the record 45 entries set in 1994, said Academy of Motion Picture Arts and Science President Robert Rehme.
Four countries that submitted entries this year -- the Democratic Republic of Congo, Luxembourg, South Africa and Ukraine -- have never submitted films before, he said.
Two of this year's submissions are animated films, The Little Shoemaker'' from Croatia, and Princess Mononoke' ' from Japan.
36). The Nikkei Weekly
December 29, 1997
SECTION: MAJOR STORIES; Pg. 1
Fantasy, hard realities spawn hit products
Hottest Items Include 'Mononoke', Deposits At Tokyo-Mitsubishi
BY ASAKO ISHIBASHI Staff writer
Hit products and fads are mirrors of their times. This year, mounting economic and social anxieties have caused Japanese consumers to be risk-averse and introspective in their spending.
Deposits at Bank of Tokyo-Mitsubishi and the animated film "Princess Mononoke" topped The Nikkei Marketing Journal's 1997 annual list of Japan's 32 hottest items.
A series of bankruptcies of domestic financial institutions in 1997 has jolted Japanese consumers to a rude realization that their banks are no longer fail-safe. Scared depositors rushed to move their savings to Tokyo-Mitsubishi, the largest and believed to be the strongest Japanese bank.
"Princess Mononoke, " directed by Hayao Miyazaki, has broken box office records in Japan, despite its complex and sometimes dark story line based on the conflict between industrial progress and nature.
Japan's economic outlook remains gloomy. But trend watchers see tinges of hope for the future from the 1997 hit products, which signal the budding of new values and technologies.
Greater competition in the market has given Japanese consumers more choices. At the same time, producers are on edge, realizing it's survival of the fittest.
The products show that more value is being placed on experiencing unconventional worlds than on possessing material items. Consumers appear eager to improve the quality of their lives, preferably without spending more. There's heightened awareness of health and the environment. Despite the economic stagnation, there's no slowing in the new wave of digital electronics penetrating Japanese offices and households.
Many of the hit products of 1997 allow consumers to experience surreal worlds, quite inexpensively. Tamagotchi, a portable electronic "pet," lets players become virtual pet owners. Pocket Monster, a Nintendo game, has become a monster hit, spinning off hit derivatives that include character dolls and a television series. "Princess Mononoke" drew and mesmerized an audience of 12 million viewers with its superb animated imagery.
Many Japanese grown-ups have enjoyed these fantasy products almost as much as have children.
"The borderline between adult and child cultures has disappeared," says Hideo Takayama, head of the Children's Research Institute. "While children have become more precocious, it seems like many Japanese adults have grown up without fully experiencing childhood."
Japanese consumers were also drawn to memories of the lost past. "Candle in the Wind," the song rewritten and sung by Elton John in honor of Diana, Princess of Wales, after her death, has sold 700,000 copies in Japan and 33 million globally. "Shonen H" ("Boy H"), an autobiographical novel by Kappa Senoo, a renowned theatrical designer, reflecting on his wartime boyhood, became a sleeper best seller, with 1.6 million hardcover copies sold.
37). Daily Variety
December 31, 1997
Grosses grow as 21 pix hit $ 100 mil
SYDNEY --- U.S. majors collectively are certain to finish 1997 with record grosses outside the U.S., as an unprecedented 21 titles have earned more than $ 100 million each overseas.
As of today, just a dozen films, including the recently released "Titanic," had topped $ 100 million domestically.
[snip]
Although Hollywood devoured the lion's share of the 21 clicks' total receipts of well over $ 3 billion (topping last year's 15 pics pulling $ 2.6 billion), four films of non-U.S. origin joined the $ 100 million winners' circle. British comedies "Bean" with Rowan Atkinson (Polygram) and "The Full Monty" (Fox) vied for the sleeper of the year accolade, while "The Fifth Element" (directed by Luc Besson and financed by Gallic major Gaumont) ranked third, and Japanese animated sensation "The Princess Mononoke" surpassed "E.T. the Extra-Terrestrial" to become the highest-earning film in Nippon history.
[snip]
38). Japan Economic Newswire
JANUARY 13, 1998
Agency awards 'Princess Mononoke' grand prize
TOKYO, Jan. 13 Kyodo
The animation film 'Mononoke Hime' (Princess Mononoke) , Japan's top all-time box-office hit, has been selected to receive the Cultural Agency's grand prize with three other works for the first media arts festival awards, the agency said Tuesday.
The fantasy film, directed by veteran animator Hayao Miyazaki, was recognized in the animation category for its 'high finished quality' as a full-length animated film that represents domestic animated works.
The other categories are for 'manga' or Japanese comics, interactive and noninteractive digital art, representing computer games and special visual effects, respectively. The awards ceremony will be held Feb. 2 at the New National Theater in Tokyo's Shibuya Ward.
The agency said it established the new award to promote the development of artistic expression that would meet the demands of an increasingly diversified media.
The award recognizes achievement in new artistic fields that have developed techniques which make new forms of visual expression possible.
Such domestically produced works, which are now gaining recognition around the world, are expected to represent Japan's new culture in the next century, the agency said.
'Mononoke Hime' earned net receipts of 9.65 billion yen less than four months since its release in July 1997, breaking a 15-year net earnings record for a first-run movie in Japan, held by 'E.T. The Extraterrestrial.'
Still showing in cinemas throughout Japan, the medieval adventure film is scheduled to be released commercially in the United States and Europe later this year, its distributor said.
NOTE: Cultural Agency (Bunka Cho) is a part of the Ministry of Education of Japan. -Ryoko
39). Japan Economic Newswire
JANUARY 21, 1998
'Mononoke Hime' animator Kondo dies at 47
TOKYO, Jan. 21 Kyodo
Yoshifumi Kondo, one of the animation directors for the award-winning animated film ' Mononoke Hime (Princess Mononoke) ', died of an aneurysm at a Tokyo hospital Wednesday, his family said. He was 47.
Kondo, together with directors Hayao Miyazaki and Isao Takahata, created many animated films for Studio Ghibli, including 'Mimi wo Sumaseba (Whispers from the Heart)' and 'Mononoke Hime.'
'Mononoke Hime,' which has turned out to be Japan's all-time top box office hit, won the Cultural Agency's highest honor at the first Media Arts Festival Awards.
40). The Hollywood ReporterMonday, February 2, 1998
Miramax importing "Mononoke"
By Dana Harris
Miramax Films will create an English-language version of theJapanese animated blockbuster "Princess Mononoke," as itsDimension Films division gives the original film a wide U.S.release this summer.
"Princess Mononoke," produced by Studio Ghibli and directedby leading Japanese animator Hayao Miyazaki, is the highest-grossing film in Japanese history with a boxoffice topping$150 million.
"Word of this film's great success and amazing artistry hascertainly traveled to all parts of the world now, and we arethrilled to be the ones to present it in the U.S.," MiramaxFilms president Harvey Weinstein said.
In reference to plans for the film's English-language remake,Weinstein added, "with great regard for Mr. Miyazaki, ourplan is to maintain the film's unique creative integrity.We plan to personally approach our family of fine actorswho have distinguished themselves throughout the years inMiramax films to work as speaking-voice talents.
"In addition, Miramax Films and Buena Vista Home Entertainmentwill jointly distribute "Princess Mononoke" worldwide. "Wefeel this film is clearly strong enough for a U.S. release during summer playtime and will appeal broadly to young andolder audiences," said Rick Sands, Miramax's chairman ofworldwide distribution.
With the worldwide release of "Princess Mononoke,"Miramax has joined the alliance between Buena Vista HomeEntertainment and Tokuma Shoten Publishing Co. in an effortto bring select Japanese pictures from Tokuma's Studio Ghibliand Daiei Studios to worldwide audiences. That alliance wasformed in July 1996 for theatrical video and televisiondistribution of live-action and animated motion pictures.
Miramax's U.S. release of "Princess Mononoke" comes on the heels of the success of the recent Miramax release of theDaiei Studio's "Shall We Dance?"

41). Daily Variety, February 13, 1998
Page A6 (Special Animation section)
'PRINCESS' GOES WEST
JAPANESE HIT GETS ENGLISH TREATMENT
By Michael Mallory
[ A picture of San riding on a white wolf and running with a group of pigs, with caption ]
HUNGRY LIKE THE WOLVES: Miramax is preparing "Princess Mononoke" for its Stateside release in July. The toon set new records at the box office in Japan in '97.
'"Mononoke" is not effects-driven or violence-driven. This is true, story-driven animation that appeals to an older audience.'
Mark Johnson
Buena Vista Home Entertainment
Disney-owned Buena Vista Home Entertainment knew a successful partnership would arise from the strategic alliance it formed two years ago with Japan's leading animation company, Studio Ghibli. But the size of the pearl that has emerged from the deal has set even the Mouse on its ears.
Under the arrangement, BVHE acquired video rights within Japan and all media distribution rights outside of the country for eight films made by master animation filmmaker Hayao Miyazaki, including a work in progress. That work, "Princess Mononoke," became a phenomenon upon its release in 1997, taking in about $160 million to date, and becoming the highest grossing film ever released in Japan.
"[Miyazaki] has a whole slate of films that are very, very popular in Japan," says Michael Johnson, president of Buena Vista Home Entertainment. "When 'Princess Mononoke' came out, everyone believed it was going to be a good, strong film. What we didn't expect, but I believe (Studio Ghibli) expected, was just how strong it was."
'Jurassic' who?
Strong enough, in fact, to leave former B.O. champs, like 1982's "E.T. The Extra-Terrestrial" and 1993's "Jurassic Park," eating dust and become Japan's official selection for Academy consideration for best foreign-language film.
This kind of success and recognition means an almost certain theatrical release in the United States, perhaps even by this summer. BVHE is working with another Disney component, Miramax, on getting the film dubbed into English and hammering out a release schedule.
But audiences who are familiar only with American-made animated features, which continue to be targeted toward the kid trade, or even those who revel in the raucous, comic book-inspired, often graphically sexual and violent Japanese animation that travels the cult and arthouse circuits, will find in "Princess Mononoke" something entirely new.
"This is not anime," says Johnson, "it's not effect-driven or violence-driven. This is true, full-cel, story-driven animation that appeals to an older audience. 'Princess Mononoke' is playing to a 16- to 25-year-old audience in Japan."
Set in a demon-haunted world during Japan's feudal era, "Princess Mononoke" tells in terms of allegorical fantasy of the battle between humankind, on the verge of becoming industrialized, and the creatures and gods of nature, who are being supplanted in the process. The title character is a feral young woman who, after being abandoned in infancy, is raised by giant wolves and becomes their leader in battle against the humans. It is not "Pocahontas."
Audience appeal
But is it too philosophical and spiritual to find a U.S. audience?
Johnson thinks not. "It is without a doubt a very complex story that talks to various themes," he says, "but I think the dub and the actual scripting, the idiomatic interpretation, is what is going to drive the understanding of this film."
The other titles in the distribution deal with Studio Ghibli (which is part of Tokuma-Shoten, a major Japanese publishing company) include "Kiki's Delivery Service" and "Castle in the Sky". Johnson adds there might even be a coproduction arrangement with Studio Ghibli in the future.
42). Reuters, February 17, 1998
Lebowski' Big At Low-Key Berlin Festival
[snip]
Standout among foreign-language fare was Brazilian drama "Central Station," well liked at all levels. Of other arthouse pictures screenedso far,only Alain Resnais' comedy of manners "Same Old Song," and Japanese Boxoffice champion "Princess Mononoke," a mythical animated feature,were generally liked. Others, like Stanley Kwan's sexual potpourri "HoldYou Tight," were adjudged disappointments, while Jacques Doillon'slatest relationship drama, "Too Much (Little) Love," bombed.
[snip]

43). Mainichi Shinbun, 27 Feb 1998
The following is a rough translation of the article. -Ryoko
Director Myazaki will not retire
his next movie is about the next century
By Shinsuke Nagao
We learned on 27th (of Feb.) that the next movie by Hayao Miyazaki will be about the 21st century, where the destruction of environment gets worsened. Miyazaki made a huge hit movie "Mononoke Hime", which earned 18 billion yen, with 13 million attendance. Although there has been a rumor of Miyazaki's retirement, Yasuyoshi Tokuma, the president of Tokuma Publishing and the executive producer of Mononoke Hime, denied this rumor, and announced that Miyazaki's next movie will be a huge picture with 3 - 5 billion yen production cost, which will surpass 2.4 billion yen for Mononoke Hime. It is said that Disney will cooperate in the worldwide distribution of this movie.
At the press conference for "Mononoke Hime" last March, Miyazaki said "It can be my last movie", and his "declaration of retirement" made a news. However, Tokuma says "He just meant that he was tired because of the movie making. Fans gave him such a support, and sent many letters to plead him not to retire. He will work for life. Miyazaki-San himself told me clearly that he would not retire."
In "Mononoke Hime", Miyazaki depicted the war between the forest gods and humans, which took place in medieval Japan. His next movie is going to take place in the 21st century. Tokuma says "Mononoke Hime was about Japan. This time, we want to make a movie for the world, which will be about the 21st century with environmental problems, terrorism, earthquake, plagues, population explosion, and so forth."
Since "Nausicaa of the Valley of Wind" in 1984, Tokuma Publishing has produced Miyazaki films such as "My Neighbor Totoro" and "Porco Rosso".
Since its release in last July, "Mononoke Hime" has been popular among both children and adults, and is still in theaters. It broke all the Japanese record, from rental (the revenue for a movie company), gross (total ticket sales), to the number of attendance. It has been released in Hong Kong and Taiwan, from last August to October, and will be released in Europe and the US.
44). Screen International. No. 1146, February 20-26, 1998
by Mark Schilling:
ROYAL ASCENT
Japanese imports used to mean men in rubber suits crushing modelcities. But while this summer's Godzilla is made in the US, a newJapanese invader is coming courtesy of the Walt Disney Co. Mark Schilling and Colin Brown ask if this Princess will be a monster.
Still: Ashitaka
When, two years ago the Walt Disney Co. struck a nine-picture distribution agreement with Japan's most successful animator Hayao Miyazaki, few in the industry thought any of the films involved in the deal would ever see a theatrical release in the US, let alone in the hugely competitive summer showdown. Even fewer would have predicted the first release would be through Dimension Films, the Miramax label more commonly associated with horror-fests such as Scream.
But then Princess Mononoke is no ordinary film. Having grossed an eye-popping $160 million in Japan alone, the full-cel feature is a national phenomenon, a landmark in Japanimation or, as it is known locally ,anime.
Far more adventurous than any Disney cartoon in its treatment of its main themes - man versus nature, material progress versus spiritual values - the film is also narratively complex. Instead of sweetening or dumbing down his story for mass consumption, Miyazaki has dared to depart from rigid period drama conventions and explore issues dear to his old socialist heart in depth and detail. There are no geisha and few samurai in this movie. Instead, the main characters are drawn from the fringes of traditional Japanese society, including Ainu aborigines, former prostitutes and, in one memorable scene, lepers.
If the story is challenging, the heroine is ferocious. Mononoke, a feral young woman brought up by giant wolves, could never be mistaken for acutie-pie Disney character like Ariel, the Little Mermaid: indeed it was Mononoke's scowling face that became the central image on posters plastered throughout Japan.
Then there is the violence. Although Miyazaki has had great success in attracting women and older couples to the theatre who would otherwise shun the more explicit cartoons for which Japan is also known, PrincessMononoke still has its fair share of blood-letting and limb-lopping. So much so that without cuts, there is little chance the film will get a PG rathing in the US.
Insisting that such violence is an integral part of the story, Miyazaki's Studio Ghibli has said it would rather lose its potential kiddie audience than make changes.
By releasing the film through Dimension, which is planning an 1100-print release this Summer, Disney is clearly acknowledging the adult-skewed nature of this complex cartoon. Miyazaki's brilliant evocation of a lost paradise and his unsparing depiction of its destruction certainly touches a universal nerve - but such cross-border appeal is surelyl imited to a more sophisticated audience than that of, say, The Lion King.
That said, Miramamx seems determined to break beyond the fast-growing fringe of young US males that lap up the graphically sexual and violent images more commonly associated with Japanimation (see below). By all accounts, the company is planning to spend about 10 times the usual budget of a Japanimation dub on the US release version. This means chasing such voice-talents as Leonardo DiCaprio, whose seemingly inexhaustible appeal to young women is one of the key reasons behind Titanic's astounding box office success.
Further more, it appears the allegorical complexities will be toned down in favour of more accessible script that relies heavily on local idiom.This is as true of the English version - which will also be seen in UK and Australian theatres - as it is of the various local language dubs slated for theatrical release through Buena Vista in Italy, France,Germany, Spain and Brazil.
But hardcore anime fans need not depair over such commercial sell-outs: Mirimax will also release a subtitled version in the US to ensure that already dedicated Japanimation lovers are not ignored in the chase for box-office dollars.
ANIME OF THE PEOPLE
While the Princess is being prepared for her entrance, the US video market for Japanese animation is booming.
Colin Brown reports.
Still: Ghost in the Shell poster.
Anime has taken the US video industry by storm in the last two years, exploding out of its cult confines to become one of the fastest-growing niches in the cassette business. Anime enjoys a 20% penetration among video retailers which stock an estimated 500 to 600 titles on their rental and sell-through shelves. In music stores, where soundtracks can be promoted to young male buyers, anime now counts as one of the most profitable niches.
These days, the genre is as likely to be sought out by older curiosity-seekers and the so-called MTV crowd in search of the Next Hot Thing, as it is by the devoted coterie of hardcore 18- to 24-year old male sci-fi fans who started their collections a decade ago. Not surprisingly, especially given their similar audience cultures, retailers compare this emerging business to the early days of video games.
Currently, the largest number of titles are put out through Manga Entertainment, a Chicago-based outfit that releases video through the Polygram distribution apparatus and has enjoyed hits such as Ghost in the Shell, which sold 200,000 units. But other distributors also include New York's Central Park Media, AD Vision, Urban Vision and North Carloina's New Market Sales, which distributes the AnimEigo line.
Although the vast majority of titles are geared towards teenage boys, not all contain the exploding heads, blood-drenched impalements and three-breasted armour-plated dragon-slaying that have come to characterise anime in the popular psyche. Indeed, softer titles, including as many as 100 now deemed palatable for family viweing, are seen as the hot new arena.
The breakout success of Akira on Orion Home Video and a PG-rated versionof Street Fighter II: The Animated Movie, which was put out by Sony Wonder, has helped persuade a number of normally conservative supermarket chains to carry anime titles - even though the genre is not generally rated by the Motion Picture Association of America.
But while this entree in the mass-market outlets is encouraging,obstacles still remain in the path of truly widespread acceptance. Since most titles come from independent producers in Japan, they arrive without the level of marketing support and lucrative toy contracts with which giants such as the Walt Disney Co, 20th Century Fox, Nickelodon and Saban support their animated titles. Indeed, most independents cannot even afford the $4,000 it costs to have a film rated. For this reason, the impending arrival of Princess Mononoke and other Hollywood-distributed Japanimation that are given prior theatrical distribution is expected to take anime to an entirely new level.
At which point, say the specialists which rue their loss of cult status, the anime market of today is likely to mutate into the 'alternative animation' market of tomorrow.
45). Variety, April 27 - May 3, 1998, page 71

Blockbusters Show Potential For Japan
by Jon Herskovitz

TOKYO - The Japanese movie industry was set on its ear in 1997 when its homegrown animated feature "Princess Mononoke" toppled the 15-year reign of "E.T. the Extra-Terrestrial" as the box office champ. Now "Princess" is about to lose the crown she held for less than a year to the big ship "Titanic."

"Titanic" was the No. 2 movie in Japanese box office history at 15 billion yen ($115 million) as of April 21. Fox's Japan office is estimating that it will surpass the 18.2 billion yen ($140 million) taken in "Princess" by mid- to late May.

"We expect 'Titanic' to break the box office record and then put some distance between it and 'Princess Mononoke' with its run during the summer holiday season," a Fox official said.

The company has not decided when "Titanic" will end its Japan run, but it is still playing to sold-out theaters and doing a solid business from repeat customers, the official said.

The James Cameron film is getting more bang for the buck in Japan, where it played in 240 theaters as of the end of February.
Japanese ticket prices at $14 a pop give the country one of the highest dollar-per-screen averages in the world.

The back-to-back success of "Princess" and "Titanic" shows just how big the Japanese market can be for a major pic.

These two films have shown that $100 million during a run in Japan can be achieved by a few select films, and with more theaters going up in the country, $200 million at the Japanese box office is a real possibility within the next one to three years.

By 2000, the number of theaters in Japan is expected to increase by about 10% from the current 1,884 to over 2,000, as a number of older and smaller theaters are forced to shut down and more customer-friendly multiplexes make their way across the country.

"Titanic" opened during the second-busiest time of the year over the New Year's holiday; it will play in the third-busiest time of the year over the Golden Week holidays in late April and early May; and it will finish during the busiest time of the year in terms of revenue -- the summer season.

The next movie to rattle the Japanese box office is likely to be "Godzilla."

Some industry estimates say that Hollywood version of the fire-breathing lizard born off the coast of Japan may attract as many as 14 million viewers, which will top the 13 million who saw "Princess."

46). Billboard May 2, 1998, page 69
Disney Looks To Expand Mainstream Presence Of Japan's Anime
By Anne Sherber

NEW YORK -- After years during which publicity about Japanimation far exceeded its sales, the cartoon genre is poised for a real growth spurt.

Last summer, an _anime_ feature on DVD, Manga Entertainment's "Ghost In The Shell," flew through PolyGram Video's distribution network to reach the top of Billboard's sales chart. Major suppliers have seen begun releasing anime titles on DVD.

Now the category has caught the attention of huge Japanese toymaker Bandai, which has launched a home video division and plans to enter the Japanimation market.

And there's the Disney factor. Michael Johnson, president of Disney's Buena Vista Home Entertainment, says the studio spent four years pursuing Japanese moviemaker Ghibli, as well as the head of its animation division, Hayao Miyazaki, called by some "the Walt Disney of Japan."

The end result: Disney is Ghibli's anime representative in the U.S. Disney also gets first look at any of Ghibli's live-action product brought here.

Plans stretch beyond Japanimation. Johnson says Buena Vista is working closely with Disney's Miramax subsidiary to release a Ghibli title, "Mononoke Hime," in theaters this summer. Miramax is also considering a remake of Ghibli's "Shall We Dance?," an American arthouse hit.

But the first video release, which arrives Sept. 1, is aimed at carving a new foothold in the anime trade. Ghibli's "Kiki's Delivery Service," a cartoon for young audiences, has been dubbed into English using the voices of actors Kirsten Dunst, Phil Hartman, Debbie Reynolds, Janeane Garofalo, and Matthew Lawrence. Another cast is being assembled for "Castle In The Say," scheduled for release next year, Johnson says.

Disney is springing for high-profile talent to bring Ghibli's Japanimation home to Americans, but without altering the plot. Johnson says, "One of the understandings that we have with them is that the original story lines are maintained."

Buena Vista will treat lightly in a market that has had a reputation for striking graphics -- and strong violence and sexual content. The studio plans to market its titles in their own display to keep them out of anime sections in video stores. In fact, Buena Vista has been reluctant to identify the Ghibli product as anime.

"Anime is one of those strange, generic words," says Johnson. "This is not typical, 24-frames-per-second anime with static backgrounds. These films have kinetic backgrounds and are more subtle in their look." Johnson maintains that Buena Vista will put the full force of the company behind the Ghibli releases.

Simultaneously, it hopes to educate consumers about Japanimation. "We'll use the press, point-of-purchase, and our distribution system," he adds. "We're working with a lot of synergy, which means we'll get it broadcast on some [sic] our networks, including the Disney Channel."

The deep pockets of Disney and Bandai are hard to beat. However, unfazed anime executives say they welcome the attention that is bound to follow. "I don't [sic] they'd be coming into the market if they didn't think that it was a growing market," says Mike Pascuzzi, director of sales for Central Park Media. "As they make their presence felt, they'll help to expand the marketplace."

Buena Vista's reticence about the word "anime" is understandable. Vintage, made-in-Japan TV shows, such as "Speed Racer" and "Astro Boy," notwithstanding, most Japanimation isn't geared for kids.

Says Kara Redmond, director of marketing of the American Anime label for Urban Vision in Los Angeles, "There is every single genre of anime product available that you might find on television." And much of it would require V-chip.

The difference is that most retailers carrying anime don't categorize the titles on store shelves to identify content. They rely on the 18-25 males who are the prime consumers of Japanimation, in video and comic books. Children are often left out of the mix. "We have to educate the buyers in the stores," says Redmond.

This cult status derives from anime's beginnings. When Central Park began distributing titles seven years ago, recalls Pascuzzi, "there was very little competition. It was still pretty much an underground market, with a lot of bootleg product."

A lot has changed since, say the large music and video retailers that cater to Japanimation fans. "Anime is very strong," notes John Souza, video buyer for retailer Trans World Entertainment in Latham, N.Y. "It's a bigger category than exercise or sports."

Anime suppliers are taking lessons from their mainstream cousins on how to build revenue. While Japanimation is almost always exclusively priced to sell, Central Park has announced a rental-like depth-of-copy program that rewards retailers that meet goals with free goods.

Hollywood world approve Manga's step into new technology. Manga says it's preparing a DVD version that takes full advantage of the format.
47). News from Miramax's official site. May, 1998.
NEIL GAIMAN TO PEN MONONOKE SCRIPT

Miramax has signed Neil Gaiman, the creator/writer of the
award-winning monthly cult DC Comics series Sandman,
to write an English-language dubbed version of
PRINCESS MONONOKE. The highest-grossing film in
Japanese history, the animated PRINCESS
MONONOKE wil be distributed in the US next year by
Miramax Films.

Based loosely on Japanese Fooklore, PRINCESS
MONONOKE is the animated tale of the war between
the encroaching civilization of man and the beast gods of
the forest, which threatens to unbalance the forces of
nature.

"I couldn't be more excited to write this script," said
Gaiman. "My goal is to remain faithful to the story while
providing a translation that a non-Japanese audience will
be able to follow. To that end, I've been researching
Japanese folklore."

Directed by Japan's leading animator, the acclaimed
Hayao Miyazaki, whose Studio Ghibli has created a string
of critically acclaimed, award-winning animated films,
PRINCESS MONONOKE has been eagerly anticipated
outside of Japan. The only film to break $150 million (US)
at the Japanese box office, PRINCESS MONONOKE
even topped "E.T." and Jurassic Park," the only other
films to break $100 million (US) in that country.

Gaiman is the creator/writer of the monthly DC Comics
cult series "Sandman" which has won numerous honors
including the Will Eisner Comic Industry Award for the
Best Writer four years in a row; the Best Graphic Album -
reprint award in 1991, and the best graphic album - New
Award in 1993. In addition, at the annual Harvey
Awards, Gaiman was named Best Writer two years in a
row, and "Sandman" was named Best Continuing Series in
1992. "Sandman" #19 also took the 1991 World Fantasy
Award for the best short story - the first comic book ever
to be honored with a literary award. The Sandman
collections have sold over 750,000 copies in paperback
and hardcover, and Warner Bros. has optioned rights for
a "Sandman" feature film.
---

This page is brought to you by Team Ghiblink.