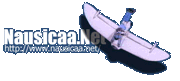 ---
|| Main | Mailing List | Films | Search | Ghiblink | Feedback ||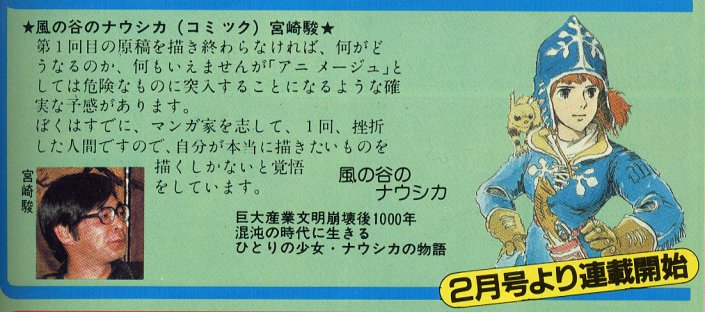 The December 1981 issue of Animage magazine announced to the world that, beginning in two months, Chapter One of a manga series titled "Nausicaa of the Valley of Wind" would start publication on their pages. This announcement (above) includes what is very likely the earliest published picture of Nausicaa. Notice her pistol, the flourishes on her outfit, and the shell pockets on her upper arms that vanished by the time the series began, not to mention the green eyes, forehead stripe, and large ears missing from Teto.
The text (presumably by Miyazaki) says that the first installment is not finished yet so he cannot say much about how it's going to go, but he has a feeling that Animage is embarking on a possibly dangerous course. Then he goes on to say that he once wanted to be a mangaka [comic book creator], and having been frustrated in this ambition, he has, this once, decided to (or resigned himself to) just draw a story that he really wanted to draw. "The story of Nausicaa, a girl who lives in a chaotic age, 1000 years after the collapse of the great industrial civilization."
For further exploration of Nausicaa's visual origins, the Nausicaa of the Valley of Wind Watercolor Collection may be of interest.
Contributed by Scott Ryan
Translation by Julio Gea-Banacloche
Back to the Nausicaa Manga page
---

This page is brought to you by Team Ghiblink