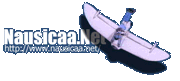 ---
|| Main | Mailing List | Films | Search | Ghiblink | Feedback ||



Hansu no kikan
(The Return of Hans)
Manga by Hayao Miyazaki
"Hansu no kikan" ("The Return of Hans") is a three episode, all water-color, manga serialized in 1994 by the Japanese modeling magazine Model Graphix.
The story begins near Berlin, Germany at the end of W.W. II. Hans, a German chief tank mechanic, and his commanding officer are racing west toward the American front lines. They hope to surrender to the US forces and escape capture by the approaching Russian Army. While traveling on foot, they discover an abandoned German Panzer IV tank near a large mansion. Hans attempts to repair the Panzer as his commanding officer heads for the mansion in search of provisions. There he discovers Rosa, a German girl; her elderly grandmother; and her dog, Gustav. Fearful for their safety, he convinces them to accompany Hans and himself on their journey West. Hans is successful in bringing the tank back to life, and they make their escape just as the Russian troops close in. More adventure and perhaps even romance will follow Hans and his companions as their story unfolds.
Model Graphix magazine, from Dainippon Kaiga.
Episode 1, Issue #113, March, 1994
Episode 2, Issue #114, April, 1994
Episode 3, Issue #120, September, 1994
Miyazkai Hayao: Mousou Note "Doromamire no Tora"
(Hayao Miyazaki: Fantasy Note "Tigers Covered in Mud")
2002, Dainippon Kaiga, ISBN 4-499-22790-9
2500 yen
Also contains Doromamire no Tora, information about Otto Carius, German military activity on the north-eastern front during World War II, and Miyazaki's trips to Estonia and Germany.
No authorized translation has been released.
An unofficial English translation (panel by panel) is available and hosted at Tom Wilkes's web site.
An unofficial English translation (page by page) is available and hosted at Peter van der Lugt's web site.
Another short manga, "Buta no tora" ("A Pig's Tiger"), was published before "The Return of Hans". "A Pig's Tiger" recounts the previous adventures of Hans as he applies his engineering skills to new German tank designs and battles the Russians during W.W. II. It is available in Miyazaki Hayao no Zassou nouto (Daydream note).
---
The manga shown here are Copyrighted by Nibariki/Tokuma Shoten/Viz Communications/and other respective right holders.
The artwork and translations of published material are reproduced here only for the purpose of encouraging interest in, and discussion about, the works of Miyazaki.
---

This page is brought to you by Team Ghiblink.