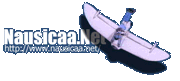 ---
|| Main | Mailing List | Films | Search | Ghiblink | Feedback ||




Tenkuu no Shiro Rapyuta
(Laputa: The Castle in the Sky)


Articles covering the new Buena Vista English Language version
---
January 29, 2000
Foreign Films for Small Fries
by V. A. Musetto
The New York International Children's Film Festival isn't just for kids. "It's aimed at a wide range of people," says Eric Beckman of the film and video festival he founded, which starts Feb. 4 and runs to Feb. 13.
The opening-nighter (6 p.m. on Feb. 4) is the English-language version of "Castle in the Sky", an animated epic by "Princess Mononoke" director Hayao Miyazaki, who has been called "the Kurosawa of Japanese animation". James van der Beek, of TV's "Dawson's Creek", and actress Anna Paquin, who won an Academy Award playing Holly Hunter's daughter in "The Piano," provide voices for the story of a boy and girl in search of a long-lost civilization.
February 3, 2000
Kidsday / What's Cool for Kids
by Heather Rubenstein and Kurt Sanimarco
Kidsday staff reporters Heather Rubenstein and Kurt Sanimarco, 11 and 12, of Commack, previewed a few of the films that will be shown at the New York International Children's Film Festival in Manhattan. They wrote: "We were given an introduction to "Castle in the Sky", a Japanese animated film that features the voices of Anna Paquin and James van der Beek and opens the festival tonight. It's by the director of "Princess Mononoke" [the highest-grossing Japanese film], and it's about a mysterious girl with a magical pendant. It begins with the girl falling off an airship as she tries to escape villains who are after her pendant. She magically floats down from the sky and falls into the arms of a boy named Pazu. We thought it was very exciting and a real cliffhanger. We can't wait to see the whole movie atanother time.
The following are representative quotes only; the full text is available online at:
http://www.villagevoice.com/issues/0005/winter.shtml
February 8, 2000
Kid's Movies Grow Up
by Jessica Winter
NEW YORK INTERNATIONAL CHILDREN'S FILM FESTIVAL
As eclectic and inventive a bunch as the can-do gang of playthings in the Toy Story movies, the features and shorts assembled for the New York International Children's Film Festival share an exuberant refusal to condescend to their target viewers-meaning that adults have a place in the audience whether or not they're escorted by any short people.
Two newly redubbed animated features anchor the proceedings. Hot on the hooves of Princess Mononoke, anime king Hayao Miyazaki's "Castle in the Sky" opens the festival at the DGA Theater with its tale of orphans protecting a floating island while pursued by sinister military operatives and screwballpirates. Castle is part of a generous Japanimation program, including several Miyazakis and a sampler of Osamu Tezuka's shorts, and reaching back to Panda and The Magic Serpent (1958), the first feature-length anime and the first in color.
---
Links to more articles and reviews can be found at the Related Information page.
---

This page is brought to you by Team Ghiblink.