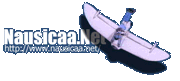 ---
|| Main | Mailing List | Films | Search | Ghiblink | Feedback ||




Majo no Takkyubin
(Kiki's Delivery Service)


The book "Majo no Takkyuubin" and its sequel, "Majo no Takkyuubin sono 2"
Miyazaki's film, "Majo no Takkyuubin" (Witch's Express Home Delivery, English title: Kiki's Delivery Service), is based on a children's book of the same name by Eiko KADONO. After the success of the movie, Ms. Kadono wrote a sequel, "Majo no Takkyuubin, sono 2: Kiki to Atarashii Mahou" (Witch's Express Home Delivery, part 2: Kiki and Her New Magic).
There are several differences between the movie and the two books: for example, Kiki never loses her powers or the ability to communicate with Jiji. See the FAQ for more information on the books. The art for the original is by Akiko HAYASHI, and the art for the sequel is by Takako HIRONO.
Here are some scans from the two books. The files are all GIF pictures. They are:
From book 1. Kiki and Jiji take a break under a tree. Kiki was delivering a birthday present and accompanying poem from a girl (who wanted to stay anonymous) to a boy. Kiki can't stand not knowing what the poem says, and so stops on the way to read it. Jiji turns his nose up at this, but says "be sure to read it to me, too."
From book 1. Kiki delivers an orchestra's instruments.
From book 2. Kiki decides to take the day off from being a witch and wear normal clothes.
From book 2. It's no fun flying when the weather's cold.
Unfortunately, due to the thin paper and the cloth binding which made it hard to lay the books flat, some of the print on the other side of the page shows through in some places. Please enjoy!
Deborah Goldsmith
---

This page is brought to you by Team Ghiblink.