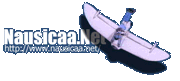 ---
|| Main | Mailing List | Films | Search | Ghiblink | Feedback ||




Hauru no Ugoku Shiro
(Howl's Moving Castle)
Studio Ghibli Diary Translation (Page 18)
Translator's notes in yellow.
4/22/04 (Thurs.)
Today recording was finished up to reel four without any problems. Mr. Miyazaki set aside some time for the recording session. But since we will not be able to do the next recording session until we have finished checking everything, we expect him to spend several hours helping with the checking in order that we can finish checking all cuts even one day earlier.
4/23/04 (Fri.)
Today was the regular rush check. There were several retakes and re-retakes as the result of recording. Indeed, there's no way of avoiding that happening.
Live recording for Howl began today. Since hats are necessary, Itoh from production went out to buy them, but they were difficult to find. He went to about thirty stores before he finally found one. Thanks for your hard work.
4/26/04 (Mon.)
Ghibli uses a Mac-based in-between animation checker, and recently, whenever one particular person uses it, it locks up. When someone from production starts it up again and uses it to verify that it is working, there are no problems. However, when this person uses it again, it locks up . . . The production team calls her "Miss Freeze." Whenever she stops the machine, time stops: "Miss Freeze."
4/27/04 (Tues.)
Fewer than 50 cuts of key animation remain. We can breathe again. But since we expected to be finished with key animation by the end of the month, we're really still in a tight situation. How much will we be able to compress the completion of the final key animation?
4/28/04 (Weds.)
Editing on reel five was successfully completed. It was relieving to find out that there were no major retakes necessary. All that are left are reels six and seven.
Before Mr. Kamimura goes home each day, he organizes data on the status of that day's cuts. Then he records the information on a status chart he makes himself. But recently, this job has been taking less time. One would think that this is because he has been doing it for a year and is used to it, but actually, the amount of information he records is decreasing. "That's because when I'm writing down the information recently, I've started talking to myself more," is his explanation.
[No entry for 4/29/04, Green Day]
4/30/04 (Fri.) [mistakenly listed as Thursday]
It's Golden Week. Definitely, in the outside world, it's Golden Week. The runners who went out to pick up work took a long time to return. When asked on their return what had happened, they said that traffic jams had sprung up in places where normally they never occur. Ah, it looks like picking up work for the next few days is going to be tough.
Finally, fewer than 30 cuts of key animation remain. One more stretch to go.
The regular rush check was held. With that, just over 300 cuts to go. Hm.
5/1/04 (Sat.)
Premixing on reels 1 - 4 began today. This is putting sound into pictures for which the voice recording has been completed. It's a strange "finally!" or "at last!" or "still?" sort of feeling.
Tomorrow, according to the calendar, is the beginning of a four-day weekend. But, at Ghibli, when a feature film is in production, as usual, we have no holiday. From here on, every day is important.
5/3/04 (Mon.)
The exact middle of Golden Week. But at Ghibli today is a regular working day. We can't let up until we are finished. However, when you go out to pick up work and see how the streets are jammed, you realize...
5/4/04 (Tues.)
Today was a regular working day for the staff. To change the topic, the wind was terribly strong today. Just before Golden Week began, the production team was saying that they didn't care if it rained or not, but we didn't expect it to be like this. Our sincere apologies to everyone who isn't working.
---

This page is brought to you by Team Ghiblink.