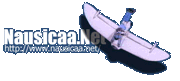 ---
|| Main | Mailing List | Films | Search | Ghiblink | Feedback ||




Hauru no Ugoku Shiro
(Howl's Moving Castle)
Studio Ghibli Diary Translation (Page 11)
Translator's notes in yellow.
2/18/04 (Weds.)
Just when we thought we would fall into catch-up mode, the production rate for layout and key animation started to rise a little. The main staff checked the material right away and got it back to the key animators the same day. Things have started to move a little more quickly.
The runners' trips to pick up work from outside have started to go more quickly. This is a secret, but due to irregularities, sometimes two people have been sent to the same place at different times. What a waste.
2/19/04 (Thurs.)
Ugh, when I just wrote yesterday about not falling into catch-up mode, suddenly today nothing is getting finished. Wait, surely everything will come bundled together tomorrow or the day after. Definitely it will.
In-between animation has nearly caught up with animation direction. If they catch up, there will be no material for in-between animation checking and nothing to send on for finishing. We made contact with the animators both inside and outside the studio in order to gather all the material.
2/20/04 (Fri.)
The regular rush check. This time, since there was only the usual number of cuts, it felt short somehow.
The weekend dash? Layout and key animation started to be finished. Since we have been checking (pushing) the key animators, quite a bit of material was finished this week, but tomorrow will probably be irregular (better than usual, of course).
2/21/04 (Sat.)
Since animation direction braced themselves firm this week, they completed a huge amount of material. Although you couldn't say that the key animators also completed a "huge amount," still, they completed nearly the planned amount. Background and in-between animation hit a valley this week. They'll have to recover next week somehow.
2/23/04 (Mon.)
The amount of key animation completed finally fell behind Spirited Away. When we were doing Spirited Away, there was a miraculous rise in production rate. It looks like we will be waiting for the Howl animators to catch up.
The week after next's editing is drawing closer. We have to check the status of all parts, and if there are any problems, fix them this week somehow.
2/24/04 (Tues.)
One of the key animators we had working in the studio finished up all of the work he had on hand without incident.
The key animators who had animation planning meetings this month finished up layouts. We'd like to finish up all the layouts by the end of this month.
2/25/04 (Weds.)
Finally, background art passed the 1000-cut mark. But there are still nearly 400 cuts to go. From here on, it's a race against time.
As if to keep the pressure on the background artists, the remaining finished layouts came bundled together today. Once we check them, the production team will make copies. Tomorrow we'll have to have a photocopying rally.
2/26/04 (Thurs.)
The expected photocopying rally for the checked layouts. Because we're in the state we're in, even layouts completed this morning were checked and returned this afternoon. We have to make copies quickly and hurry on to the next section.
2/27/04 (Fri.)
Tomorrow is Ghibli's regular Saturday off. Some people will come to work, but today is the real end of February. Before work on Howl started, we planned to have all key animation finished by the end of February. What with the delayed storyboards and such, we are only now nearly finished with layout. But since all of the key animators working on layouts will now be working on animation, next month on should be...
The regular rush check. There were no major problems this week either. But, since the number of cuts was less than last week, we did say to ourselves, "That was short, wasn't it," without thinking. We're sorry that the production team's planning for cut flow has been so bad the last two weeks. Next week, we'll definitely...
---

This page is brought to you by Team Ghiblink.