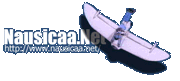 ---
|| Main | Mailing List | Films | Search | Ghiblink | Feedback ||




Hauru no Ugoku Shiro
(Howl's Moving Castle)
Studio Ghibli Diary Translation (Page 9)
Translator's notes in yellow.
1/28/04 (Weds.)
The animators are finishing work at a constant rate, and if you compare it to "Spirited Away," the pace is improved at the same time in a similar way. If we keep it up, it will feel just as it did with "Spirited Away."
The key animators who finished the work they had on hand yesterday had an animation planning meeting first thing in the morning. Only a little bit left.
1/29/04 (Thurs.)
Every key animator has his own way of drawing and his own way of handing over finished work. Today, one of the animators, who always bundles his work together before handing it over, handed over the cuts he was working on bundled together. Even though he does it every time, it's always impressive.
Again, the in-between animators are striving to catch up with the animation directors. The animation directors will have to think of some kind of countermeasure before they get caught.
1/30/04 (Fri.)
The regular rush check. We've now reached the 600 cut level. But that's not yet half. There's a long way left to go.
It seems that influenza is spreading among staff members and their families. Since the real final stretch is still ahead, when you go home, gargle, keep warm, and make sure the humidity in your house is at an appropriate level when you sleep. Let's take care of our health and work hard.
1/31/04 (Sat.)
Today is the end of January. It goes by too fast, and while turning the page of the calendar, I have a sudden feeling of heaviness.
Itoh from the production team is preparing the drawings [line drawings only, since Ghibli no longer uses cels] for editing, working uncompromisingly, like a monomaniac, until everything is done to his satisfaction.
2/2/04 (Mon.)
Since some key animators came in yesterday to finish up the work they had on hand, we started first thing in the morning with animation planning meetings. It's the last spurt!
Actually, those cuts are part of the material to be edited the day after tomorrow. We'll have to finish the rest up quickly as soon as animation direction is completed. Will we be able to finish checking them by tomorrow?
[No entry labeled 2/3/04, but, from the references to "tomorrow's editing," at least the first two parts of the following entry should be for this date]
2/4/04 (Weds.)
For the sake of tomorrow's editing, we held a hurried rush check. Even if we can only get a few more cuts into photography, the editing will at least be that much easier.
Tomorrow's editing is getting closer and closer. With the help of people from every division, we were able to assemble all the necessary materials without any major problems. All that remains is to wait for tomorrow's editing.
The internal key animators had animation planning meetings again today. Only a little remains.
2/5/04 (Thurs.)
Up until now, material was submitted to the key animators one sheet at a time, but today, animation direction finished up a large amount. This is the highest one-day output that we've had yet. With that, the key animators will also be able to finish up work according to plan.
From afternoon on, yesterday's editing continued. They are going to review it one more time and shorten it further.
2/6/04 (Fri.)
The final day of editing ended without any major problems. Next is the music planning meeting with Mr. Hisaishi. After the music planning meeting, there is the production problem of dividing the reels. Normally, editing is done after preparing for it with music planning and reel division, but this time, because of time problems, we are doing editing first. Normally, using these [music planning and reel division] as reference, we would be able to decide on editing lengths, leaving ample to spare, but when we did reel division, we used everything we had edited this time. We've run out of surplus for the next time. I hope this doesn't cause any problems later. Well, let's hurry and get everything set up for the next editing session.
---

This page is brought to you by Team Ghiblink.