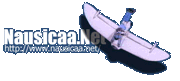 ---
|| Main | Mailing List | Films | Search | Ghiblink | Feedback ||




Hauru no Ugoku Shiro
(Howl's Moving Castle)
Studio Ghibli Diary Translation (Page 2)
Translator's notes in yellow.
11/11/03 (Tues.)
A great quantity of layout check material came from Miyazaki. We spent the whole morning copying and posting. But when we checked over them, we saw that half the material we had expected to receive had not yet arrived. As we thought, the other half (also a great amount) arrived that evening. The unexpected can sometimes be welcome: the in-between animators, by twos and threes, finished earlier than expected. From the production standpoint, we're grateful for this. Even these days, we occasionally receive requests by telephone from other studios to do in-between animation, but since we are working on our own film, we are too busy. Today, looking at this page, the producer said, "Going smoothly, isn't it?" -- but it's not. In fact, we've started to get behind. Really!
11/12/03 (Weds.)
Wakabayashi, the sound director, visited the studio. As with the editor, Seyama, we discussed the present state of the production and future developments. We had Kojoh from the post-production team prepare a rough schedule, using Chihiro as reference, and then used this schedule as the basis of our study. However, regarding the schedule up to the time of the premiere, we were given the saddening opinion that "if we do it like this, from now until July, the entire first half of the year will be nothing but Howl. [lit. "pickled in Howl."] For the sake of reference, we asked about the status of other studios; some [of the news] was relieving, some frightening.
11/13/03 (Thurs.)
Since our internal key animators had run out of work, we held an animation planning meeting first thing in the morning. We are down to nine cuts of storyboard. But it looks like two more [key animators] will be finished soon. When will the new storyboards arrive?
This morning when producer Kamimura came to work, there was a large box on his desk, on the lid of which was written that it was a present from the post-production team. Thinking this was strange, he looked more closely and found the mark of the Zeon Army on the side of the box. More and more curious, he opened the box, and the head of a Zaku popped out. If you put it on your bedside table, the eye would glow. Kamimura, who was of the Gundam generation, was both delighted and saddened.
11/14/03 (Fri.)
The regular rush check With this, we have exactly 300 cuts. However, this isn't even a quarter of the total. The premiere is next summer. We started to feel faint.
We are leaving on a three-day company trip on the 16th, and So-and-so always prepares the pamphlets [with roster, schedule & hotel information, etc.] for the trip. With much prodding, he finally finished them two days before the trip, but when all that was left to do was to print them out, the printer started acting strangely. The data conversion wouldn't work properly, and starting at 2 p.m., he wasn't finished until 7. Oh my. Well, since he had to prepare enough for 220 people, this was unavoidable. However, just when he thought he had finished them successfully, he discovered an error. Flustered, the whole production team helped to make the corrections. It was finished at 11. But it's a nice piece of work.
11/15/03 (Sat.)
Tomorrow, Ghibli is going on a three-day staff trip to Oku-Nikko. You may wonder why we're taking a trip at a time like this, but it is so that our staff can have a little rest, refresh themselves, and renew their spirits, so that afterwards, they can make the run all the way to the end. They'll have to completely immerse themselves in work for the rest of the project . . . After hell comes heaven, after heaven, hell.
11/19/03 (Weds.)
The employee trip is over, and it's back to regular work. However, whether because of the hard-to-get-used-to bus trip, because of the climate of Oku-Nikko (where it even snowed), or because of the lively nights, everyone is in a somewhat tired mode. However, the key animation is getting finished properly. We are thankful.
The long-awaited storyboards arrived. However, as expected, this is not the conclusion. We will have to set up animation planning meetings quickly. Furthermore, processing planning meetings also have to be held, so we will have to look at the staff schedule and set it up quickly.
11/20/03 (Thurs.)
We started talking about setting up a meeting to talk about the treatment, but a planning meeting with Miyazaki got scheduled at the same time, so we postponed it. Then it was decided to have the meeting at 11. Then, after contacting all the staff again to tell them about the rescheduling, we checked the availability of the conference room and found out that it was in use. We contacted [the people using the conference room] in a panic and were able to arrange for it to be available tomorrow. Whew. Apologies to all our staff for changing the schedule so many times because of our bad planning.
Actually, yesterday evening a little more than ten good cuts were finished. Since there were so many sheets, we used the machine today as well, but since there were so many, it took longer than we thought. . .
We grappled with them for as much as three hours before coming back. Good work, everyone.
---

This page is brought to you by Team Ghiblink.