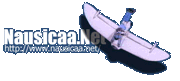 ---
|| Main | Mailing List | Films | Search | Ghiblink | Feedback ||


Hauru no Ugoku Shiro
(Howl's Moving Castle)


Back to the Table of Contents
The following are representative quotes only; the full text is available online at:
www.icv2.com/articles/home/7020.html
June 13, 2005
Smiths Hammer Box Office
'Howl's Moving Castle' Strong in Limited Release
By Staff
[. . .]
Opening in limited release in just 35 theaters Hayao Miyazaki's Howl's Moving Castle earned an estimated $401,000 thanks to a per theater average of $11,138 second only to Mr. & Mrs. Smith's. Next weekend Howl's expands to 200 theaters and it should be interesting to see if it can maintain a strong per theater average.
The following are representative quotes only; the full text is available online at:
www.azcentral.com/ent/movies/articles/0617miyazaki0617.html
June 17, 2005
Japanese animator casts a long, magical shadow
By Steven Rea
A good place to go when you die: The forest of Hayao Miyazaki's My Neighbor Totoro, dotted with small shrines to animal gods, a leafy roof that catches the rain in a countryside full of strange spirits, and acorns that zoom into giant trees overnight.
If thinking about death and thinking about children's cartoons seem an odd convergence, Miyazaki, the master animator who lives in Tokyo, invites such associations time and again. In Totoro (1988), one of the most sublime and engaging animated films ever, the mother of two little girls is hospitalized. The question of her fate looms over the story, casting a shroud of worry and suspense.
[. . .]
At once a great artist and a riveting storyteller, he's on the same plane as C.S. Lewis, J.K. Rowling, and Lewis Carroll. Like the work of those three English folk, Miyazaki's narratives combine the real with the surreal, incorporating magic and myth into everyday life, putting child heroes, with all their boldness and fears, at the story's heart.
[. . .]
John Lasseter, the brains behind the computer-animated megahits Toy Story and A Bug's Life, has said that when he and his top animators at Pixar Studio are stymied, creatively - when they can't think where to go, story-wise - they pile into a screening room and watch a Miyazaki picture. (It's ironic, too: Miyazaki presides over a studio that excels at traditional, hand-drawn animation, while Disney and other studios have gone whole-hog digital, following on Pixar's huge success.)
[. . .]
Miyazaki isn't just a tree-hugger. His cautionary tales are more about striking a balance between the forces of nature and of man than they are a simplistic, strident call for back-to-the-land Luddite-ism. His films are full of respect for the natural world, evident in the way he depicts wildlife and pastoral panoramas.
The following are representative quotes only; the full text is available online at:
www.chron.com/cs/CDA/printstory.mpl/headline/entertainment/3229946
June 20, 2005
Miyazaki is much more than Japan's Walt Disney
By Ty Burr
So you and your kids wandered into Howl's Moving Castle and it was like getting hit upside the head with a baroque, hand-drawn two-by-four. Who is this Hayao Miyazaki? Are all his movies this bent? Are all his movies this good? Are there any that can be watched by very small children withoutacid flashbacks and professional therapists standing by? Is he really the Walt Disney of Japan?
[. . .]
Miyazaki's intensely beautiful films are rooted in dreams, fables and the past; they have the musty tug of Japanese folklore and a surrealism worthy of Little Nemo: Adventures in Slumberland. They're funny and scary, pessimistic and hopeful, and they're drawn with a gifted child's dreamlike sense of wonder. If American animation is about solutions and answers, Miyazaki asks open-ended questions. Younger audiences understand this better than you might think.
[. . .]
If you have teenagers or no kids at all, begin with Princess Mononoke, the 1997 fantasy epic that wraps almost all of Miyazaki's grown-up obsessions — ecological disaster, mythic personalities, physical transformations, complex antiheroes, vanishing Edens — into one jaw-droppingly beautiful whole. The director is a longtime aficionado of Tolkien, and this film repays the debt in wholly original ways.
[. . .]
The following are representative quotes only; the full text is available online at:
www.washingtonpost.com/wp-dyn/content/article/2005/07/10/AR2005071000818.html
July 11, 2005
A 'Moving' Experience
By Fern Shen
Creepy stuff happens almost from the opening scene of "Howl's Moving Castle" : Black goo seeps out of paving stones and forms blobby evil beings from whom teenager Sophie and boy wizard Howl must escape.
Wonderful stuff happens, too, in this latest film from anime director Hayao Miyazaki , sometimes called the Walt Disney of Japan because his children's films are so popular there. "Howl's" plot revolves around Sophie's attempts to undo a witch's curse that has turned her into a wrinkled old woman.
[. . .]
Miyazaki's movies are different from computer-animated blockbusters. They are hand-drawn, detailed and realistic. Stormy purple skies and shimmering light on green leaves, for example, are achingly beautiful. And no character in a Miyazaki movie ever breaks out in a Disney-like show tune.
[. . .]
Miyazaki movies aren't for everyone, though. The plots can be hard to follow. But if you give one of his movies a try, you might be rewarded with a great experience that seems totally new, yet strangely familiar.
The following are representative quotes only; the full text is available online at:
www.telegraph.co.uk/arts/main.jhtml?xml=/arts/2005/08/20/bfghibli20.xml&menuId=564&sSheet=/arts/2005/08/20/ixfilmmain.html
August 20, 2005
'I am 64, but inside I'm still a little boy'
By Staff
[. . .]
You could never mistake a Miyazaki film for a work by anyone else. It could be set in the playboy society of the Adriatic between the wars, or in medieval Japan, but it is bound to feature marvellous landscapes, courageous young girls, wise or malevolent old women and a story both thrillingly fresh and satisfyingly familiar.
There will be a trip through the skies, on a broomstick or in a '30s seaplane or a futuristic flying machine (Miyazaki's father worked in a factory making parts for military aeroplanes). And wrapped in all this joyful exuberance are big, tough themes: the folly of war, man's dreadful disrespect for nature, and the implacable omnipresence of loss, illness and death.
[. . .]
Unlike his richly-coloured images, the director cuts a monochrome figure, dressed all in grey, with a silver beard, floppy silver hair, startlingly black caterpillar eyebrows and, behind black-framed glasses, mischievous eyes. There is a question I can't resist asking: if this man who has imagined so many wondrous creatures were himself an animal, what would he be?
The reply has the translator diving for her dictionary. Helpfully, Miyazaki grabs her notepad and sketches his animalistic self. It is a woodlouse. "You can find it in your back garden," he explains. "It's not aggressive; it's totally unselfish and pure." The humble woodlouse also, one remembers, curls into a tight protective ball when under threat.
[. . .]
The film is ambiguous about whether the spell is eventually reversed. "That would have been so rude to old people everywhere," Miyazaki says. "It has caused a lot of confusion, but I think I did the right thing. I am 64 years old but inside I'm still a little boy. Maybe that's why I chose this story."
[. . .]
Despite the worldwide success of Ghibli's films, Suzuki admits that the company faces ongoing financial worries. A new feature, gestating at a snail's pace, will not even be announced until December. Meanwhile, Miyazaki is making three shorts, exclusively for the museum, and designing new displays for it. "Miyazaki-san is a slow worker," Suzuki says with an air of resignation. "As the manager of the studio, I'm in a difficult position right now."
[. . .]
The following are representative quotes only; the full text is available online at:
film.guardian.co.uk/interview/interviewpages/0,6737,1569689,00.html
September 14, 2005
A god among animators
By Xan Brooks
In the garden of his Venice hotel, Hayao Miyazaki proves quite the celebrity. He signs autographs with a flourish, poses gamely before a barrage of photographers and excuses himself only briefly for a call of nature. "You have been called the god of anime," an Italian journalist shouts at his retreating form. "How does it feel to be a god?" He visibly flinches on his way to the loo.
[. . .]
Miyazaki's latest film, Howl's Moving Castle, plays out in a valley kingdom inhabited by wizards, fire demons and undulating shadow monsters in natty straw boaters. It's based on a children's book by Welsh author Diana Wynne Jones; Miyazaki has visited Wales several times and has a deep affection for the place. He was first there in 1984, witnessed the miners' strike at first hand and farmed the whole harrowing experience into his 1986 animation Laputa: Castle in the Sky. "I admired those men," he says, sitting in the sun as the photographers melt away. "I admired the way they battled to save their way of life, just as the coal miners in Japan did. Many people of my generation see the miners as a symbol; a dying breed of fighting men." He shrugs. "Now they are gone."
[. . .]
All drama depends on this kind of conflict. And yet Miyazaki's stance can be bizarrely even-handed. Invariably his hero or heroine is cast in the role of peacemaker, or piggy in the middle, while his supporting players are an unruly bunch. No-Face, the timid, helpful spirit in Spirited Away, blooms into an all-consuming carnivore. The wicked witch in Howl's Moving Castle winds up as a cherished family member, slumbering in her armchair like some dotty old aunt. Most children's storytellers install their characters as fixed symbols of good and evil. Miyazaki makes them bounce around like pinballs.
Miyazaki taps a cigarette from a silver case. The Disney deal suits him, he explains, because he has stuck to his guns. His refusal to grant merchandising rights means that there is no chance of any Nausicaa happy meals or Spirited Away video games. Furthermore, Disney wields no creative control. There is a rumour that when Harvey Weinstein was charged with handling the US release of Princess Mononoke, Miyazaki sent him a samurai sword in the post. Attached to the blade was a stark message: "No cuts."
The director chortles. "Actually, my producer did that. Although I did go to New York to meet this man, this Harvey Weinstein, and I was bombarded with this aggressive attack, all these demands for cuts." He smiles. "I defeated him."
[. . .]
In any case, he adds, who is to say that a subtitled print is any more authentic? "When you watch the subtitled version you are probably missing just as many things. There is a layer and a nuance you're not going to get. Film crosses so many borders these days. Of course it is going to be distorted."
[. . .]
"Personally I am very pessimistic," Miyazaki says. "But when, for instance, one of my staff has a baby you can't help but bless them for a good future. Because I can't tell that child, 'Oh, you shouldn't have come into this life.' And yet I know the world is heading in a bad direction. So with those conflicting thoughts in mind, I think about what kind of films I should be making."
[. . .]
The following are representative quotes only; the full text is available online at:
news.ft.com/cms/s/698539fe-2974-11da-8a5e-00000e2511c8.html
September 20, 2005
Japan's visionary of innocence and apocalypse
By Nigel Andrews
[. . .]
Miyazaki followers have a strange, trippy light in their eyes like bygone Beatlemanes. His animation features are not just for kids or Christmas. Their blend of storytelling richness, radical themes (anti-militarism, eco-consciousness) and near-psychedelic imagery are unique even in a world on whose other side Disney and DreamWorks fight like cartoon Titans.
Disney knows this Japanese wizard's worth: it buys up his films for the west. His newest opens in the UK this week. The "Miyazakiness" of Howl's Moving Castle is recognisable from the first appearance of the title pile, a gothic-rococo folly with belching chimneys, bristling cannons and chicken-leg support limbs. (Take Terry Gilliam and add Hieronymus Bosch.) The movie begins as a fairy tale about a girl changed into a witch and the handsome castle-owner who may become her saviour - though with typical comic iconoclasm Miyazaki's hero is hopelessly vain, especially about good and bad hair days. It climaxes in an Armageddon war (heir to similar scenes in Nausicaa and Mononoke) involving bombs, blitzkriegs and aerial fighting-machines. By then it is a long way from the original children's novel by Diana Wynne Jones.
[. . .]
When an artist's magic circles the globe he cannot be surprised if each country brings its own obsessions, petitioning for a share in the parenthood. For instance, the tenaciously enquiring little girl who is heroine of so many Miyazaki films seems a none-too-distant cousin of Alice in Wonderland. "I love Lewis Carroll's work, so I'm sure that seeps into my films. I've been affected by many artists and all these influences come out in my work. But yes, Carroll I love."
I dwell on Carroll because I know of no other fantasy author or artist before Miyazaki so gifted at taking the ordinary - a rabbit hole, a tea party, a toadstool - and making it extraordinary, dreamlike. In the opening scene of Spirited Away a family driving in search of its new home pulls up in front of a big blank wall, sinisterly plain and obstructive, with nothing but a narrow mouldy tunnel as the way through. The scene is utterly hypnotic. But Miyazaki claims it was an accident.
[. . .]
As for computers: "By using them I now have more work and find they require even more time and money. And there are a lot of communication problems between artists who use pen and paintbrush and those who sit in front of monitors. At Ghibli we try to restrain ourselves and keep the peace, even though it can be an unstable situation! But it's very important for me to retain the right ratio between working by hand and computer. I have learnt that balance now, how to use both and still be able to call my films 2D."
[. . .]
---

This page is brought to you by Team Ghiblink.