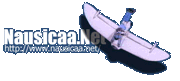 ---
|| Main | Mailing List | Films | Search | Ghiblink | Feedback ||


Hauru no Ugoku Shiro
(Howl's Moving Castle)


Back to the Table of Contents
The following are representative quotes only; the full text is available online at:
www.yomiuri.co.jp/newse/20050202wo61.htm
February 2, 2005
2004 sets new box-office record
By Staff
[. . .]
"Howl's Moving Castle," which was released on Nov. 20, far surpassed every other film--including foreign films--at the box office, bringing in 20 billion yen, according to Toho Co., the film's distributor. By mid-January, ticket sales had surpassed 12 million.
[. . .]
Sales of tie-in products, such as accessories featuring the likenesses of characters from the film, as well as high-priced goods that had previously lagged in sales, also were very popular, Suzuki said.
Prof. Tatsuo Inamasu, a media specialist at Hosei University in Tokyo, likens Miyazaki films to the Olympics: "Once every four years, everyone suddenly becomes interested in sports. Like that, people who normally have little interest in animation will go see and talk about a new Miyazaki film. So, one film every three years is a perfect pace."
[. . .]
The following are representative quotes only; the full text is available online at:
asia.news.yahoo.com/050317/kyodo/d88si0sg0.html
March 17, 2005
'Howl's Moving Castle' set for release in U.S. from June
By Staff
(Kyodo) _ Japanese director Hayao Miyazaki's latest animation hit "Howl's Moving Castle" will be released from June across the United States, the film's distributor Toho Co. said Thursday.
Toho said the film will be distributed by Buena Vista International, the international distribution arm of Walt Disney Studios. It is scheduled to be shown from June 10 in Los Angeles, New York and San Francisco, and from June 17 in 60 other cities.
[. . .]
In the English version, Jean Simmons will provide the voice of Sophie, Christian Bale the voice of Howl and Lauren Bacall the voice of the witch.
[. . .]
The following are representative quotes only; the full text is available online at:
www.calendarlive.com/movies/cl-ca-howl5jun05,0,1837039.story?coll=cl-suncal
June 5, 2005
'Howl's' a natural draw for an anime master
By Jake Forbes
[. . .]
t's easy to see what attracted Miyazaki to "Howl's Moving Castle," the 1986 novel by prolific Brit scribe Diana Wynne Jones. With its warring wizards, quirky and cute characters and magical transformations, the book practically howls to be animated.
[. . .]
For Miyazaki, making a straightforward adaptation was out of the question. "In a Miyazaki film, he is the storyteller," explained Pete Docter, who directed "Monsters Inc." and, along with Rick Dempsey, co-directed the English-language dub of "Howl's." "In America, making an animated feature is such a collaborative process, but he just locks himself in a room and starts writing and drawing."
[. . .]
Ever since his landmark children's film "My Neighbor Totoro," Miyazaki has been famous for his ability to make nonhuman and even nonspeaking characters rich and complex. In "Howl's Moving Castle," the demon Calcifer and the dog Heen almost steal the show. Even spiders and scarecrows have a soul in Miyazaki's hands.
[. . .]
First came casting. "The characters are so strong in 'Howl's,' especially Old Sophie," after the girl is transformed by the witch's curse, Dempsey said. "We knew we had to get her right. We couldn't fake the age." Docter and Dempsey found their Old Sophie in a screen legend — Simmons ("Spartacus," "Great Expectations"). "She really got into the character" during the dubbing sessions, Dempsey said. "She hunched over, making her posture like Sophie's to ensure that she would sound like that character."
[. . .]
As it comes full circle with the English-language dub, "Howl's" is either the most English of anime or the most Japanese of English fantasies ever made. Either way, it's unlikely audiences have ever seen anything like it — a mongrel of the highest pedigree.
The following are representative quotes only; the full text is available online at:
www.scifi.com/scifiwire2005/index.php?category=0&id=31132
June 6, 2005
Bale Jumped At Howl
By Staff
Christian Bale told SCI FI Wire that he jumped at the chance to voice a wizard who becomes a woman in Hayao Miyazaki's upcoming animated adventure Howl's Moving Castle. "I had seen Spirited Away and loved Spirited Away," Bale said in an interview about the 2003 Academy Award-winning best animated feature, which also won Saturn, Golden Satellite and Annie awards. "I spoke to my agent and said, 'If I ever did a voiceover, I'd like it to be for a movie like that.' I found out that Howl's Moving Castle was in the works."
[. . .]
The following are representative quotes only; the full text is available online at:
www.variety.com/vstory/VR1117924143?categoryid=38&cs=1
June 8, 2005
On the prowl with 'Howl'
By Ian Mohr
CGI may be quickly taking over the world of animation, but Walt Disney StudiosWalt Disney Studios honcho Dick Cook showed reverence for more traditional toontoon works Monday at the studio's North American preempreem for helmer Hayao Miyazaki's surreal "Howl's Moving Castle."
"Miyazaki-san," said Cook, paying tribute to the Japanese anime master, "is a great artist as well as a master storyteller. His work is passionate and personal and like most great works of art, handmade."
[. . .]
The following are representative quotes only; the full text is available online at:
www.oregonlive.com/movies/oregonian/index.ssf?/base/entertainment/1118311453318380.xml&coll=7
June 10, 2005
Of witches, whimsy -- life
By M.E. Russell
[. . .]
"The background, the history and the fundamental concept of animated films are all very different in Japan than they are in the U.S.," he told In Focus magazine in 2002. "In the U.S., an animated film is an offshoot of the musical. But Japanese animation has largely been created under the influence of European animation -- in which straightforward storytelling and theme are important elements -- much more like live-action films."
[. . .]
"Howl's Moving Castle" delivers all this and more. It's one of the best and strangest films of Miyazaki's career. It's easy to see why he decided to adapt Diana Wynne Jones' book: It's pretty much all his obsessions rolled into one volume.
Sophie (voiced by Emily Mortimer and Jean Simmons in an outstanding English dub) is a hat maker living in a village fenced in by magic and war. The countryside crawls with witches and wizards, drafted by a king and a sorceress (Blythe Danner) to wage a pointless bombing campaign.
[. . .]
"One of the nice things about getting old is that nothing really frightens you any more," says Sophie. I wouldn't extend that same protection to young children watching "Howl's Moving Castle," which is utterly chaste but full of some of the freakier conceits I've seen in animation. (The witch's blobby, formless henchmen are disturbing, for example, but what really unnerves you is that they're all wearing jaunty straw boaters.)
And "Howl" trafficks in surprisingly mature themes. As its dream-logic story plays out, characters change ages and forms midscene. This leads to a middle-aged Sophie sending her mother off to a new marriage, say, or Sophie spoon-feeding the suddenly senile woman who cursed her. Our heroine is, in fact, shuffled through most of Shakespeare's Seven Ages of Man in the film's second half, allowing Miyazaki to explore love, regret, the shifting roles of parent and child and the notion that age and "heart" aren't always tied to the body. It's unnerving and quietly profound.
The following are representative quotes only; the full text is available online at:
mag.awn.com/index.php?ltype=pageone&article_no=2519
June 10, 2005
Howl's Moving Castle: A Work of Modern Art
By Joe Strike
[. . .]
Howl's North American premiere at New York City's Museum of Modern Art on June 6, 2005, was an opportunity for its creators and American adaptors to run a media gauntlet of microphones, video cameras and tape recorders. First in line was Miyazaki himself, followed closely by his translator and his producer Toshio Suzuki.
The Japanese media had the edge in sharing the director's language, and were rewarded with longer and presumably more nuanced answers to their questions. His (or his interpreter's) English-language responses were concise and tended on occasion towards the tongue-in-cheek. (An aspiring animator was advised to "be poor, be young and have no name. That's the best way to become a great creator — that's what Mao Tse-tung said.") When asked if he was surprised by the acceptance and acclaim his work has garnered in the U.S., Miyazaki replied "they may change their minds when they see this film."
[. . .]
Miyazaki transformed Wynne's novel into a Japanese-language screenplay imbued with Japanese cultural values; the task of changing it into English and clarifying those cultural subtleties fell to Cindy Davis Hewitt and Donald Hewitt. The husband and wife writing team had already done the same for Spirited Away, The Cat Returns and numerous other Studio Ghibli releases.
"We started out with a direct translation of the script and we also had subtitles on the film," explained Cindy. "They were different so we cross-referenced them. Then we did a draft taking our best guess of what's happening and presented it to Studio Ghibli and let them tell us where we went too far." "We're watching it as a viewer," Don continued. "Am I understanding this?' I don't want to know Japanese because I'll get too many clues an American audience won't know. So we just sit there and watch the movie — do the words tell me the story? Do the pictures tell me the story? We watch it over and over again and get more understanding of it as we go along.
[. . .]
Pixar's Pete Docter, co-director of Howl's English-language version shared the Hewitt's perspective on the Japanese/American cultural divide. "To be honest I think the Japanese are more comfortable with a certain amount of ambiguity that sometime we find a little unsettling: 'wait, did they get together at the end or not?'"
Even with the growing recognition of Miyazaki's name and appreciation for his work, will American audiences take Howl's Moving Castle to heart? Are they ready for an animated feature starring a rock star-handsome wizard who is at once petulant and debonair, a movie (that like its heroine) travels into strange realms with minimal explanation, and is underlined by an explicit anti-war philosophy?
Cindy Davis Hewitt agrees that "this is as accessible as Miyazaki's work gets. It started as an English novel, it looks like Beauty and the Beast, like a classic European fairy tale." "We find these stories are so rich and complex," adds Don. "When we pitch a story to Hollywood, if we try to get anywhere as near rich and complex — 'Oh, that's too much, the audience is going to get confused.' We're like, 'No they won't, trust us.'"
"I have a five-year-old cousin who watches Spirited Away," Cindy concludes. "She gets the whole thing. Then there's some 20–year-old adults that don't get it. I know Americans can get it if they want to."
The following are representative quotes only; the full text is available online at:
www.femalefirst.co.uk/entertainment/59912004.htm
June 11, 2005
DISNEY HIRE 'STUNT GRUNTERS' FOR VOICE-SAVING TRICKS
By Staff
[. . .]
The voice extras are called in to add vocal sound effects to save the stars from developing rasps after talking into a microphone for long periods.
[. . .]
"She plays THE WITCH OF THE WASTE and when the character is going through her transformation, we didn't want to put her through that grunting, so we had this actress do it and you can't tell where one starts and one stops."
Dempsey admits the use of vocal extras doesn't always help to save stars' voices.
He adds, "For JEAN SIMMONS (in Howl's Moving Castle), we always had hot tea available and fruits and lemon because she was dealing with some things with her throat and we had to cancel BLYTHE DANNER's session three times because she had laryngitis and couldn't get rid of it for a month.
[. . .]
The following are representative quotes only; the full text is available online at:
washingtontimes.com/upi-breaking/20050612-105648-5787r.htm
June 12, 2005
Jean Simmons lends voice to 'Howl's' hag
By Staff
Legendary film actress Jean Simmons says she enjoyed the new experience of dubbing her voice for the animated movie, "Howl's Moving Castle."
[. . .]
"It was wonderful," the 76-year-old actress told United Press International. "It was a whole learning experience."
Simmons said the filmmakers sent her a tape of the Japanese version of the movie "out of the blue" and asked her to star in the English version.
Noting she once recorded her voice for a series called "Mysteries of the Bible," Simmons confessed, "But to do a character, a cartoon character, was very exciting."
[. . .]
The following are representative quotes only; the full text is available online at:
www.filmstew.com/Content/Article.asp?Pg=1&ContentID=11694
June 12, 2005
A Pixar-Powered Castle
By Pam Grady
There is a world of difference between what goes on at Pixar Studios in Emeryville, CA and at anime great Hayao Miyazaki's Studio Ghibli in the suburbs just outside of Tokyo. Shortly after directing Monsters Inc. in 2002, Pixar's Pete Docter was able to compare the companies firsthand when he paid a visit to Miyazaki at Ghibli.
"He is the story crew, this one guy," Docter recently told FilmStew, still impressed by what he witnessed three years later. "Miyazaki sits there and draws and paints and does all the character design and all the storyboards and pins them up all over."
[. . .]
It all comes down to a matter of confidence in the other company's abilities, explains Docter. "We pick people that know what they're doing," he says. "And one of the reasons I think that Pixar was involved in this was that Miyazaki-san and John Lasseter have a close relationship and really admire each other's work. He felt that by involving us that he would be able to trust us to do what we do."
[. . .]
The first order of business for Docter and the rest of the Pixar team was to familiarize themselves with Howl in its original Japanese form. "To me, almost more than his other films, it was like a dream," Docter suggests. "You just get caught up in things that when you stop and think about them logically later with your Western brain, you kind of go, 'What?' But you're swept away by it and everything makes total sense at the time you're watching it."
"Miyazaki as a director is just so intuitive," he adds. "He doesn't stop and logic everything out the way we tend to do. I think he just kind of goes from a very gut level and lets his gut tell him where to go. It's an amazing process."
[. . .]
Pixar turned to Don and Cindy Hewitt for the English-language screenplay. The couple are Miyazaki veterans, having already adapted Spirited Away, Nausicaä of the Valley of the Wind, My Neighbor Totoro and Porco Rosso. It is experience, Docter says, that was invaluable when it came time for the Hewitts to tackle Howl.
"[They] have really gotten a good system down to where they're able to make it fit the lip sync," he explains. "But more than that, make sure that the audience is understanding what needs to be understood at this particular story point, and make it seem conversational and colloquial."
[. . .]
For Crystal, to whom improvisation is as natural and probably as involuntary as breathing, the strictures turned out to be a minor inconvenience. Docter reports that even with the limitations laid down by the animation, the actor still managed in five or six takes to come up with five or six brilliant ideas, leaving Docter with the cheerful task of determining the best one. But as he did on Monsters Inc., he would often weave topical humor into his performance. "We decided that wasn't right for this film, so we stayed pretty much just within the world of the film."
[. . .]
The following are representative quotes only; the full text is available online at:
japantoday.com/e/?content=news&cat=1&id=340055
June 12, 2005
Miyazaki's 'Howl's Moving Castle' makes debut in N.Y., L.A. theaters
By Staff
[. . .]
"Howl no Ugoku Shiro" was released in Japan late last year, where it follows only Miyazaki's 2001 Oscar-winning epic "Spirited Away" and "Titanic" in ticket sales. In addition, it has already earned more than $210 million at international box offices.
Walt Disney Studios, the film's U.S. distributor, hosted an advance screening Thursday in Hollywood, with the event featuring a panel discussion between some of the producers, actors, and writers of the English-language version of the film.
[. . .]
The voice of the lead male character, Howl, is supplied by Christian Bale, 31, star of the upcoming film "Batman Begins." Oscar-nominated actress Lauren Bacall, 80, provided her legendary voice to the Witch of the Waste.
During the panel discussion, the English-language production team expressed happiness and relief at receiving Miyazaki's approval of their version of his film. The 64-year-old director is known for not watching all of the translated versions of his films.
The following are representative quotes only; the full text is available online at:
movies.nytimes.com/2005/06/12/movies/12scot.html
June 12, 2005
Where the Wild Things Are: The Miyazaki Menagerie
By A.O. Scott
NOWADAYS, when we think of feature-length animation, our thoughts turn immediately to "Shrek" and Pixar (or less fondly, to "Robots" and "Madagascar"). The animated world, we've learned, is round - created in three dimensions by teams of computer wizards and enlivened by noisy, knowing references to American pop culture, past and present. It may seem somewhat paradoxical, then, that the world's greatest living animated-filmmaker - a designation that his fans at Disney and Pixar would be unlikely to challenge - is Hayao Miyazaki, a Japanese writer and director whose world is flat, handmade and often surpassingly quiet. Not that Mr. Miyazaki, 64, is entirely indifferent to technological advances. Starting with his 1997 epic, "Princess Mononoke," he has used computer-generated imagery in his movies, though he recently instituted a rule that CGI should account for no more than 10 percent of the images in any of his pictures.
[. . .]
MR. Miyazaki's world is full of fantastical creatures - cute and fuzzy, icky and creepy, handsome and noble. There are lovable forest sprites, skittering dust balls and ravenous blobs of black viscous goo, as well as talking cats, pigs and frogs. "Howl's Moving Castle," adapted from a novel by Diana Wynne Jones, features a garrulous flame, voiced in the English-language version by Billy Crystal; "Spirited Away" (2001) had its melancholy, wordless no-face monster; "Nausicaä of the Valley of the Wind" (1984), the director's first masterpiece, was nearly overrun by enormous trilobite-shaped insects called Om.
[. . .]
The action in his movies - he has written and directed seven features since "Nausicaä" - takes place far from the cramped cities of modern Japan, and also from the futuristic metropolises that provide the dystopian backdrop of so much anime. His characters tend to live in hillside villages or in tidy, old-world towns where half-timbered houses huddle along cobblestone streets. As much as they can, in gliders, on broomsticks and under their own magical powers, these characters take to the sky; the evocation of flying, for metaphorical purposes and for the sheer visual fun of it, is one of Mr. Miyazaki's favorite motifs. But one reason he ventures aloft may be to offer a better view of earth and water, which he renders with cinematic precision and painterly virtuosity.
[. . .]
It is not that Mr. Miyazaki's films are pessimistic, exactly; being fairy tales, they do arrive at happy endings. ("I'm not going to make movies that tell children, 'You should despair and run away,'" he said.) But the route he chooses toward happiness can be troubling, perhaps especially to an American audience that expects sentimental affirmations based on clear demarcations between good and evil. The division of the world into heroes and villains is a habit Mr. Miyazaki regards with suspicion. "The concept of portraying evil and then destroying it - I know this is considered mainstream, but I think it's rotten," he said. "This idea that whenever something evil happens someone particular can be blamed and punished for it, in life and in politics, it's hopeless." Like the natural world, which follows its own laws and rhythms - "it does what the hell it pleases," in Mr. Miyazaki's words - human nature is not something that can easily be explained or judged. "One thing you can be sure of," says a character at the end of the film - a fellow who has spent most of the movie as a mute scarecrow with a head carved from a giant turnip - "hearts change." In the Miyazakian cosmos, so do minds, bodies, rivers, forests, nations and everything else. Wizards turn into birds of prey; young girls are transformed overnight into 90-year-old women; greedy parents are changed into pigs; shooting stars mutate into fire demons. You can call this magic - a word reviewers of Mr. Miyazaki's films seem helpless to avoid - or you can call it art. But it may just be that he reveals, in his quiet, moving, haunted pictures, the hidden senses of the word "animation," which after all means not only to set things in motion, but also, more profoundly, to bring them to life.
The following are representative quotes only; the full text is available online at:
www.time.com/time/magazine/article/0,9171,1069080,00.html
June 13, 2005
For Children of All Ages
By Richard Corliss
[. . .]
Hayao Miyazaki has dreamed beautifully on film for ages; Japan's master of anime won an Oscar for his rapturous Spirited Away. Now he adapts a novel by Diana Wynne Jones about Sophie (voiced by Emily Mortimer), a Cinderella type who, under a witch's spell, instantly becomes a 90-year-old crone (Jean Simmons) and takes residence in the portable home of the birdman Howl (Christian Bale, speaking in Clint Eastwood's gruff whisper).
Is this mystery magician Sophie's protector or a predator? No suspense there. But while the story adheres to fairy-tale contours, it constantly surprises with the richness of imaginative detail. The film begins in the soot and bustle of an old European city, with a design scheme both grim and dapper: even the evil blobs who chase Howl wear straw hats. The castle, which treads back roads on four Seussian legs, is a spectacular jumble of ship parts, old wooden houses and gigantic barrels. Palaces and shimmering lakes, warplanes and fire sprites all come to life at the breath of Miyazaki's graphic genius.
Howl's Moving Castle (released in both dubbed and subtitled versions) is the perfect e-ticket for a flight of fancy into a world far more gorgeous than our own. The film doesn't halve itself to appeal to two generations. At its best, it turns all moviegoers into innocent kids, slack-jawed with wonder.
---

This page is brought to you by Team Ghiblink.