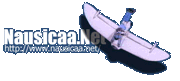 ---
|| Main | Mailing List | Films | Search | Ghiblink | Feedback ||


Hauru no Ugoku Shiro
(Howl's Moving Castle)


Back to the Table of Contents
The following are representative quotes only; the full text is available online at:
www.guardian.co.uk/arts/features/story/0,11710,1048768,00.html
September 17, 2003
Just don't go to Cardiff
By Andrew Osmond
Hayao Miyazaki, the director of the acclaimed Japanese animation film Spirited Away, has been busy since completing the Oscar-winning film over two years ago. An avid reader of children's literature, he has settled on Howl's Moving Castle as the basis for his next film. The book, by British author Diana Wynne Jones, is a light-hearted fantasy that gently deconstructs fairy-tale conventions.
[. . .]
According to Miyazaki's studio, the director liked the book's idea of a young girl being magically turned into an elderly lady. Few cartoons have a protagonist of pensionable age, and Miyazaki reportedly pondered how to make his heroine attractive. Jones had her own reasons. "I discovered, writing the book, that old women are much funnier than young girls," she says. "I hope Miyazaki has noticed this too. Turning the heroine into an old woman may not have been done before, but I always wondered why not. People are more than a little hidebound."
Jones describes her contact with Miyazaki's studio as minimal. "My one real contact was when a group of studio people visited me, with interpreters. The group was trying to establish a proper visual background for the film."
[...]
"I tried hard to dissuade them from going to Cardiff, and suggested that a smaller Welsh town would be better. They seemed not to understand the nature of the moorland where Howl's castle is (most of the time), or what a fishing village looked like. I suggested examples, which was difficult as I had largely made these places up, but they seemed doubtful about going there."
[...]
More recently, it has been revealed that the Howl film's setting will be modelled on the French region of Alsace. Yet Jones is unconcerned by the changes being made to her book by the director. "I have been an admirer of Miyazaki for many years. He has an ability to make beautiful, meticulous images, without ever losing the rhythm and impetus of his story. It isn't really my place to have fears and reservations."
The following are representative quotes only; the full text is available online at:
www.wired.com/wired/archive/12.09/anime.html
August 2004
The Giants of Anime are Coming
By Charles C. Mann
[. . .]
In coming months, anime's three most prominent directors will release major films in the US. Oshii's Innocence will hit theaters in September. Soon afterward, Katsuhiro Otomo will debut Steamboy, an Indiana Jones-style adventure that takes place in an alternative Victorian age where turbo unicycles and pressure-powered jetpacks battle for supremacy. Then Hayao Miyazaki will deliver Howl's Moving Castle, about a teenage girl who flees a curse by hiding in a gigantic mechanical castle that prowls about on insectlike legs. In addition, Disney will issue three older Miyazaki films on DVD early next year, two of which have never before been released in the US.
[. . .]
Although Tezuka opened anime to adventure, fantasy, and contemporary themes, it was Hayao Miyazaki who raised it to an art form that could match manga in all its peculiar glory. Born in 1941, Miyazaki is anime's graybeard, a towering figure frequently likened to Walt Disney. His family moved repeatedly in the tumult of postwar Japan, and his mother - the inspiration for the many fierce, smart, volatile women in his films - spent nine years in the hospital with spinal tuberculosis. With their mother incapacitated and their father away at work, Miyazaki and his three brothers had to fend for themselves, a situation he revisited in My Neighbor Totoro (1988), his most autobiographical film.
[. . .]
In a large communal space inside Ghibli's main building, dozens of artists are rendering Howl's Moving Castle to the exacting specifications of its irascible director. Although his power is not absolute - film is a collaborative medium even for obsessive auteurs - it is sufficient to force Suzuki to accept production methods he describes as "crazy" and "intolerable." Studios like Pixar and Disney take years to work out detailed scenarios that are then handed off to teams of animators. Miyazaki can't finish the story until he sees enough of the beginning to be sure of the movie's look and feel. He sets the animators to work after he has completed only the first 15 or 20 minutes of the script.
[. . .]
The following are representative quotes only
September 4, 2004
Animator draws on human resources
By Dalya Alberge
The Japanese director whose film has become the first animated feature listed for the main awards at Venice has criticised Hollywood studios for abandoning artistry for computing.
Hayao Miyazaki's film, Howl's Moving Castle, based on a story by Diane Wynne Jones, a British author, uses traditional hand-drawn cell animation for its art, rather than the number-crunching powers of big-studio technology.
[. . .]
Miyazaki believes that Hollywood's agenda with respect to animation is being dictated by computer games. His thoughts are echoed by a former Disney executive, Stephen Alpert, now senior vice-president of Miyazaki's Studio Ghibli, in Tokyo.
"Among the prime audiences for animated films are teenage boys, who like computer games," he said.
Miyazaki's two-hour feature films involve thousands of hand-drawn frames -24 per second. This is a skill that has been lost by the big studios, according to Mr Alpert, which prefer to put money into such computer-generated crowd-pullers as Shrek.
"Disney, which used to be the premier studio for 2-D hand-drawn animation has shut that part down, dismissing all the animators," Mr Alpert said. "It's astonishing, as they're the founders of hand-drawn animation, but now they don't do it themselves."
The following are representative quotes only; the full text is available online at:
www.reuters.com/newsArticle.jhtml?type=entertainmentNews&storyID=6152871
September 5, 2003
Japanese Animator Casts Spell Over Venice Fest
By Shasta Darlington
Witches, a magical moving castle and a devastating war filled the screens in Venice on Sunday in the animated film "Howl's Moving Castle" by Hayao Miyazaki, known around the world as Japan's Walt Disney.
[. . .]
"Howl's Moving Castle," the first animated film to face off in the Venice Film Festival's main competition in 30 years, is the story of how Sophie, a girl, turned into a 90-year-old woman by a witch, seeks help from the handsome wizard Howl.
[...]
Marco Muller, director of the Venice Film Festival, called "Howl's Moving Castle" "possibly the strongest anti-war statement we have in the entire festival."
[...]
"Miyazaki loves kids," Suzuki said. "He wanted to give a message to children, that the world is worth living and that it's full of beauty to be explored and discovered."
The following are representative quotes only; the full text is available online at:
www.japantoday.com/e/?content=news&cat=1&id=311176
September 6, 2004
'Howl's Moving Castle' gets warm welcome at Venice film fest
By Staff
Director Hayao Miyazaki's animated film "Hauru no Ugoku Shiro" (Howl's Moving Castle) was warmly received Sunday at the Venice film festival. The audience who packed the 1,000-capacity hall exploded into applause and whistles for more than five minutes after the show.
[. . .]
The following are representative quotes only
September 6, 2004
Lions growl nicely with occasional roars: Despite the declaration by new director Marco Muller that the 61st Venice Film Festival would be 'thinner and nimbler', there have been quality curios wherever you look.
By Nigel Andrews
[. . .]
Asian cinema was rumoured to be in recession this year. But Jia Zhang-ke's The World and Hayao Miyazaki's Howl's Moving Castle are the best competition entries to date.
[. . .]
Howl's Moving Castle is an animated feature brimful with brilliance from the Japanese paint and brush master who gave us Spirited Away.
Miyazaki fills the screen with comic creations that are fantastic in every sense: a talking fire that helps itself greedily to logs ("Yummy!"); a 10-foot-tall hopping scarecrow; the title castle clanking and steaming through magically coloured landscapes.
The plot is more of a jumble sale of ideas than Spirited Away or Princess Mononoke: a little girl's adventures set in a westernised neverland. Yet no one makes fantasy films quite like this director, who at a reclusive 63 must be the closest to a living legend in modern Asian cinema.
[. . .]
The following are representative quotes only; the full text is available online at:
news.yahoo.com/news?tmpl=story&u=/variety/20040908/va_fi_re/howl_s_moving_castle_1
September 7, 2004
Howl's Moving Castle
By David Rooney
Japanese animation maestro Hayao Miyazaki dips again into the cavernous well of a vibrant imagination with "Howl's Moving Castle," which departs from Asian folklore and spirit worlds to enter a European storybook universe populated by witches and wizards. Even more than in the director's Oscar-winning "Spirited Away," the narrative motor roars ahead in the opening hour and is more erratic thereafter, suggesting further streamlining and more meticulous translation might yield rewards.
[. . .]
While it's based on popular British children's author Diana Wynne Jones' 2000 novel, Miyazaki's latest film remains true to the animator's abiding fascination with radical metamorphoses and dreamlike odysseys of self-discovery and empowerment.
[. . .]
One of the most dazzling of the film's many creations, the castle is like something out of Monty Python via Hieronymus Bosch: a massive tangle of mini-cottages, smokestacks, cogs, wheels, turrets and prehistoric wings, carried aloft by huge bird-like feet.
[. . .]
With cel animation steadily disappearing, the skill of Miyazaki and the Studio Ghibli stable at incorporating digital technology and computer graphics -- characters are hand-drawn and then scanned digitally; backgrounds are 100% hand-drawn and hand-painted -- while retaining the look of a traditional toon makes the peerless Japanimator's films seem a vanishing art form to be cherished.
[. . .]
The following are representative quotes only; the full text is available online at:
www.yomiuri.co.jp/newse/20041118woa1.htm
November 18, 2004
Daily Yomiuri On-Line
By Shogo Hagiwara
[. . .]
Now with Ghibli's latest offering, Howl's Moving Castle (Japan title: Howl no Ugoku Shiro), set to open across the nation this weekend, Suzuki's busy dealing with the press--or is he?
"Usually it's super-busy in the days leading up to the release date, because a movie gets finished just a few weeks before that," Suzuki explains. "The moment the movie is done, we need to get it shown to the press and all the parties concerned.
"But we completed Howl's Moving Castle in August, which means we've had more than three months between the completion of the film and its (Japan) release. So I've actually found myself with a lot of time on my hands and with no idea what to do with it."
[. . .]
"Miya-san would table his ideas at an in-house meeting and open the floor to suggestions from young employees," Suzuki says. "He is good at designing characters, so he could do it on his own. But he wasn't sure, for instance, whether it was okay for a popular entertainment movie to have a 90-year-old woman at its center from beginning to end.
"So he would bring it up at a meeting and a female staff member would respond by saying: 'What's wrong with having a grandma as the heroine? I think it's a great idea.' And then another female staffer would say: 'It might be nice to see her back in a girl's body every now and then.' Those exchanges really inspired Miya-san's imagination."
[. . .]
The following are representative quotes only; the full text is available online at:
news.bbc.co.uk/1/hi/entertainment/film/4034865.stm
November 23, 2004
Animation charms Japan box office
By Staff
Oscar-winning director Hayao Miyazaki's latest film has set a new Japanese box office record, with 1.5bn yen ($14.3m) in two days, according to reports.
[. . .]
Its two-day takings represented 1.1 million cinema admissions, Screen Daily said.
The film's distributor Toho expects 40 million people to see it in total - almost one third of the country's population - it added.
[. . .]
The following are representative quotes only; the full text is available online at:
news.bbc.co.uk/2/hi/entertainment/4054369.stm
November 30, 2004
Global release for Japan hit film
By Staff
Oscar-winning animator Hayao Miyazaki's latest film, Howl's Moving Castle, is to be released in 50 countries around the world, its distributor has said.
[. . .]
A spokesman for distributor Toho said the film "has received strong interest from domestic audiences and foreign media and viewers alike".
"We have a good feeling about this film. We saw very good viewer response," he added.
[. . .]
The following are representative quotes only; the full text is available online at:
news.bbc.co.uk/2/hi/entertainment/4054369.stm
December 6, 2004
We're Playing Their Toons
By Anthony Faiola
TOKYO -- The animated film that took Japan by storm last week had nothing to do with sponges in square pants or incredible suburban superheroes in tights.
Instead, "Howl's Moving Castle," a glittering homegrown epic of an 18-year-old girl transformed into a 90-year-old woman, roared into theaters, breaking box office records in the world's second-largest movie market. On the back of its success at home, the film created by acclaimed director Hayao Miyazaki, whose "Spirited Away" won the 2002 Academy Award for best animated picture, is set for the widest release ever of any Japanese-made movie. Scheduled to open in 50 countries over the next year, the latest film by the man whose magic touch has earned him a reputation as Japan's Walt Disney is generating the kind of international buzz once reserved strictly for the big-budget animated offerings from Hollywood.
[. . .]
Once a fringe genre whose appeal was limited to an adoring but relatively small subculture, Japanese anime -- at least in terms of sheer volume -- is challenging the domination of U.S. animation. Although Hollywood still rules the big screens -- particularly with computer-generated blockbusters such as Pixar's "The Incredibles" -- the still mostly hand-drawn anime accounts for more than 60 percent of all TV cartoons worldwide, according to the Japan External Trade Organization. On the Internet, hits for the Japanese anime character Sailor Moon totaled 3,335,000, compared with 491,000 for Mickey Mouse, according to Tokyo-based Marubeni Research Institute.
[. . .]
Miyazaki, for instance, is adored by critics worldwide. Roger Ebert once called him "a god," and his films, including "My Neighbor Totoro," "Princess Mononoke" and "Spirited Away," are considered modern classics. Yet about 90 percent of his movies' revenues come from Japan alone -- where "Spirited Away" still has the top box office gross of all time.
Now, Miyazaki has another domestic hit on his hands with "Howl's Moving Castle," which had the second-biggest opening weekend of all time in Japan -- behind 2001's "Harry Potter and the Sorcerer's Stone." But despite the film's unprecedented upcoming international release, some industry experts still question whether the film -- a visually stunning but complicated tale of a girl struggling with her transformation into an old woman against the backdrop of war -- will pull in massive international audiences.
"Miyazaki is incredible and the critics love him," said Kahn of 4Kids. "But his movies are still just too Japanese specific for mass appeal."
[. . .]
The following are representative quotes only; the full text is available online at:
news.yahoo.com/news?tmpl=story&u=/variety/20041220/va_fi_in/toon_fans_storm__castle_1
December 20, 2004
Toon Fans Storm 'Castle'
By Lukas Schwarzacher
Japanese audiences were waiting to see whether Hayao Miyazaki's new pic "Howl's Moving Castle" could top his Oscar-winner "Spirited Away." A month after its release, it looks like the animated feature will do that, and then some.
Release date delays helped build audience anticipation and when it finally bowed on Nov. 20 the pic immediately set a new record for a local release. Some 1.1 million people, many of whom had lined up overnight, paid 1.48 billion yen ($14 million) to see the film during its first two days on 450 screens nationwide --- 40% higher than the opening of "Spirited Away."
The tally since: over $90 million in four weeks.
[. . .]
Originally planned as Toho Co.'s main summer release, it was pushed back to autumn because of production delays. Some observers said the strategy was meant to prevent a head-on collision with Hollywood tentpoles.
Whatever the strategy, it worked. Local audiences warmed to the story of Sophie, a teenager who is transformed into an old woman by a curse and falls for the dashing magician Howl. They even seem to prefer Miyazaki's richly detailed traditional 2-D animation to the more trendy 3-D projects.
[. . .]
"At this stage, we are pretty certain that 'Howl's' will at least reach the same box office cume as 'Spirited Away,' " says Kotaro Tsuchida, Toho distribution general manager.
It's even likely the pic could make it past $350 million, which would make "Howl's" the highest grossing film in Japan.
The following are representative quotes only; the full text is available online at:
sg.biz.yahoo.com/041230/16/3pk9a.html
December 30, 2004
Japanese Animation Film Overwhelms Korean Box Office
By Staff
[. . .]
The film, directed by Japanese animation film giant Hayao Miyazaki, opened on 237 screens in Korea last Thursday, becoming the first Japanese movie that ranked first in the local box office in its debut week (Dec. 23-26) with 770,000 viewers.
"Spirited Away," the previous Miyazaki animation released in South Korea in 2002, was seen by 2 million people during the whole screening weeks.
[. . .]
---

This page is brought to you by Team Ghiblink.