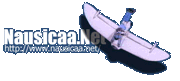 ---
|| Main | Mailing List | Films | Search | Ghiblink | Feedback ||


Gedo Senki
(Tales from Earthsea)
Back to the Table of Contents
The following are representative quotes only; the full text is available online.
July 28, 2006
Lack of 'magic' dooms fantasy epic
By Ayako Karino
4.5/5 stars
[. . .]
So, does Miyazaki's 39-year-old son, Goro, have the same directorial magic? Apparently not, at least it isn't showing in his first cinematic endeavor, "Gedo Senki" (Tales From Earthsea). This latest film from Studio Ghibli lacks the charisma that breathes life into Hayao Miyazaki's imaginary worlds, despite the outpouring of assistance from Ghibli during Goro's first adventure in filmmaking.
[. . .]
Unfortunately, "Gedo Senki" is a film that barely scratches the surface of Le Guin's epic. It's no wonder that Hayao was against his son directing the film. Le Guin's novels have been Hayao's favorites for years and have influenced many of his works, including "Kaze no Tani no Naushika" (Nausicaa of the Valley of the Winds, 1984). Adapting the famous Earthsea fantasy into a film, it seems, was a little too much for Goro--a former architectural consultant and the designer and later director of the Ghibli Museum, Mitaka in Tokyo.
[. . .]
Perhaps the biggest problem is that the director's circumstances are mirrored in those of Arren. Goro is also struggling to overcome his powerful father and find a place in the world--in this case in the director's chair. Alas, "Gedo Senki" proves he has a long way to go on his quest.
The following are representative quotes only
July 28, 2006
Cartoon capers
By Mark Schilling
[. . .]
This includes the latest candidate, Miyazaki's son Goro, an animation neophyte who has directed the new Studio Ghibli film "Gedo Senki (Tales from Earthsea)." Based on the third book in the eponymous fantasy series by Ursula K. Le Guin, the film remixes familiar Miyazaki imagery and themes, but without his knotty, wayward genius. It's like a tribute band playing a new number "in the style" of some departed great -- and delivering everything but the greatness.
[. . .]
Fans of old Hollywood B movies will also recognize many a cliche, beginning with the sneering, mustache-twirling incompetence of Kumo's chief minion, Usagi (Teruyuki Kagawa), who bungles chance after chance to put away the good characters for good. Kumo will also be a familiar figure to fans of the "Wizard of Oz" -- and not only for her Margaret Hamiliton-ish cackle. But I prefer the original -- and miss the originality Miyazaki might have brought to even this often-filmed material.
[. . .]
---

This page is brought to you by Team Ghiblink.