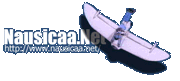 ---
|| Main | Mailing List | Films | Search | Ghiblink | Feedback ||


Gedo Senki
(Tales from Earthsea)
Goro Miyazaki's Blog Translation (Page 94)
25th May 2006
Number 94 - I have to drink with Mr. Terashima
We are asking Mr. Tamiya Terashima to do the cinema sound for the movie "Tales from Earthsea".
Of recent films he has worked on, Han-ochi[1] is pretty famous I think, but apart from that he has worked on various movies and dramas.
All the music that will be used in the film has already been completed. It is a totally good feeling.
The reason we decided to ask Mr. Terashima was that he has a wide range. He can produced music from stirring music to music that encompasses sorrow and joyful music. Also, I suppose his "youthfulness" was a reason too.
The fact that he is comparatively close in age to me was a lifesaver for me as I am now. That is because if he was much older and known as a great master then I don't know what I would have done.
The actual Mr. Terashima, is an open-hearted individual who is happy to listen to one's requests. His completely un-puffed up personality and the Kyushu-man fire from his hometown of Kagoshima that sometimes shows through is attractive[2].
Once before, he said to me "Drinking and talking and writing a song together is not a bad idea either, eh?", but I was sure that it would end going on until morning, so I left that one hanging unfortunately.
Just today I was thinking "Once we've finished working, I really have to have a proper drink with Mr. Terashima!"
---
Translator's Notes
[1]: The translator highly recommends this film
[2]: Kyushu, particularly the Kagoshima region is famous for tough men like Takamori Saigo (think of the movie The Last Samurai).
---

This page is brought to you by Team Ghiblink.