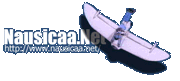 ---
|| Main | Mailing List | Films | Search | Ghiblink | Feedback ||


Gedo Senki
(Tales from Earthsea)
Goro Miyazaki's Blog Translation (Page 92)
23rd May 2006
Number 92 - Shooting Completed!
Last night, slightly ahead of schedule, all of the imaging was finished. I can't forget the instant when the monitor check was finished and Mr. Okui said, "OK, that's it, we're finished!"
After this, no matter how many retakes come up, the visual work is basically over (What's left is sound).
The last check on the last cell was completed yesterday morning. When we rushed it in to film it[1] I couldn't believe my eyes at the way the imaging division charged in at lightning speed, while still maintaining the quality [of the images].
Thank you [all of the imaging division] really very much.
Meanwhile, from last weekend to yesterday sound recording has been going on intensively. Junichi Okada who plays Arren, Jun Fubuki who plays Tenar, Yuko Tanaka who plays Cob, Teruyuki Kagawa who plays Hare, and Aoi Teshima who plays Therru, have all completed their recording without incident. All that is left is to await the appearance of Bunta Sugawara who plays Ged.
Having reached this point, I feel that we have finally come to the last stages.
---
Translator's Notes
[1]: 'Satsuei Appu' (撮 影 ア ッ プ) is confusing. I can't find a definition. From context I've come to the conclusion that it means something like 'to take something unfilmed/unphotographed and film/photograph it'.
---

This page is brought to you by Team Ghiblink.