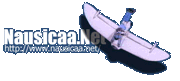 ---
|| Main | Mailing List | Films | Search | Ghiblink | Feedback ||


Gedo Senki
(Tales from Earthsea)
Goro Miyazaki's Blog Translation (Page 81)
28th April 2006
Number 81 - Mr. Inamura Draws Arren
From tomorrow,
The second trailer starts screening in cinemas.
If you watch the trailer you'll understand, but the main character Arren stares around with a frantic expression. This is a character that was never there in Ghibli films before.
The person who drew this proposal was Mr. Inamura.
The animation director Mr. Inamura is a quiet, serious person.
When he is concentrating on something, he puts out an aura from his back that makes it difficult for anyone to approach him.
Sometimes he even shows me a nice smiling face, but those opportunities almost never come.
Arren, the hero of the film "Tales from Earthsea" is, at first sight, a boy who it is difficult to understand what he is thinking. The one who made the complex emotions of this Arren visible on the surface is Mr. Inamura.
When we finally got down into production, Mr. Inamura, who almost never says anything, said forcefully, "I don't understand this boy Arren". And "If I can't understand what kind of boy this boy is, then I can't draw him". At that time I had my first long conversation with Mr. Inamura.
After that Mr. Inamura stopped talking about that to me, but when I watched his expression during our animation meetings for key animators, I understood well that he was trying to draw hints from my explanations.
And he started saying sometimes things like "because Arren's that kind of kid".
I don't think it's any exaggeration to say that Arren exists as he does because of Mr. Inamura.
---

This page is brought to you by Team Ghiblink.