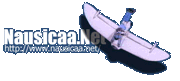 ---
|| Main | Mailing List | Films | Search | Ghiblink | Feedback ||


Gedo Senki
(Tales from Earthsea)
Goro Miyazaki's Blog Translation (Page 78)
25th April 2006
Number 78 - A Spring of Discoveries
Recently, the new green leaves have been getting more and more beautiful. The leaves of the trees were once a whitish green. Now, in this season, as their colour increases, every day make me feel the beauty of the world.
The tree I planted in my garden last year had not been putting out any buds for the longest time, until I began to seriously worry that it had died during the winter. The morning when I discovered that this tree had put forth small red buds I was overjoyed. This tree is called a crepe myrtle[1].
This is actually pretty pathetic for somebody who used to work in park design, but I woke up once again to the fact that different types of trees can put forth their buds at quite different times.
Thinking you are seeing, but not seeing.
Thinking you know, but not knowing.
This spring is full of a lot of such things.
---
Translator's Notes
[1]: Lagerstroemia indica. Japanese name is Sarusuberi (百 日 紅).
---

This page is brought to you by Team Ghiblink.