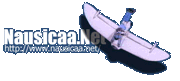 ---
|| Main | Mailing List | Films | Search | Ghiblink | Feedback ||


Gedo Senki
(Tales from Earthsea)
Goro Miyazaki's Blog Translation (Page 62)
30th March 2006
This is a supplementary entry while the director is busy.
Number 62 - Pinch Hitter, Nayochin
Pleased to meet you. My name is Kishimoto, known as Nayochin, and I will be serving as Director Goro's pinch hitter for a while.
First, let me introduce myself.
I joined Studio Ghibli in February of last year. Before that I worked as an editor at the monthly magazine "Saizo". I am the weakling who after several outright uncooperative interviews in which I presented "animation industry leader" Toshio Suzuki with "a list of dangerous questions which anime magazines never ask", was one year later sucked up by him.
At present, I occupy the lowest seat in the publicity effort for the movie "Tales from Earthsea". Starting without any knowledge of publicity, and almost no knowledge of animation, I have been going through great difficulties everyday, despite help from people both inside and outside the studio.
So, until Director Goro has a breathing space, I will be the 'link' and try to do my best to pass on fun stuff about Director Goro, about Studio Ghibli and about the film "Tales from Earthsea".
I hope you enjoy reading the contents of this weblog during my tenure as the writer.[1]
---
Translator's Notes
[1]: This is: 'Dozo yoroshiku onegaiitashimasu'. It has no good English translation. This is said at the end of introductions, expressing humility and hope that the coming relationship will be mutually good.
---

This page is brought to you by Team Ghiblink.