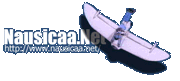 ---
|| Main | Mailing List | Films | Search | Ghiblink | Feedback ||


Gedo Senki
(Tales from Earthsea)
Goro Miyazaki's Blog Translation (Page 58)
22th March 2006
Number 58 - The Fullness of a Spring Day
The Vernal Equinox Holiday[1] yesterday, felt an even fuller day than usual.
In the morning, I came to work and checked the key animation with Mr. Yamashita.
When I had finished that, next Mr. Okui from the imaging section called for me and I didn't finish checking photography until after midday.
With no time to eat lunch, I took off on a 35 minute bicycle ride, and arrived at the location of my next meeting at 1 p.m.
I left that place sometime after three.
On the way back, my stomach was so empty that I wanted to stop somewhere to eat, but I felt pity for the lunch I had left behind at the office, so I shrugged off the temptation and kept on pumping the pedals. By the time I got back to the office it was half past three.
Just when I thought I was going to finally get lunch, I found a memo on top of my desk from the head of Ink and Paint, Ms. Yasuda, about an "Urgent check"
I was peering into the monitor and checking colours.
Before I knew it, Ishii from the production department was stuck to my back, saying:
"When you've finished that can you come and check the background art?".
With all that, when I finally got to take my lunch and sit down at a table it was after 4.
I can't express how good food eaten after physical exercise tastes.
Feeling fulfilled, I felt like a smoke and lit up, but straight away work called again.
I got five minutes to finish my cigarette,
and then I had to hurry downstairs.
Feeling good about having exercised my body for the first time in ages,
I was looking forward to having a beer tonight.
By a stroke of chance, there was a pork and kimchee hotpot[2] going on in the art department from about 8, so the question of who to drink with was taken care of.
Despite being very busy, it was a very enjoyable spring day.
Translator's Notes
[1]: This the Japanese public holiday marking the spring equinox. Note that Studio Ghibli is working through the holiday.
[2]: Nabe (鍋) or hotpot style cooking involves the diners themselves cooking various ingredients in one communal pot in front of them. This is a popular winter food in Japan, and also for group or parties because everyone gathers together around the pot.
---

This page is brought to you by Team Ghiblink.