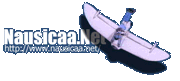 ---
|| Main | Mailing List | Films | Search | Ghiblink | Feedback ||


Gedo Senki
(Tales from Earthsea)
Goro Miyazaki's Blog Translation (Page 50)
9th March 2006
Number 50 - A gift from Hayao Miyazaki
Actually, the director Hayao Miyazaki gave two gifts to the film "Tales from Earthsea". Although that wasn't his intention.
One was the "...you should just do Shuna's Journey" advice that I heard through a third party. Thanks to this I was able to see my way through the story.
The other gift was a single picture.
This was a watercolour of the main characters Ged and Arren looking down from a hill upon a once magnificent city, now decaying, in which people are living like termites in a nest.
This too, rather than being painted for me, was something painted without thinking about it by Hayao Miyazaki who was heatedly saying, "Look, this is what the world of Earthsea is all about", when Producer Suzuki said, "All right, please try painting it".[1]
This is a scene right out of book 3 of Earthsea[2] of a proud and glorious civilization falling apart, the balance destroyed, a world heading into twilight.
Led by this picture, I and the art director, Mr Takeshige, began giving shape to the worldview of the film, referring to western painters whose work is filled with a sense of the end of the world, such as Claude Lorrain, Brueghel, and the German Romantics.
Certainly, there was already within myself the feeling that, "I'd like to do it simply". However, that was never more than something vague. The thing that put practical flesh on these bones were these many western paintings we discovered thanks to that one watercolour painted by Hayao Miyazaki.
Actually, the way of thinking I call "Neo-classicism in animation"[3], that treats the richness of the artwork as a picture as important, also found its source here.
---
Translator's Notes
[1]: This seems to be a favourite trick of Toshio Suzuki for getting temperamental Miyzakis to put there ideas in concrete form (see entry 49)
[2]: "The Farthest Shore"
---

This page is brought to you by Team Ghiblink.