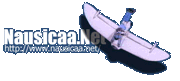 ---
|| Main | Mailing List | Films | Search | Ghiblink | Feedback ||


Gedo Senki
(Tales from Earthsea)
Goro Miyazaki's Blog Translation (Page 9)
27th December 2005
No. 9 - The role models[1] for my "Life of Doing" were my father and Producer Suzuki
"A life of doing" is a life with a goal that one tries to achieve. The impetus may be all kinds of things, ranging from winning riches and/or fame to moving people.
By contrast, "a life of being" is, whether for ones own sake, or that of others, not living with some great ambition, but living content with the activity of ones daily life.
This time, I chose the road of "doing" directing, but the role models for my "life of doing" that came first to mind were my father, Hayao Miyazaki, and Producer Suzuki.
I don't think that either of them, at the time they set up Studio Ghibli in 1985, could have imagined that 20 years later it would have become a company with 170 employees.
'Anyway, we want to make "Laputa, Castle in the Sky" (the project they were planning at that time)!' was probably all they were thinking at the time.
But once they made a movie, they were bound by the results of it for the next time. On top of producing the movie, the process involved making connections with all sorts of people, winning the appraisal of society of the created movie, and finally in April of the following year, becoming independent of Tokuma Shoten, and creating the Studio Ghibli company.
And, though he certainly didn't desire it, Producer Suzuki became the president of the company.
---
Translator's Notes
[1]: Japanese "sempai" means a senior member of a group. Seniors receive respect from juniors and are expected to help them. Here, he uses the word to refer to people who set an example for him.
---

This page is brought to you by Team Ghiblink.