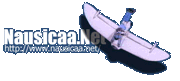 ---
|| Main | Mailing List | Films | Search | Ghiblink | Feedback ||


Gedo Senki
(Tales from Earthsea)
Goro Miyazaki's Blog Translation (Page 7)
22nd December 2005
No. 7 - The Impact of Book Three
One was about "A Life of Doing vs. a Life of Being"
Another was about "Life and Death"
and the third was about "The Balance of the World"
Firstly, let's talk about "A life of doing vs. a life of being"
Book 3 is the story of a mature Ged setting out together with Prince Arren to restore the balance of the world. The night before their adventure begins in earnest, Ged says this to Arren:
"When I was young, I had to choose between the life of being and the life of doing. And I leapt at the latter like a trout to a fly. But each deed you do, each act, binds you to itself and to its consequences... ...Then very seldom do you come upon a space, a time like this... ...or wonder who, after all, you are."[1]
When I was a high school student, this scene did not arrest my attention. I simply thought "I suppose it's a sermon about the importance of stopping and thinking". However reading this scene afresh in my mid thirties, I couldn't simply skim over it.
This was because of my accumulated years, and more than anything, the fact that I was about to set foot in the animation world, the very place that I had resolved in my heart not to enter through my father's connections.
Postscript
In the rest of the world there is a three day weekend from tomorrow[2], but the Ghibli production team with a July opening date to shoot for, are working through public holidays as we push towards our goal.
---
Translator's Notes
[1]: The Farthest Shore, p. 31
[2]: The 23rd of December, the birthday of the current emperor, is a public holiday in Japan.
---

This page is brought to you by Team Ghiblink.