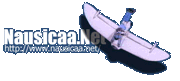 ---
|| Main | Mailing List | Films | Search | Ghiblink | Feedback ||


Gedo Senki
(Tales from Earthsea)
Back to the Table of Contents
The following are representative quotes only; the full text is available online.
August 7, 2006
First animated feature from the son of Hayao Miyazaki
By Ben Applegate
[. . .]
In fact, it was widely known that Hayao Miyazaki was at first "fiercely against the idea" of Goro directing, an extension of a lifelong feud between father and son and, one of the older director's friends suggested, between Hayao Miyazaki and the animation industry's younger generation. Eight months and 110 minutes of film later, the finished product is "Gedo Senki," the Japanese name for the Earthsea series. It comes to Korean theaters Thursday.
[. . .]
Mr. Suzuki hopes that success will repeat itself here. "'Howl's Moving Castle' [Hayao Miyazaki's last film] had ticket sales of 3 million [in Korea], the most energetic response in any foreign country," he said. "Now, with your help, I would like 'Gedo Senki' to do even better."
[. . .]
Making his debut in animation as a feature director against the fury of the world's most famous animator -- and his father -- wasn't as harrowing as one might expect, Goro said. "Since I was a boy, Hayao Miyazaki has been making animation, and he's been a formidable presence. From back then, I've always been referred to as Hayao Miyazaki's son, so after all this time I don't worry about it anymore. On the contrary, it's become a natural thing."
Despite the father-son conflict, Hayao Miyazaki was reportedly stunned at his son's artwork, especially the poster accompanying this article.
[...]
The following are representative quotes only; the full text is available online at:
in.news.yahoo.com/061001/137/6841r.html
October 2, 2006
Japan director fights to get out of father's shadow
By Elaine Lies
[. . .]
The applause that greeted the presentation of "Gedo Senki" -- "Tales of Earthsea" in English -- reinforced the success of a film which topped charts in Japan for over a month.
All this was heady stuff for neophyte director Goro Miyazaki, the eldest son of Hayao Miyazaki, Japan's most famous animator and creator of the Academy Award-winning movie "Spirited Away".
Yet Miyazaki was not accompanied to Venice by his proud father, a telling sign of the deep rivalry between the two men as the younger Miyazaki struggles to make his mark as a director.
[. . .]
His father fiercely opposed the plan to have his son direct "Gedo Senki", based on the internationally renowned "Earthsea" series of fantasy books by Ursula K. Le Guin.
"To have somebody inexperienced like me suddenly make an almost two-hour movie was something he could only think of as reckless, something that would profane the animation," Goro said.
[. . .]
After studying forestry science and working as a landscape planner, he designed a popular museum devoted to his father's work and ran it until last year, when he was chosen to direct "Gedo Senki" despite his father's misgivings.
What followed were 10 months of hard work, during which he neither asked for, nor received, paternal advice.
[. . .]
For Miyazaki, the most sought-after comments may have come from his father who, in remarks relayed to his son through producer Suzuki, praised its "honest" approach.
"I was happy," Goro said. "Happy -- and relieved."
---

This page is brought to you by Team Ghiblink.