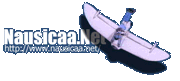 ---
|| Main | Mailing List | Films | Search | Ghiblink | Feedback ||




Sen to Chihiro no Kamikakushi
(Spirited Away)


"Exhibiting Animation" Sample Pages
Click a picture for a full-size view. Thanks to Chris Kuan for the scans.
| | |
| --- | --- |
| | |
| This page illustrates a very short scene in which the kitchen staff works frantically to produce food for the gluttonous Kaonashi. Eleven separate frogs are depicted cooking, plus the fish in the pot in the foreground was also animated. Over a hundred drawings were produced to animate this 4 second scene. | This page shows two scenes in which computer graphics were used. The first one is the famous scene of Haku leading Sen through the rhododendron garden.It shows how foreground elements were placed on top of pre-painted backgrounds to create the initial scenes. These were computer-animated in combination with the normally-animated characters of Haku and Sen. The lower half of the panel shows how a 2-D painting of a demon was digitally mapped on to a drawing of a room in the Yuya to give the desired 3-D effect. |
| | |
| Depicts the glass case in which are displayed the drawings used to animate "Spirited Away". On top of this huge pile of paper is perched the Golden Bear award presented to "Spirited Away" as Best Film at the Berlin Film Festival. This is difficult to see as the lighting causes the trophy to blend in with the illustration on the wall behind the case. | This panel is one of two at the exhibit which tries to show some of the life at the studio as the movie was being made. The central memo gives some possible character ideas for the film - note that the "fish-god" on the left is not recommended as he would be cooked in the hot bath water! The drawing below that one illustrates how to eat your ramen at the office... |
---

This page is brought to you by Team Ghiblink.